Acid test for ODM in Migori polls as Ayacko feels heat of youthful Oketch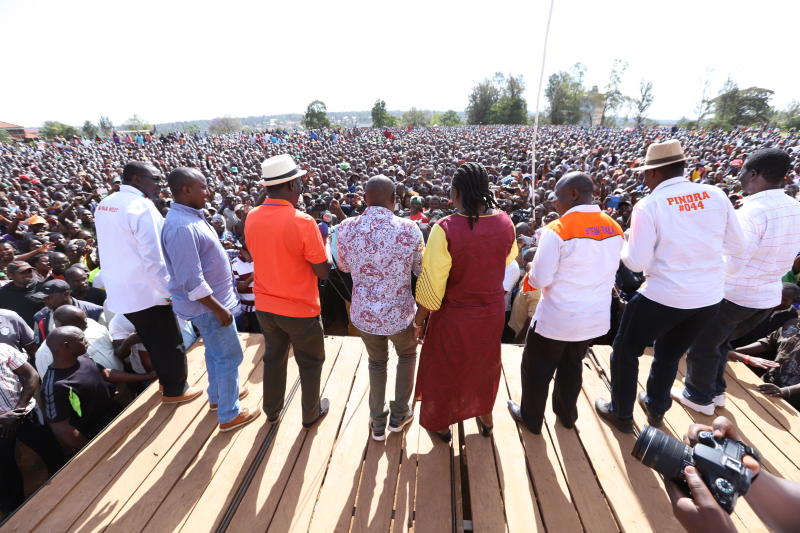 The helicopters have disappeared from the horizon. The campaign drums and ululations have gone silent, but tension and anxiety is palpable as Migori goes to the polls tomorrow to elect a new Senator.
At the close of the official campaigns on Friday, there was no outright favourite as the two front runners -- ODM's Ochillo Ayacko and Eddy Oketch of the Federal Party of Kenya -- both expressed confidence of clinching the seat.
Initially viewed as a walk-over for Mr Ayacko after he got an automatic ticket for ODM, the fight for the seat became complicated after Mr Oketch, a runners up in last year's elections, pulled a surprise campaign strategy that smoked ODM out of its comfort zone.
Stiff competition
So tough has been the campaigns in the last few days that ODM leader Raila Odinga and a large team of MPs, governors and senators had to spend two days in the trenches to ward off the stiff competition from Oketch.
As Raila and his team used two helicopters and countless vehicles to campaign for Ayacko, Oketch'schoppers rumbled across the vast county as he markets himself to the largely cosmopolitan population.
Yesterday, Independent Electoral and Boundaries Commission (IEBC) held meetings with security officials and polling clerks to plan for the by-elections. The IEBC officials also met with the candidates and their agents.
With the clock ticking, Oketch spent most of his Friday explaining his campaign manifesto and defending himself against claims that he was being bankrolled by Deputy President William Ruto.
"Ruto is not funding my campaigns. I am being supported by my fellow youth and well wishers who believe in emerging young leaders. The ODM MPs are dragging in Ruto's name because they are very scared of my rising popularity," Oketch said.
The Migori Senate seat felt vacant following the death of Senator Ben Oluoch Okello in June and if elected, the 27-year-old Oketch will be one of the youngest senators in the country.
"The large number of ODM leaders who have been camping in Migori is clear proof that they are scared. The voters have assured me of victory. For me, it is not over until it's over," he told Sunday Standard yesterday.
But Ayacko, a former Cabinet minister and a seasoned politician, was convinced he will be the next Migori senator.
Under the slogan of "The New Migori", Ayacko has been marketing himself as the best solution for the county's problems.
Other candidates include businessman Peter Jobado of Green Congress Party, Dr Samwel Otieno and Dickson Ogola, both vying as independent candidates.
The sixth candidate, Solomon Hodo, withdrew from the race last week and has been supporting Oketch.
Migori's cosmopolitan nature has complicated its political arithmetic. The Kuria community, which overwhelmingly voted for Jubilee in the last elections, appear to be leaning towards Oketch.
The two MPs from the community were elected on Jubilee tickets. While Kuria East's Marwa Katayama is backing Ochilo, his Kuria West counterpart Mathias Robi has been campaigning for Oketch.
The withdrawal of Hodo, who is also from Kuria, affected Ayacko's foothold in the community. Signs that all was not rosy for ODM in Kuria came on Thursday when an agitated crowd tried to stop Raila from addressing a rally at Mabera in Kuria West.
Police had to fire in the air and lob tear gas to disperse the youth who were chanting anti-Ayacko slogans.
Raila flew into the area in the afternoon from Rongo, Awendo and Kegonga sub-counties where he had addressed rallies.
At Mabera, the youth gathered at a local grounds long before Raila arrived, some of them carrying placards asking they should be left alone to make their own decisions on who to support in the by-elections.
Some of the pro-ODM youth who had arrived at the venue ahead of Raila confronted the anti-Ayackoprotestors, resulting in a fight.
Obado's influence
In the ensuing melee, a group of youths attacked Standard photographer Caleb Kingwara, injuring him and damaging his camera.
Kitayama condemned the incident and called for the arrest of those who planned it. Ayacko also condemned the disruption of the ODM rally and claimed there were plans to lock out their agents from polling stations in the Kuria region.
Then there is embattled the Migori Governor Okoth Obado factor in the by-elections.
Although he is in remand after he was charged with the killing of Rongo University student Sharon Otieno, Obado's influence is being felt in the campaigns. His supporters, friends and senior county staff are said to be behind Oketch.
"Obado could be at the Kenyatta National Hospital under police guard after he fell sick in remand, but his shadow is all over Migori," said Ken Obare, a youth leader.
Obado's arrest and subsequent murder charge came at a time he had declared war on Ayacko, saying he was imposed on the people.
He will return to court tomorrow over his bail application on the same day the elections will be underway in Migori.
During the campaigns, ODM leaders insisted that their foremost opponent was being sponsored by DP Ruto and Obado.
"This is a Raila versus Ruto fight," some of the leaders said.
In his last campaign address on Friday, Raila asked the voters in Migori not to let him down. "Your support to Ayacko is a support to our party. Please don't let me down," he said.