Raila Odinga heads to South Africa to broker South Sudan peace deal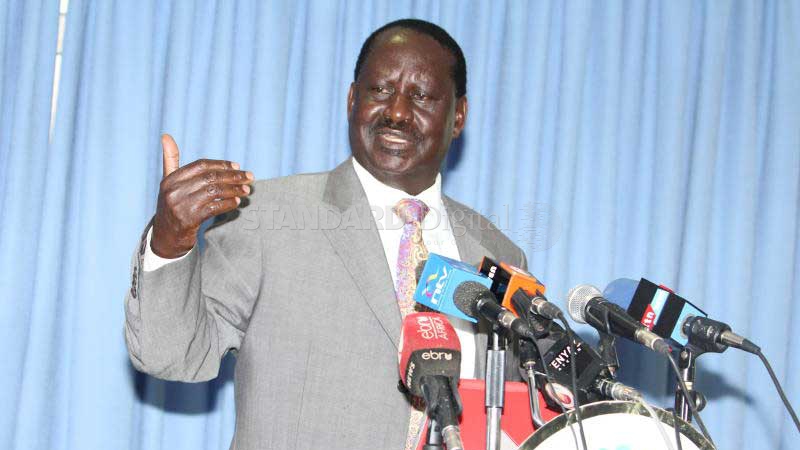 Opposition chief Raila Odinga heads to South Africa this morning in his second leg of talks with South Sudan leaders in a bid to end three years civil war.
Weeks after Raila travelled to Juba, where he held talks with President Salva Kiir, he is expected to meet with rebel leader Riek Machar, in an effort to reconcile the duo. The Intergovernmental Authority on Development (IGAD) has given them up to June 30th to reach a deal.
The meeting is expected to complement IGAD's peace talks which ended prematurely after parties failed to agree on a power-sharing structure or details about how to absorb rebel forces into the national army.
A source in Juba has however told the Standard that Raila was roped in after the President's Kiir regime felt frustrated by the slow pace of the IGAD process.
The National Assembly Minority leader John Mbadi said yesterday confirmed the trip saying it reaffirms Raila's image as a preeminent statesman on the continent.
"A few of us have never appreciated who Raila actually is. The value attached to him elsewhere on the continent is higher than what we imagine," said Mbadi.
He continued, "He enjoys popularity across the continent and this merely reconfirms that exists. Raila mediation in the 2010 Ivory Coast crisis.
Raila is expected to meet both Machar and South African President Cyril Ramaphosa to discuss the situation and try to reach a compromise beneficial to all.
Already insiders with both camps have expressed their displeasure with IGAD, saying it has taken position and would not held in resolving the crisis.
On Raila side, the involvement of neutral person will help in bring the two arch rivals together and restore calm in South Sudan.
Apart from Raila, others in the accompanying him include lawyer Paul Mwangi, former Kenya's ambassador to US Elkana Odembo and the National Assembly Minority Whip Junet Mohammed.
In Juba, Mohammed and Mwangi were in Raila's delegation.
Both sides are not comfortable with IGAD even as it proposed that the meeting takes place before the African Union Summit to be held on July 1 in Mauritania.
The African Union (AU) has renewed its efforts to bring lasting peace in South Sudan.
The deputy chairman and chief negotiator of the Sudan People's Liberation Movement (SPLM) IO Cde Henry Odwar, welcomed Raila's new role as a special envoy in a bit to have the two leaders have a 'handshake'.
Representatives of the two leaders have been negotiating a peace deal even as Dr Machar continues to be in house arrest in Pretoria, South Africa, which Odwar argued is not healthy to seal the deal.
They sought to know if the Kenyan government support's Raila's new role.
They however gave condition for Dr Machar to be released, saying his presents during the talks will hasten the process of bring calm to the troubled nations.
Raila is a close friend to Machar.
"They are saying he is a violent man. How then could he have formed this committee to negotiate peace? "Questioned Odwar.
He continued, "He should be released, and that will shorten the peace talks. We have taken a year now, and we are not making much of a headway."
He urged Kenya and other regional countries interested in a peaceful South Sudan to push for Machar release to concentrate fully on the talks.
IGAD council of ministers, has proposed that Kiir and his allies such as First Vice President Taban Deng Gai, retains a massive control of the transitional government with a 55-percent stake.
The rebels, under Machar, will control 25 per cent while the splinter groups under the South Sudan Opposition Alliance will take 10 percent.
IGAD also wants South Sudan to review its current legislature, expanding the number of MPs from the current 400 to 440 in the transitional stage, before reverting to the 332 that was there in 2013.
Still, Machar's team has reiterated their opposition of the proposal.
The Machar's meeting comes after Raila had a 7-hour meeting with President Kiir on May 24 in Juba where they discussed ways of resolving the civil war that has killed tens of thousands of people and displaced millions since December 2013.
A day after, May 25, the former Prime Minister met with Dr Machar's wife, Angelina Teny, in Nairobi.
It is not clear what was discussed between the two, but sources intimated that they may have talked about the modalities of today's meeting.
On Sunday May 27, the Machar-led rebels welcome Mr Odinga involvement and invited him to talk to also to talk to their leader.
Among the issues Mr Odinga will be pushing is for a possible handshake between the two leaders whose struggle for power has caused deaths, created a serious humanitarian crisis in the country and send the country into a paralysis.
President Kiir told Mr Odinga he has forgiven Dr Machar and offered to guarantee his safety if he accepts the offer to return to Juba.
Kirr told Raila that he was ready and willing to have a sit on the table and also approved the IGAD's resolution to end Machar's house arrest.
South Sudan Information minister Michael Makuei told Voice of America that he expects Raila to convince Machar to denounce violence and re-negotiate some of the rebels' proposals that have hindered agreement on a peace deal.
"The first and most important thing is for Dr Machar to denounce violence. Some of the proposals the opposition has presented are almost impossible to implement, and they don't in any way amount to reaching peace soon. Mr Odinga should actually work to soften the position of the opposition," said Makuei said.
To fight drought, involve communities
According to the latest information from the Meteorological Department, rainfall will be poorly distributed in April, May and June, and this will have a serious impact on agriculture