I am not an enemy of any tribe, Raila Odinga tells voters in Meru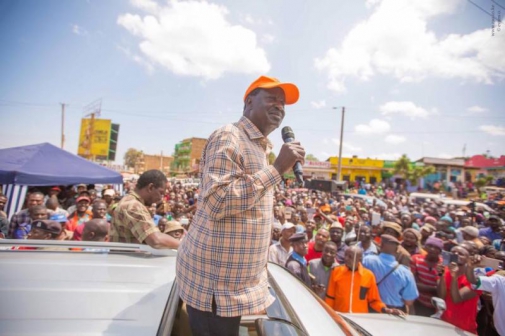 CORD leader Raila Odinga took his voter mobilisation drive to Meru where he declared he was not against any tribe.
Raila said he was not an enemy of any ethnic group in the country contrary to what was being peddled by his political rivals.
The Opposition chief said it would be foolhardy of him to be against any community yet he was asking for a mandate to lead the country.
"I have never been an enemy of any tribe. The Ameru have not done anything (wrong) to me but there are some people that are using what we call divide and rule. I brought (Tanzanian President John Pombe) Magufuli here to launch the Meru-Maua road when I was the Roads minister. I could not have brought him here if I was your enemy. I am the one who planned many roads here with Engineer Mwongera as the permanent secretary," Raila said.
The CORD leader accused his erstwhile friend Tigania East MP Mpuru Aburi of being a turncoat by hobnobbing with the Jubilee government despite being elected on an ODM ticket.
"I am being portrayed as a hyena coming to eat people. I have been with Merus including Kiraitu (Murungi), Mpuru Aburi and others. I even helped Mpuru become a councillor, then he was elected on an ODM ticket as MP but he has now turned against me for selfish reasons," he claimed.
The ODM leader accused President Uhuru Kenyatta of failing the leadership test.
Raila said although he had previously worked with Uhuru and his deputy, William Ruto, in Government, the two had failed to grasp basic tenets of leadership leading the country astray.
"Uhuru was my junior when I was Prime Minister while Ruto was my minister and I tried to show them how things are done in Government in terms of serving the people. But they have miserably failed and I now want to show them how it (governance) is done," the ODM party leader said.
He accused the Jubilee administration of failing the country and urged Kenyans to elect him as President in the August General Election adding that the Jubilee administration is an enemy of devolution.