Family and friends warm up freezing Hague for man weighed down by burden of a nation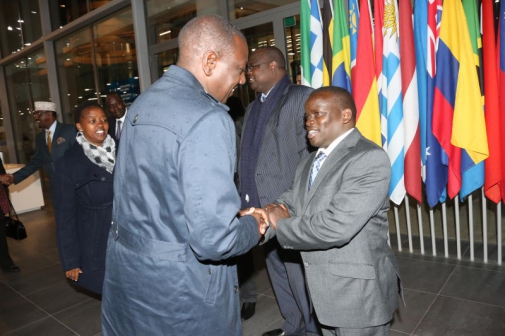 Let us go in together, And still your fingers on your lips, I pray. The time is out of joint - o cursed spite, that ever I was born to set it right! Nay, come, let's go together- William Shakespeare (Hamlet)
He cut the image of a heavily burdened man as he walked through the court's revolving door whistling into the grumpy morning air. It is four degrees celsius out there, drizzly and windy. There is no respite from both nature and man in Netherlands, both are cold.
Behind him, wife Rachel, two daughters and son, a carbon copy of the dad, are dashing after him covering their heads with shawls, latest reads and palms.
Like any family is wont to, they have travelled 4,500 miles away from their home to stand by their father in difficult times. This time round they have come in a larger group, possibly because they believe this is the final push for victory.
Inside the court, a hoard of politicians is lining up to catch his attention. Some are his boon companions, some genuinely coming to offer "moral support", some opportunists, others simply colleagues. Some are equally troubled in their own ways.
Governor Mwangi wa Iria, who survived an impeachment motion by a whisker a few months ago, is among them. His Narok counterpart, assailed at every side by influential MPs in his county, is at hand to receive him as is their Nandi counterpart Cleophas Lang'at, a very quiet but calculative man, I gather.
Some are "government" in the true sense of the word, like Leader of Majority in the National Assembly Aden Duale who has just arrived from London. He tells me he had been invited by the House of Commons and held official meetings with, among others, the UK minister in charge of Africa.
Longtime friends and staunch allies like Cabinet Secretary Charles Keter and fellow "hustlers" like Oscar Sudi are there too. They cannot wait to put an end to their endless back and forth trips to Netherlands.
Others like Devolution CS Mwangi Kiunjuri are making their first trip to the court and are not quite sure how the drill goes. When he walks in to find the DP standing in a semi-circle, he first attempts to bow at him from one end of the semi-circle, then realises it is not working and walks towards for a punchy greeting.
The children take their position out of the circle and wait for their moment. Rachel signals the moment; prayer time. The children join and complete the semi-circle into a circle. Shirleen, one of the daughters, leads the prayers.
And then Duale surprises me by saying the Lord's Prayer almost in its entirety. Shortly the DP pulls Duale and his Igembe South counterpart Mithika Linturi aside, and whispers instructions which become apparent later in the day.
At almost 9:30am, he enters the courtroom to carry the burden of the post-election violence alongside his co-accused Joshua arap Sang, for and on behalf of over 40 million Kenyans.
Lawyer Karim Khan and his team come for him. The rest of the group pulls away to the public gallery as Rachel lingers on in a somewhat emotional moment. The DP walks into a door leading to the court as she faintly shouts best wishes to him.
But he is gone. He probably doesn't hear the wishes as he is swallowed by the sparkling brand new court.
For the next five hours, he will sit through the hearings listening, watching, pondering and fidgeting with whatever contraption his hands can lay on.
Occasionally, he would glance at the galleries where family, friends, supporters, journalists and other observers are seated. The two men for whom the post-election violence of 2008 was fought for — former President Mwai Kibaki and former Prime Minister Raila Odinga — are nowhere in sight.
They have never stepped foot inside the ICC and are about their ordinary businesses in Kenya. They probably do not watch the proceedings. They have no clue what it means to be there for so long with so much attention on you.
Over the breaks, opportunists, fans and supporters alike jostle for moments to lay their hands on him. Many are those who crave for photo opportunities and pester photographers with advance requests. For them, it's just another moment. They have no idea.
At the end of the day, they swarm his way like bees assuring him of swift ending of his troubles, as he dashes back to his hotel with family members and close friends for respite.
He, like the Biblical Book of Job says, is like a slave who longs for the shade.