Mudavadi best-placed to steer Kenya to economic prosperity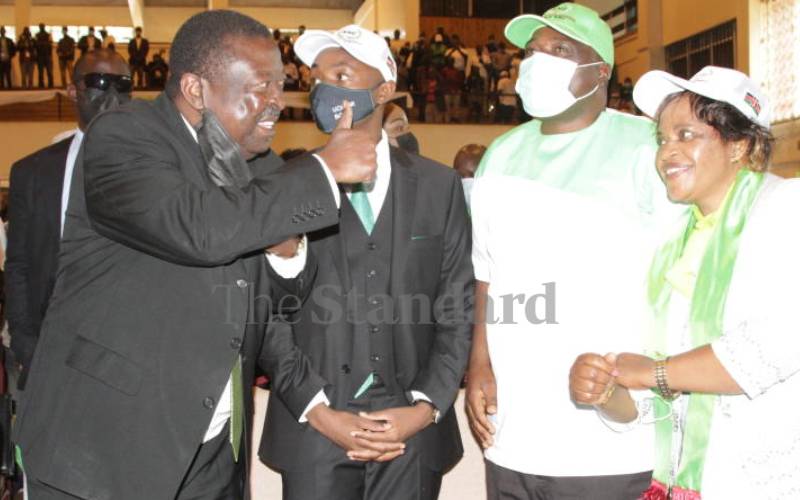 It will be recalled that Kenya's economy was experiencing a total melt-down at the beginning of 1993. This crisis resulted in double digit inflation, massive depreciation of the Shilling, flight of capital, lack of foreign exchange and suspension of funding by all development partners.
It became extremely urgent for President Daniel arap Moi to appoint a new team at the Treasury and at the Central Bank to rescue the economy from total collapse.
At the time of my appointment as Governor of the Central Bank of Kenya (CBK), the economy was in a shambles. The government was desperate for a clean break in the management of CBK and Musalia Mudavadi led the team that head-hunted me from the East African Industries (later named Unilever) to head the bank.
I, therefore, feel beholden to tell the younger generations and anyone else who cares to listen why Mudavadi offers the type of leadership that we need for a more prosperous future.
Mudavadi and I had the privilege of being appointed to serve Kenya during this very critical moment in our country's history. For those old enough to remember, the economic stagnation in the country today is somewhat similar to the situation we were in in 1993.
I was fortunate to have the friendship and leadership of a relatively young Mudavadi with whom I partnered to achieve immediate results in making policy changes for national economic recovery.
Just like in the present context, economic reforms meant working closely with the International Monetary Fund (IMF) in crafting sound fiscal and monetary policies.
Specifically, it meant setting benchmarks on deficits, exchange rates, among other policies, within global or sectorial parameters that were strict but sensible enough to ensure the stability of Kenya's economy.
Mudavadi's leadership was exceptional. He provided leadership and direction on how to deal with the crippling inflation and high cost of living that emerged as a legacy of poor monetary decisions some of which manifested in the form of the Goldenberg scandal, an insidious scheme whose end Mudavadi engineered.
In the most unnerving of times, Mudavadi showed uncharacteristic inner steel as we successfully weaved through reforms that brought about new standards and resulted in the lifting of the aid embargo. He was also a sturdy captain leading us through various hurdles that were set by different interest groups that were opposed to economic reforms.
Aside from resolving the country's economic challenges, Mudavadi also left behind a strong legacy which included the opening of the economy in the energy, telecommunications and finance sectors. Entities such as Kenya Electricity Generating Company, Kenya Revenue Authority, Telkom, Airtel and Safaricom - whose services we enjoy and are so proud of - would not have emerged if it was not for his leadership in liberalising the Kenyan economy.
I write about these experiences to tell the public what kind of leadership is needed to get us out of these troubling times. Millions of Kenyans are suffering from the consequences of national uncertainty, government instability from within its ranks, community strife, economic stagnation, social immobility, family crisis, and a high sense of neglect.
Mudavadi is a man who listens keenly, a problem solver who is not afraid to act when confronted with difficult situations. He provides hope to the coming generations and inspires our citizens to drink from the springs of hope birthed by our beloved country.
Our country is facing a watershed moment. Redemption of this great republic lies in respecting the laws of the land, listening to the will of the people, and acknowledging their liberties.
Transforming the country must be grounded in popular demands for democracy, freedom, justice and equality. For this, visionary partnerships are needed to harness the people's desires, abilities, and capacity for renewal.
Mudavadi is a man of steel who does not betray colleagues and who does not go against what has been collectively agreed on. Betrayal, deceit and distrust have held Kenya's politics hostage. Purveyors of these vices are littered all around and within us.
That's why I would not hesitate to endorse Mudavadi's candidature. Humble and composed, Mudavadi is a very reflective man who arrives at decisions after wide and intense consultations. His leadership style embraces collegiality.
He is a man who respects people and honours his word, which is exactly what Kenya needs today. Kenya is desirous of a leadership that will live up to the values that we espouse as a nation.
He ranks far above the rest of the pack. Whereas others offer packages of lamentation, Mudavadi offers hope and solutions. He will say 'No' to economic misadventures and guide the country into a more modern state. A country that gives every individual the chance to work, win and thrive.