No, Luos are not violent, and don't stereotype people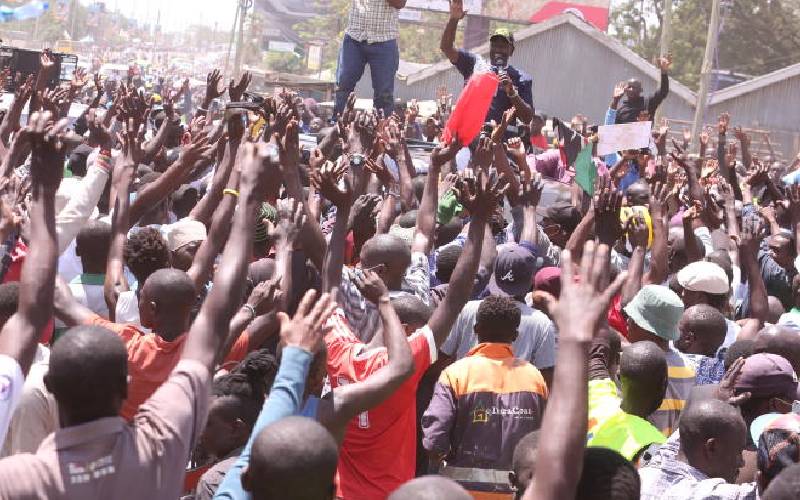 Deputy President William Ruto and his supporters must agree that he had a successful tour of Luo Nyanza. In nearly all stops including the infamous Kondele, he had a ready and excited audience to sell his agenda.
He even had enough of the wheelbarrow carrying fanatics as he courageously tore into the Building Bridges Initiative and the Handshake that most of his audience actually believe in.
It is unfortunate then that an incident that may have involved not more than ten people ended up conveniently defining his campaign trip and fuelling an online war against his competitor ODM leader Raila Odinga.
I say conveniently because, it didn't take long for the hashtag #AzimiolaMawe to start trending on twitter alongside #Mawe democracy pointing to an expectation beforehand.
Legally, whatever happened was a criminal incident and the expectation is that investigations should have begun immediately with the police hot on the heels of the perpetrators. In case, they admit, that they were paid to cause the fracas, the chain should be followed and legal action taken.
However, using the incident to paint and assert that a whole community is violent and intolerant is wrong and unwarranted. Incidences of political violence are not unique to Kondele or the Luo region. Ruto's motorcade was also stoned in Busia at Korinda.
Raila had his rally in Embu interrupted by rowdy youth. In 2013, Raila was literally pelted with stones in the same county. No one painted the Embu community or the Luhya community nor their leaders as being violent. Neither were there pre-meditated hashtags. Instead, in Embu, around 14 youth in the 2013 incident were charged in court and the matter rested.
Similarly, we should strive to shift incidents of violence during political events from being fodder for hateful campaigns to incidents of crime. We don't want a repeat of the 2017 elections when lorry loads of police officers were sent to Kisumu and other regions in Luo Nyanza in the name of forestalling political violence. Instead they became instruments of violence against residents. The death of Baby Pendo in Kisumu during the 2017 election period is a stark reminder of where we could go if we keep acting on politically instigated stereotypes.
Having lived and interacted closely with Luo, I associate them with courage, pride, loyalty and an uncompromising quest for justice. They are not violent people.
The writer is an anchor at Radio Maisha