The twin evils of tribalism and graft in public varsities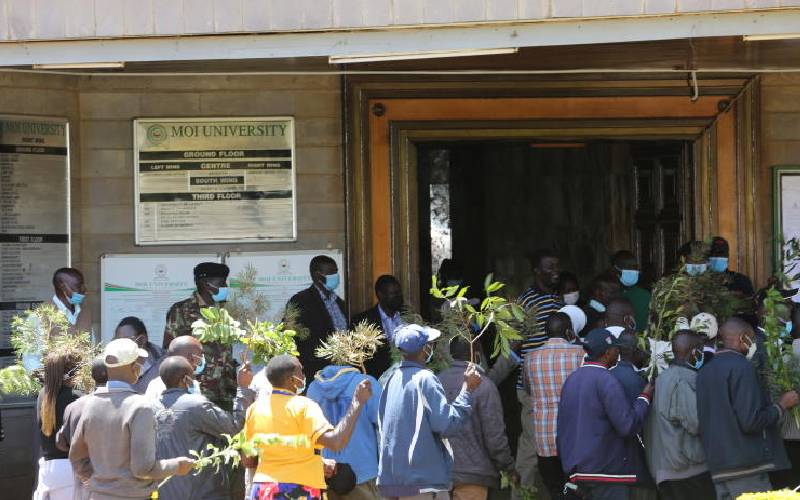 What has been considered unfounded rumours of favouritism, tribalism and corruption in most public institutions of higher learning, can now be confirmed to be true.
Cases of incompetence during hiring top personnel have littered social media and mainstream media platforms. There is no doubt that this sad state of affairs has quickly led to blatant mismanagement of key institutions, solely run on public money.
A spot check on institutions for higher learning reveals that most have worked hard to acquire ISO certification, a mark that guarantees the quality and safety of products and services offered.
It is time we rethink the proper management of institutions of higher learning to avert sad situations being witnessed in some of our top universities.
Persons in the top management of universities and colleges should be held to account for their decisions and actions that eventually jeopardise growth.
The recent revelation that Moi University is almost bankrupt should not shock Kenyans and policymakers. It may be good to remember the circus witnessed sometime back during the process of appointing the university's vice-chancellor, characterised by the unceremonious exit of the then acting vice-chancellor, who was bundled out of office by local politicians.
Reports that top appointments in most of the institutions of higher learning are in some cases motivated by tribalism paint a grim future. Access to quality education can only be achieved under quality management of our institutions of learning.
It is an eyesore to see institutions of higher learning bedevilled by mismanagement under the shadows of "Mtu wetu" syndrome and corruption.
It is laughable that the majority of our universities rely on the exchequer money to fund nearly all their operations. The reality on the ground is that most institutions of higher learning can hardly generate substantial revenue on their own to support their operations.
One then wonders why universities have not invested in research as an avenue to attract investments. With proper investment in research, universities can fund most of their operations without being fully dependent on the national government.
Research should be one of the key incomes generating activities for most academic institutions especially at higher levels of learning.
One of my quickest recommendations would be for the Ministry of Education to urgently and skillfully initiate a comprehensive nationwide audit in all institutions of higher learning to reveal their actual state. A comprehensive audit would easily lend credence to the real challenges bedevilling most universities.
The writer is a public policy and legal analyst