Clearly, politicians are craving for return of one-party system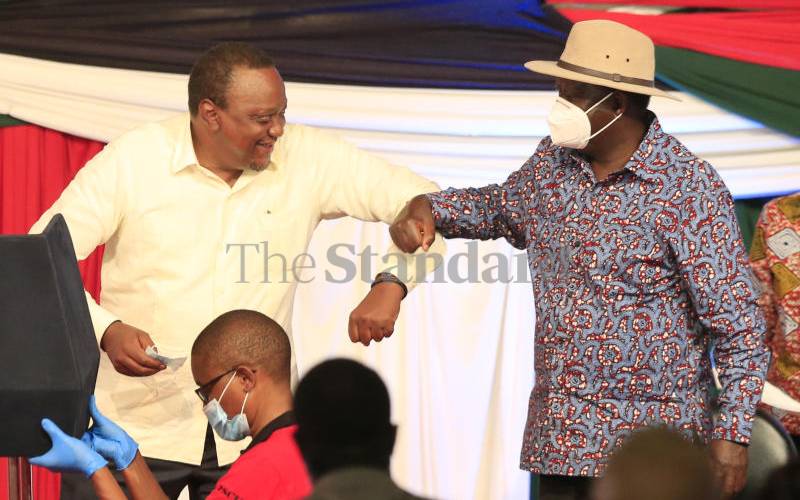 Our political superstructure, it seems, was meant for a single political party. In the last one month until Tuesday, the ODM and Jubilee parties were rooting for a coalition ahead of 2022.
The giant political parties' alliances could have mounted a powerful oligarch to frustrate the visions of single independent parties and independent candidates. It could have been an indication that we are nostalgic about our state of affairs before 1992. Thank God, Jubilee has suspended the move to focus on mending the party's internal fissures.
Isn't it good for parties to unite? Aren't we grateful for the calming effect of the handshake? But, unfortunately, as heavens are far from the earth, so are the philosophies of Jubilee and the ODM parties. Coalitions are supposed to be formed by like-minded parties. Although in Kenya, things are always upside down.
Glaringly, ODM and Jubilee parties have little in common in their vision and mission. Methinks the fragrance of a one-party system melts their hearts.
A story is told of the Biblical patriarch, Moses, who delivered the children of Israel out of slavery in Egypt. Midway in the desert, they regretted that although they were free, they missed the sumptuous onions, pumpkins and cucumbers soup from Egypt, the land of their captors. Moses was confused. Nevertheless, that is the nature of human beings, and we haven't changed. So who are we not to exhibit the political dominant genetic characteristic of our ancestors?
Although ODM and Jubilee have dropped the move citing systemic challenges, it's disappointing that after a prolonged fight against a one-party system, we madly crave the potage of a single-party system.
Nevertheless, this has been forthcoming through the BBI constitutional amendment bill. How? The embattled BBI envisions a powerful president—an untethered president who has the power to appoint, disappoint, acquire, consolidate and disperse. Specifically, though covertly, a legend who can sack his deputy while napping in his bedroom.
But, of course, the Bill has other executive mandates like uniting Kenyans, stopping vote theft, nailing post-election violence and toppling the systemic corruption in our system.
The way things are going, Kenya wants a pecking president. We have realised it hits differently when a president can cough and be heard. We hate the current lapdog presidency, which every Tom, Dick and Harry in these streets steps on, courtesy of Supreme Law.

That's why in 2002, barely 10 years after the introduction of multipartyism, it was clear that the multiplicity of political parties was a bad idea. No single party could deliver political salvation.
Instead, political parties and politicians needed to gang up and mount numbers to dislodge a common opponent. They did so for President Daniel arap Moi and Kanu in 2002, and from then on, the rest are histories of alliances and coalitions; Narc, PNU, CORD, Jubilee, NASA and the alliance industry is overworking to date. These aren't political parties; they are vehicles that consolidate us into a horse race.
Already, we know that in 2022, we will likely have two 'horses'. The two sides will mass all political parties into two camps. Isn't that good for the unity of a country? Yes, Moi had seen it.
One consistent fight by Kanu before they gave in to the amendment of section 2A of the Constitution to allow multipartyism was that the system would kill nationalism by introducing ethnic political outfits that would divide the country. It happened. We realised to unite the nation, ethnic political outfits had to sit at the table and agree to move as one.
Therefore, the multipartyism concept is a concept of devolved political parties. It's great because a village or ethnic group can form and register a political party to negotiate power at a higher level. However, the more things change, the more they remain the same.