Is Moses Kuria an attention seeker or a clever politician?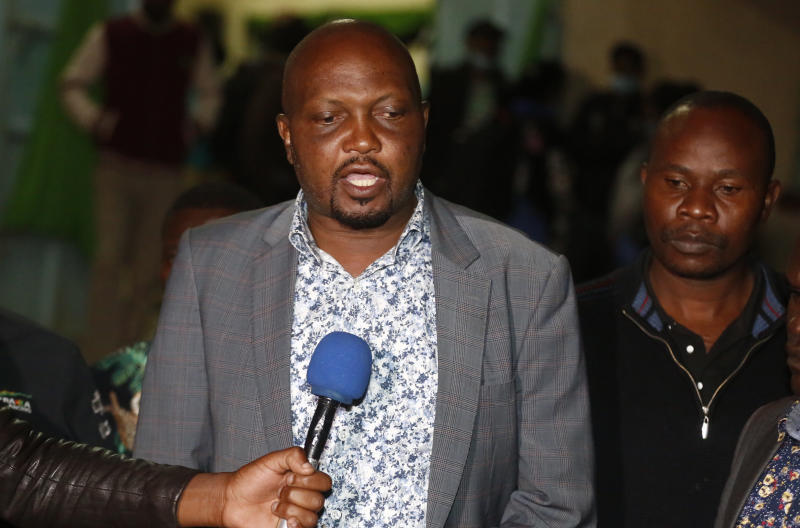 Never mind that he is the Member of Parliament of President Uhuru Kenyatta's rural constituency of Gatundu South, but on Wednesday, Moses Kuria delivered a stinging blow to the political career of his high-profile constituent.
Courtesy of the People's Empowerment Party (PEP), of which he is the party leader, Kuria floored a candidate sponsored by the ruling Jubilee Party in President Kenyatta's own home county of Kiambu.
Historian and political affairs commentator Macharia Munene describes the development as "a painful own goal", which is the biggest political success so far, for the belligerent second-term legislator.
The self-confessed rebel, says Prof Munene, a lecturer at the United States International University-Kenya (USIU), reminds him of, among others, Josiah Mwangi Kariuki, or simply JM as the fiery Nyandarua North MP was known in the early 1970s, firebrand Deputy Speaker and Tinderet MP Jean-Marie Seroney and his Butere counterpart, Martin Shikuku.
"This was a crop of radical politicians who openly dared the founding president, Uhuru's father, in a much similar way as Kuria. But definitely Kuria is not in the same league with JM and his lot, who were more polished in driving the national agenda," observes Munene.
Kuria is nonetheless a witty and strategic politician who, according to the USIU don, has lately managed to exploit the president's weaknesses, including the apparent dwindling popularity in Central Kenya, to his political advantage.
Political relations
Besides clinching the Juja parliamentary seat through George Koimburi, PEP also carried the day last December in Gaturi ward, Murang'a County, courtesy of Esther Mwihaki, and missed the Kahawa Wendani ward seat in Kiambu County to Jubilee's Kevin Ochieng' by a paltry 182 votes.
Unknown to many, political relations between Uhuru and Kuria have not been rosy over the years. Kuria, an ally of the late Kenneth Matiba, started off his political career in 1995 aged 24, as chairman of Matiba's Ford-Asili party, Gatundu South branch.
When Uhuru made his first stab at the Gatundu South parliamentary seat in 1997 on the ticket of the then ruling party, Kanu, it is Kuria who spearheaded the forces that thwarted his bid. Kuria was at the time one of the lead campaigners of Moses Muihia, the eventual winner of the seat on a Ford Asili ticket.
"We only reconciled in 2007 when he (Uhuru) came to support Mwai Kibaki's re-election bid. From then we worked as a team until the turn of this Parliament, when he abandoned some of us and embraced his political rivals instead," the MP told The Standard in an earlier interview.
Kuria expressed disappointment at the president's "destruction of his own legacy", a factor he claims made him part ways with his party boss. "Initially, our engagements were consultative and collegial, but the moment he became dictatorial, I fled. There was no more brainstorming over decisions and we were reduced to foot soldiers whose duty was to take instructions."
Some attribute Kuria's differences with the president to the Building Bridges Initiative (BBI), which contemplates, among other proposals, the creation of the position of Prime Minister to be occupied by an MP.
During a retreat of BBI-friendly politicians in Naivasha last November, Uhuru himself hinted that Kuria's constant attack on him was probably motivated by fears of a political contest with him. The president, a former Gatundu South MP, was reacting to claims that he was eyeing the position of PM in the next government.
Indeed, Uhuru and Kuria are not cut from the same cloth and their political differences seem endless. While the son of Kenya's first president is a pro-establishment operative, Kuria is a political rubble rouser from the trenches.
A former student leader who served as treasurer of Students' Organisation of Nairobi University (Sonu) in 1992 alongside former Mukureini MP Kabando wa Kabando, who was chairman, Kuria kicked off his anti-establishment crusade early, earning several suspensions from college.
Then he brushed shoulders with the opposition brigade and at one point benefitted from the generosity of then Ford-Kenya party chairman Jaramogi Oginga Odinga, father of ODM Leader Raila Odinga. Following Kuria's expulsion from the University of Nairobi over political activism, Jaramogi hired the late Homa Bay Senator, Gerald Otieno Kajwang', to represent Kuria and his colleagues.
"He has been a rebel all through, from the days he associated with Jaramogi and when he was an activist for Kibaki and Uhuru. He is an activist who makes surprising, if not shocking, speeches – just the kind of stuff that makes him popular with the crowds, especially because he gives the impression that he doesn't care about any consequences," says Munene.
Since joining the National Assembly in August 2014 replacing Jossy Ngugi Nyumu, who died after collapsing at his Nairobi home, Kuria has worked diligently – sometimes very crudely – in promoting Uhuru's agenda and protecting his presidency.
But perhaps the most memorable incident was the National Assembly's chaotic debate on the Security Laws (Amendment) Bill, 2014. Although he was only four months old in Parliament, Kuria emerged as one of the prime players and movers of the Uhuru administration-sponsored Bill.
During the ugly drama in which government allied MPs and their opposition counterparts engaged in a fist-fight, Mbita MP Millie Odhiambo accused Kuria of boxing her in the eye and trying to undress her.
But Kuria refuted the claims explaining that he only restrained her from accessing the Speaker. He claimed that Odhiambo had removed her underwear and threw it on the floor of the House while stating that she was not embarrassed of her nakedness.
Equally abrasive
However, the equally abrasive ODM legislator retorted, "When they (Kuria and other Jubilee allied MPs) tried to undress me I completed the process for them."
But Nyeri Town MP Ngunjiri Wambugu believes that Kuria's antics will not stretch for long. According to the legislator, Kuria is only seeking attention from the president.
"Kuria is no fool. He knows that he has no political future beyond 2022 unless he negotiates his place with the president. In a way, he is simply telling Uhuru that he can be useful to him from within in the same way he is currently useful to (Deputy President) William Ruto," says Wambugu.
Even as he does what he knows best, the concern of many – especially his supporters – is his occasional crude and vulgar language directed at his political opponents, including the president: "At 50, I have no reason to fear for anything. What else is there for me to live for other than what I believe in," poses Kuria, who graduated with a Bachelor of Commerce degree from the University of Nairobi.