Stop demonising BBI, its crafters mean well for the country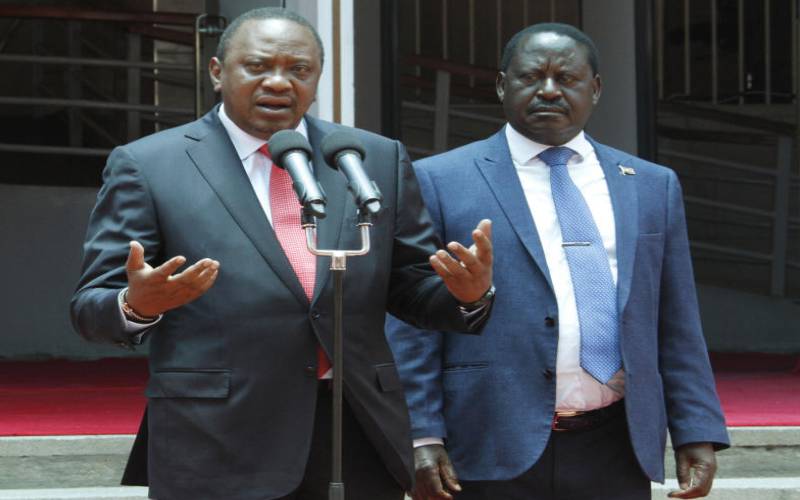 If there's a moment most peace-loving Kenyans had a relief, it was on March 9, 2018 when President Uhuru Kenyatta and Oppsition chief Raila Odinga shelved their political belligerence and embraced peace through the famous 'Handshake'.
Prior to this historical day, Kenya was grossly polarised along ethnic lines. The work environment in multiethnic institutions was traumatic with ethnically instigated witch-hunt reigning supreme. However, this regrettable state of affairs played fodder to many political honchos who have no iota of concern about the tranquility and harmony in the country.
During this time, most tenderpreneurs and politicians allied to Jubilee would loot from public coffers and go unscathed since they had distinguished themselves as the most loquacious defender of the president. Similarly, corrupt officials in a county government led by ODM governor would survive a sleazy undertaking since they were ardent defenders of Raila against the perceived Jubilee political scavengers.
Own cross
However, all these came to an end with the Handshake. Everyone would now carry his own cross as was declared by President Uhuru Kenyatta. This threatened to render irrelevant many politicians who had made names through political name calling.
As was expected, the cartels who profiteered from the political imbroglio that had pervaded the country would not take it while lying. They had to chalk out survival mechanisms in the new political dispensation. They started by opposing the handshake thinking that President Uhuru would renege on his promise and drop the truce.
Realising that the President is a man of his words, they have now mutated into lethal forms that profess support for the BBI during the day but burn the midnight oil in attempts to ground the BBI train. To achieve this callous mission, they send their political cronies to attend the BBI rallies with the aim of portraying the movement as divisive and wasteful of public resources.
Ethnic animosity
To the masterminds of this political ping pong game, winning the presidency by their political chief supersedes the country's peace and harmony. They want the post at all cost without which they're promising Kenyans violence in 2022. It's mind boggling for a section of politicians from Rift Valley accuse Raila of dividing the country along ethnic lines simply because he allowed Maa community leaders to express what they thought would be the solutions to their age-long exploitation while in their backyards. They are already chanting war songs targeting those who have settled among them if their community fails to capture power in 2022. This in itself is an evidence that they have no interest of the country at heart.
Someone needs to tell these power hungry politicians that Kenya is bigger than their bloated political ambitions. To the ordinary citizenry, what matters is ability to settle in any part of the country, do business and live without being a victim of ethnic animosity.
This is only tenable when each and every Kenyan feels that justice has been done to him or her. It's in this spirit that the BBI seeks to give everyone an opportunity to pour his/her heart out for the burning issues to be ironed out for peace and stability of our nation.
To rock this BBI boat, the high priests of political turmoil are gallivanting from one media house to another demonising honest people such as Senator Ledama Ole Kina. They are ever pointing at this or that which was not done according to their wishes during the BBI rallies. It costs an observer average intelligence to note for example, that the bolting out by some leaders from Narok BBI forum was a well-hatched plan to villify the initiative. Irrespective of what the organisers of the Narok meeting did, the die was cast! The sadists had to achieve their ambitions.
These people should give Kenyans a break! Kenyans don't care about who becomes the president in 2022, all we care about now is how to redeem this country from the malady of ethnic antagonism. President Uhuru, in his wisdom, learned this long time ago and wants it to be part of his legacy. Since this is more urgent and beneficial to the country, let's all support President Uhuru Kenyatta and the ODM leader in advancing the BBI dream. They mean well for the country.
Mr Ogolla is a PhD student and a part-time lecturer of History at Jaramogi Oginga Odinga University of Science and Technology