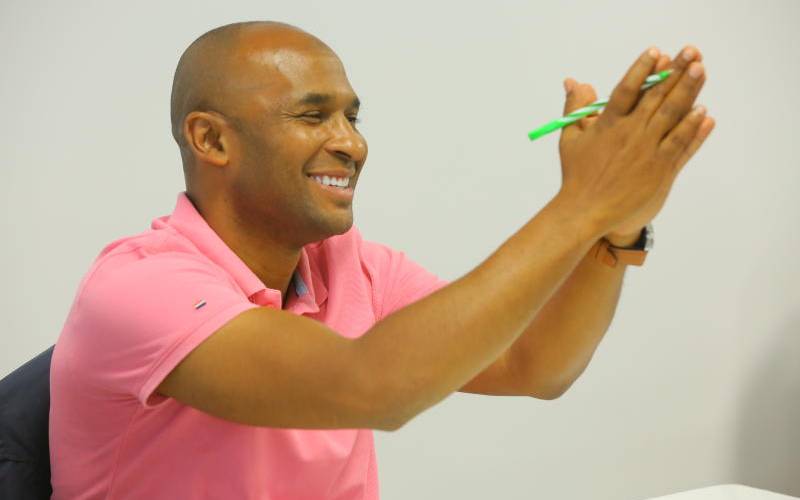 Businessman Merhali ZaheerJhanda will be making his second attempt to capture the Nyaribari Chache parliamentary seat after narrowly losing to Richard Nyagaka Tongi Jubilee Party during the 2017 elections and he is optimistic he will emerge victorious this time.
Nyaribari Chache is one of the nine constituencies in Kisii County.
Tongi of Jubilee Party won the seat after garnering 14,410 votes against Wiper candidate Jhanda's 11,710. Other candidates were former MPs Chris Bichage (10,445) and Robert Monda Onsare (8,105), among others.
ZaheerJhanda, who will be vying on Deputy President William Ruto's United Democratic Alliance (UDA) ticket, is a politician with deep pockets who also enjoys a huge following in the area.
He will be attempting to break the ethnic and clan politics that are deeply rooted in the Abagusii community.
He is known for being philanthropic and has been attracting huge crowds in his rallies.
Some of those who went to school with him describe Jhanda as generally a good person only that he would sneak out of school once in a while on weekends.
They also say he was a bright student and engaged in business at a tender age.
ZaheerJhanda has also been described as a calculating individual and is always ready to dish out cash as long as he is assured of support. In the last election, he hired a helicopter which he used to campaign across the constituency.
ZaheerJhanda is among the frontrunners for the Nyaribari Chache parliamentary seat in the August polls.
Nyaribari Chache is a largely cosmopolitan constituency in Kisii alongside Kitutu Chache South.
The constituency has nearly 1,000 voters of Somali origin, 10,000 from the Agikuyu community, and nearly 3,000 from the Kamba and Luo communities.
There could be a repeat of the 2017 contest as Jhanda attempts to supplant the incumbent Tongi, who has remained in the Jubilee Party which is part of the Azimio La Umoja movement whose presidential candidate is the ODM leader Raila Odinga.
ZaheerJhanda described Raila as a statesman with unmeasurable respect from Kenyans.
Jhanda was a friend of Raila's late son Fidel Odinga. "We used to borrow money from Raila to do businesses. The former premier supported us and showed us the way when we were still young. He means well for the country," Jhanda said during a recent rally.
He was then asked why he is supporting Ruto whose party he has joined if he feels Raila means well for the country. Jhanda said: "I have been a friend of Ruto for 17 years now. His word is like law. He has the qualities to steer the country to the next level. We have come of age and we must support one another."
According to him, Ruto speaks on behalf of the common citizen and has a better chance to take over having been President Uhuru Kenyatta's principal assistant for two terms.
"Kisii is my home. I was born here and my wife, Alice Moraa comes from here. Hence, my choice to run for the Nyaribari Chache seat," said Jhanda, a father of three.
His father was a Kenyan of Arab origin. He died several years ago.
ZaheerJhanda said the first thing he will do if elected, will be to fight poverty. "I am alarmed by the level of poverty here. Local leaders need to discuss this matter and put in place programmes to alleviate poverty. I hope we can get above clan politics and focus on how we can move forward socially and economically, together."
ZaheerJhanda says he is in UDA because the party has plans to improve health care, roads, and school infrastructure.
"There is no need to procure a school bus for an institution that lacks laboratories and enough classrooms as has been done by some people. People are using the process of buying the many school buses as we have been witnessing, to make money for themselves. We need to set our priorities right," Jhanda said.
He attended Kisii Primary School and later joined Cardinal Otunga High School, Mosocho. After his secondary education, Jhanda founded an entertainment company known as Phatfarm in Kisii town. He also set up several pool tables.
He later took over from his father and ventured into the hardware business with shops in Kisii and Oyugis.
The politician would later win a tender to be the sole supplier of sugar from Sony Sugar Company. Jhanda also operated a petrol station at Market Plaza in Kisii town.
He joined politics in 2012 and vied for the seat on a URP ticket but lost to Chris Bichage who later lost the seat after a successful petition by Richard Tongi.
He said if elected, he will empower residents through various development programmes and make them economically independent.
Other than Tongi and Bichage (independent), Jhanda will face former Kenya Pipeline Company chairman James Kenani of ODM, veteran journalist Erick Obino (UPA), and Kiogoro MCA Samuel Apoko (UPIA).