Picking up the pieces: Villagers struggle to resettle as lake recedes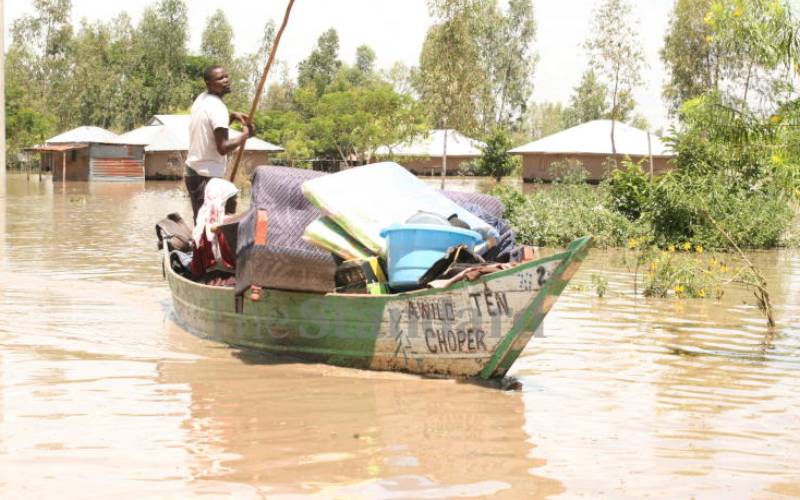 It's 5pm on a Thursday and Dorothy Akinyi is preparing to light a solar-powered lamp to keep off hippos from invading her home on the shores of Lake Victoria.
She is one of the hundreds who were displaced by floods following the rise in the lake's water levels.
The lake is receding and like others, Akinyi and her family want to resettle at their home after two years in a makeshift camp.
But experts are warning that it is not yet time to rebuild in areas with the highest risk of flooding.
Those who have already relocated live in perpetual fear of snakes and invasion by hippos. And every evening they fill their mud houses with smoke to keep mosquitoes at bay.
"We have moved to our homes but we live in constant fear, our farms are still filled with water," Akinyi said.
David Aguko lives in a makeshift structure with tents and blankets for walls.
"This is what's left after the catastrophic floods that swept away my home," he stated.
"It all happened so quickly that there was no way to get any of our belongings to safety. We never expected flooding."
In March 2020, hundreds of homes were submerged, crops destroyed and homes swept away.
An elder said the last time the lake 'invaded' their homes was in 1963, 57 years ago.
Residents feared that angry gods of the lake were punishing them.
But environmental experts said what villagers were facing was a back-flow, a situation where the balance between the lake's outflow and the inflow is tipped, largely because of changing climate patterns, not just on the lake and the land around it, but in the world.
"The result is that the lake starts discharging excess water into the land around it. In doing so it is eroding shorelines, altering ecosystems, and causing flooding and economic damage," said Raphael Kapiyo, an environmental scientist and a professor at Maseno University.
A report titled Rising Water Levels in Kenya's Rift Valley Lakes released two months by the United Nations Environment Programme (Unep) indicates the rising waters of Lake Victoria affected at least 37,140 households 8,922 in Busia, 3,250 in Siaya, 13,800 in Kisumu, 7,752 in Homa Bay and 3,416 in Migori.
Kisumu and Busia counties remain the most affected with at least 22,722 families displaced, including 6,245 in Bunyala Sub-county (Bunyala South, Bunyala Central and Bunyala West – in Busia County, and 1,200 in Ogenya and Ombaka Kanyangwal in Nyando, Kisumu County.
The report observed that the displaced families are in dire need of humanitarian assistance. "Their houses and farming fields are still submerged in floodwaters, Their economic activities have been crippled as they mostly relied on farming and fishing," read the report in part.
And after the water levels reduced, the villagers are fast moving to rebuild their homes even after the meteorological department reported that the region should brace for heavy rains in March.
Alice Awour, a mother of three, said she had returned to her homestead located about 500 metres from the lake.
She added that fending for her family has been an uphill task. "It's better to live here at our home, starting from nothing even when we are aware of the impending disaster," she noted.
Mary Nyamondo, the disaster committee chair at Kakola Ombaka, said residents are at a loss whether to relocate or stay and live with the potential flood risk.
"There are people who have already sold their houses because they can't cope with the sound of rain," Nyamondo said. "They don't want to live with the constant fear that this flash flood could happen again."
Nyamasao camp in Ombaka, Nyando sub-County, in Kisumu, where 524 villagers had sought refuge now has only 120 people as the rest have returned to their homes.
Nyamondo explained that with no help from the national and county governments for relocation most residents in the floodplain have been forced to renovate or rebuild their homes.
"There is still a serious humanitarian disaster with no food and clean water and many residents are suffering from malaria," Nyamondo stated.
However, Prof Kapiyo said that given the fluctuation of water levels in the lake and unpredictable rainfall patterns, residents should hold on.
"It is not advisable for the residents to go back to their homes at this point in time since they face many risks," Kapiyo said.
On risks, he observed that wild animal attacks and risks to young children who can drown because the grounds are yet to dry up.