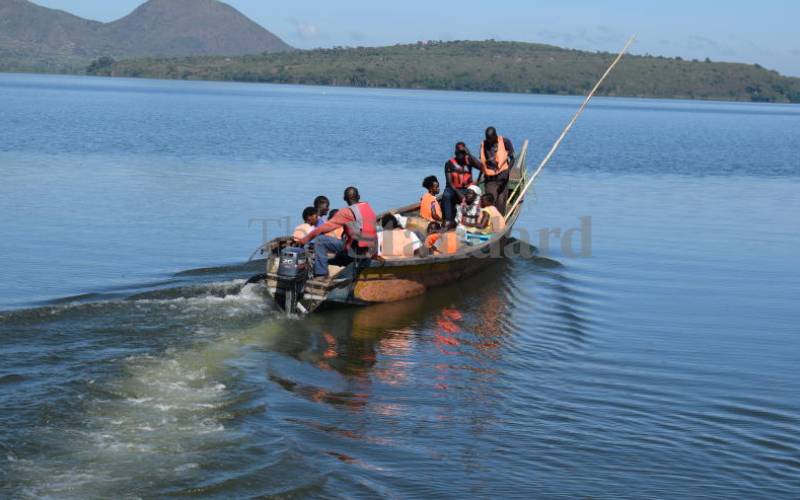 Safety measures in water transport in Lake Victoria have changed barely three months after ten people died in a maritime accident.
On September 21, 2021, a boat that had carried passengers from Homa Bay Pier to Ndhuru Beach in Mbita sub-County capsized about 500 meters from the shore.
Three months down the line, there have been changes in transport regulations in the lake.
The Standard team met Rose Langa, the chairperson of Pier Market. She was busy supervising a boat set for a journey to Kisaka Beach in Mbita sub-County.
"I must ensure everybody in this boat has a life-saving jacket before the boat leaves here," Langa said.
Langa said the September tragedy made them aware of how important it is to put on life-saving jackets when travelling in water.
"We agreed that the leadership of Pier market supervises compliance with putting on the jackets. When I am not present, someone else has to be in charge. We decided to do it ourselves because the deaths which occur in this lake affect us directly," said Langa.
She said those found in violation are referred to the fisheries officers who eventually take them to police for legal action.
Homa Bay Deputy County Commissioner Jude Wasonga said the government issued several directives, which must be implemented to ensure the safety of the lake users.
Wasonga said they had instructed all passenger boat operators to purchase life-saving jackets for their passengers.
He said they also had put measures in place to ensure each boat carries passengers based on its capacity.
"Boats meant for luggage should be used for luggage alone," Wasonga added.
The boat owners were also directed to leave a manifest of their passengers.
"The list of passengers helps in tracing people in case of a tragedy," he said.
He said the regulations must be adhered to.
"All users of Lake Victoria must take precautionary measures when they are in the water," he said.
Joas Ochieng', a coxswain of a boat that operates from Homa Bay Pier to Kisaka Beach, said the accident taught them many lessons.
He said the new regulations had made work more tedious.
"It takes more time for a boat to start a journey because passengers have to put on the jackets. We have to comply because our safety is important," he said.