Usenge rises from tiny fish selling township to vibrant trade centre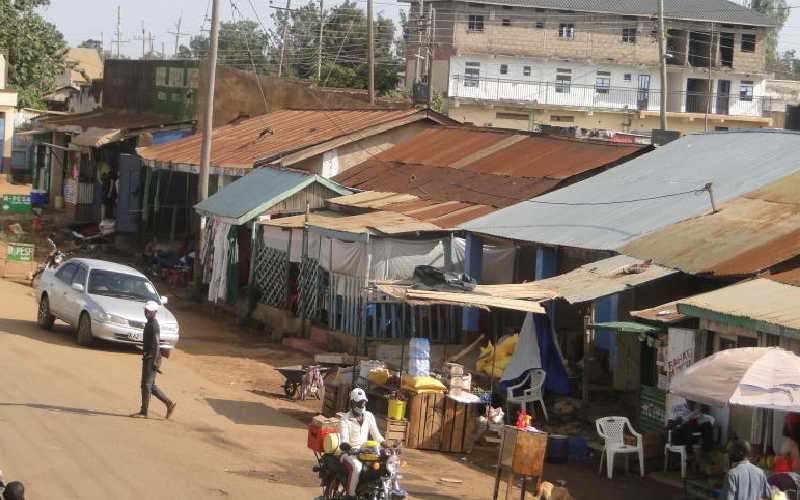 Usenge township, once a small fishing centre with a few buildings has grown into a vibrant commercial town.
The establishment of Usenge High school, 500 metres from the town, started off the gradual growth of the town in Bondo, Siaya County.
Private developers here prefer to invest in commercial buildings and rental houses for rent due to the growing population.
Several traders from Gem, Ugenya and Alego as well as Uganda and Tanzania have also set base in the area.
Ugandans bring charcoal, maize and cassava, and in return get petrol, among other commodities.
Since fishing is the main economic activity, many residents put their money in businesses that sell fishing equipment and related goods such as fuel pumps.
Farming is another source of income.
Michael Wan'gan'ga, a trader, says there is a notable change in terms of infrastructural development and population growth.
"Usenge is a cosmopolitan town since the residents and traders come from different parts of Kenya and beyond," says Wan'gan'ga.
Even though accommodation is relatively cheap in Usenge compared to other towns such as Bondo and Siaya, Wan'gan'ga says the rates have increased in the past decade.
Most one-bedroom houses go for Sh2,000 per month while rent for a three-bedroom house averages about Sh6,000.
For those who cannot afford expensive rental houses, there are semi-permanent houses, whose rent is Sh500 per month but getting them is not that easy.
The growth is attributed to a combination of factors, such as a conducive environment for economic investment and the strategic location.
Although the town is growing, economic experts warn that competition for limited resources such as land threatens its stability in future.
Additionally, lack of sufficient room for expansion will hamper its growth because existing social amenities will be stretched to accommodate the growing population.
The new private hospitals have helped decongest the public health facilities at Got-Agulu hospital and Usenge, which serve people from 30-odd villages.
The town also has vibrant nightlife with dozens of hotels and clubs.
"The economy of this town is dependent on the peak fishing seasons.
"When there is a lot of fish, people tend to make a lot of purchases while businessmen make profits," says Linet Olemo, a trader.
From Usenge, one can get to the historical Got-Ramogi, Goye beach, Mageta Island and Bur-Dimo shrine.
There are as many churches as there are bars and guesthouses, among other tourist sites.
These include Nomiya Church, Anglican Church, Deliverance, Legio Maria, Seventh Day Adventist, Catholic Church and a mosque.