Obado's woes deepen as ODM initiates process to oust him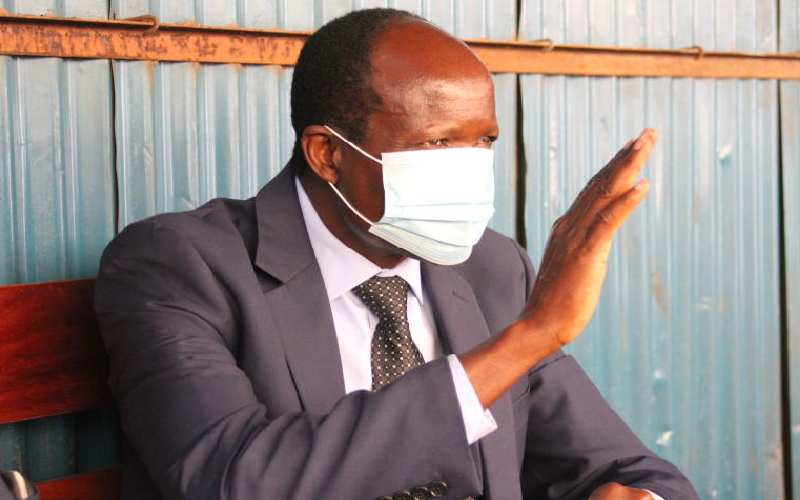 Woes facing embattled Migori Governor Okoth Obado seem far from over after Orange Democratic Movement (ODM) kicked-off the process to impeach him over graft related charges.
In a statement to the media on Tuesday, party chairman John Mbadi said ODM leadership after meeting Migori MCAs at Chungwa House agreed to initiate Obado's ouster motion.
Mbadi said the decision was has been necessitated by the fact that the Anti-Corruption court verdict has blocked Governor Obado from accessing his office.
"Due to corruption charges against Governor Obado and the decision by the court to bar him from accessing his office, the party, in consultations with County MCAs, has resolved to initiate a motion of impeachment against the governor and have his deputy take over," he said.
Mbadi said out of 41 Migori ward reps, 37 had agreed to back the ouster motion.
Obado alongside his four children and other county staff were on Monday released on bail after being charged with misappropriating Sh73 public funds.
Obado on Monday accused ODM of plotting to impeach him before the case in which he and some of his family members are accused of misuse of public funds is heard and determined.
Speaking to Standard Digital on phone, Obado said he is aware of a meeting that took place between ODM top leadership and a number of MPs from Migori to plot for his ouster.
"There are meetings taking place behind my back to plan for my ouster yet our case is still live before the court, it is unfortunate, to say the least," he told Standard Digital.
He accused the party leadership of inciting MCAs to prepare an impeachment motion against him in the coming days.
ODM, however, dismissed Obado's claims maintaining that the agenda of the meeting was not to discuss the governor.
Migori Majority Whip Kevin Keke said the agenda of the meeting was not to impeach the governor.
"I was directed by party executive director Oduor Ongwen to whip the MCAs for the meeting, I am not aware of any scheme against Governor Obado or anyone. That is a rumour," said Keke.
Governor Obado, his children and co-accused were today released on bail with a raft of strict terms to prevent them from interfering with the graft case facing them.
Anti-Corruption Court Magistrate Lawrence Mugambi of Milimani released the governor on a Sh8.75 million bail or Sh20 million bond.
His co-accused have also been slapped with various hefty bail terms as follows: Scarlet Susan will pay Sh3m bail or Sh6 million bond, Zachary Okoth Sh2m or Sh4 million bond, Everlyne Adhiambo Sh2 million or Sh4 million bond, Jared Kwaga Sh8.25 million bail, Christine Ochola Sh3 million or Sh6 million bond, Joram Otieno Sh5.5 million or Sh10 million bond, Patroba Otieno Sh6 million or Sh10 million bond, Penina Auma Sh2 million or Sh4 million bond and Carolyne Ochola Sh2 million or Sh4 million bond.
The Magistrate gave strict bail terms which he described as the measures to preserve the integrity of the trial.
He ordered that all state officers charged in the case be escorted by the investigating officers to the Migori County offices to pick their personal belonging and be barred from making entry into the offices thereafter.
All the suspects to deposit their passports at the court and those without the passports to swear affidavits on the same.
Proxy firms
Obado is reported to have indirectly received over Sh73 million through his children who received multiple payments from companies trading with Migori county government.
According to a statement released by the office of the DPP, an audit trail of the money paid to various companies led persons closely related to Governor Obado.
"Obado indirectly and in a conflict of interest received a benefit totalling to Sh73, 474, 376 million from companies and businesses that trade with the county government," read the statement.
Some of the companies used to fleece county funds include Misoft Company Limited, Tarchdog Printers, Deltrack ICT Service, Seletrack Consultants, Mactebac Contractors, Joyush Business, Atinus Services, Kajulu Business, Swyfcon Engineering, Victorius Investments, Dolphus Softwares, Dankey Press and Pesulus Services.