Thanks to boda bodas, criminals are bolder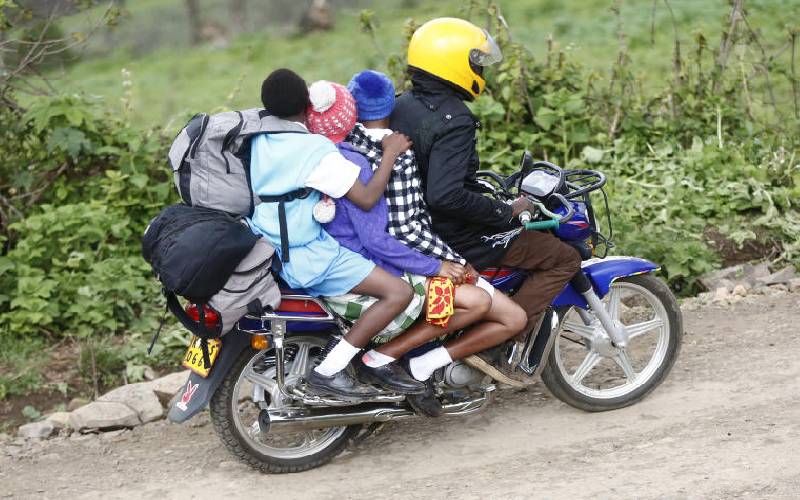 They are always the first to arrive at robbery and accident scenes.
Some say they are culprits. Others say they are victims of the runaway crime in society.
Welcome to the murky world of motorcycle (boda boda) riders whose operations have sparked a new debate in Western Kenya.
Thousands of boda boda operators in towns and villagers are struggling to sanitise their trade even as majority of people including security officers believe the riders have become the face of insecurity.
If they are not being accused of helping to ferry criminals, they are either involved in road accidents or are on the run for eloping with school girls.
Some of the riders are claimed to hire out their motorcycles to robbers for quick escapes from robbery scenes.
Overall crimes
In its 2019 report, The National Crime Research Centre, a State Corporation, says boda boda riders accounted for 52.9 per cent of robbery with violence across the country while 67 per cent out of the overall crimes committed by the the sector, took part in stealing.
The report also says boda boda riders also accounted for 38 per cent of murders . It further says 26.2 per cent of the operators were involved in kidnappings and abductions and 76.7 per cent in stealing.
A number of security officials told the The Standard that many criminals have found safe haven in the boda boda trade.
"They are robbers by night and boda boda operators by day. It is a serious matter. But Not all boda boda riders are criminals. We have quite a good number doing honest businesses," says Nathanial Muyonga, a retired policeman, now running his own security firm.
Last week, a Kisumu businesswoman, Rose Ramogi, 24, told The Standard how she escaped from a boda boda kidnapper.
"I boarded the boda boda at Kondele to Mollem in Nyamasaria at about 6pm. He started speeding and I asked him where he was taking me, he told me he was taking a short cut. I jumped and fell hard. He went away with my handbag that had my personal documents," said Ms Ramogi.
Kisumu residents are more worried now that a trend has emerged where majority of criminals, including hit squads and armed robbers, now hire boda bodas to escape from scenes of crime.
Kisumu County Police Commander Benson Maweu says that in at least eight criminal cases, one will will find an element of a boda boda operator.
"This sector is a menace, a den of hidden criminals where most of the riders are prone to violating traffic laws knowingly besides ferrying criminal products," says Maweu.
He noted that the National Transport and Safety Authority is yet to introduce a data bank, which would entail the total particulars of the rider which will help in regulating security among them.
Audi Ogada, a human rights activist and the representative of Kisumu City Residence Voice, says the number of boda boda suspects is steadily increasing by at least five riders.
"I am aware that in the recent past, some boda boda riders had grouped themselves to form a gang which could be hired by various individuals to create chaos and disruption in social places like funerals and weddings," says Ogada.
Suspicious clients
John Mark, a boda boda rider and a committee leader of a certain boda boda zone in one of the estates in Kisumu, agreed that a section of their members were not obeying some of the traffic rules besides being arrogant.
"It is unfortunate some of our members are using the boda boda to promote crime," says Mark.
Speaking during a community policing training in June, the chairman of Community Policing Nyanza, Boniface Oriaro, said most of the operators never investigate their clients, however, suspicious they may look.
"Some of these boda boda operators are hired by criminals knowingly or unknowingly besides some carry passengers who behave strangely," said Oriaro.
Peter Njeru, the deputy regional police commander who chaired the training, said that boda boda operators interact with a large number of the public as it is the convenient means of transport.
"In every crime scene reported, there must be at least one boda boda rider involved," said Njeru.
Regional Traffic Enforcement Officer Andrew Naibei said boda boda operators should operate with integrity and ensure that any crime among the members is reported to the police.
"They are public service operators, they interact with very many people and they must follow the traffic rules and be keen on whoever they carry," said Naibei.
But the riders have also fallen victims of robbers and quite a number have also lost their lives and motorcycles. "They are also killing us. We are victims," says William Ouma, a rider.
Ouma, who is stationed at the Mamboleo Base narrates how one one of his colleagues died after being attacked by some strangers whom he had ferried.
Some hospitals have set up a wing dedicated for boda boda accidents, following government recommendation.
Most hospitals in in Kitale, Kakamega, Kapsabet and Eldoret have these wards.