Italian government dedicates Sh67.8m capital boost for businesses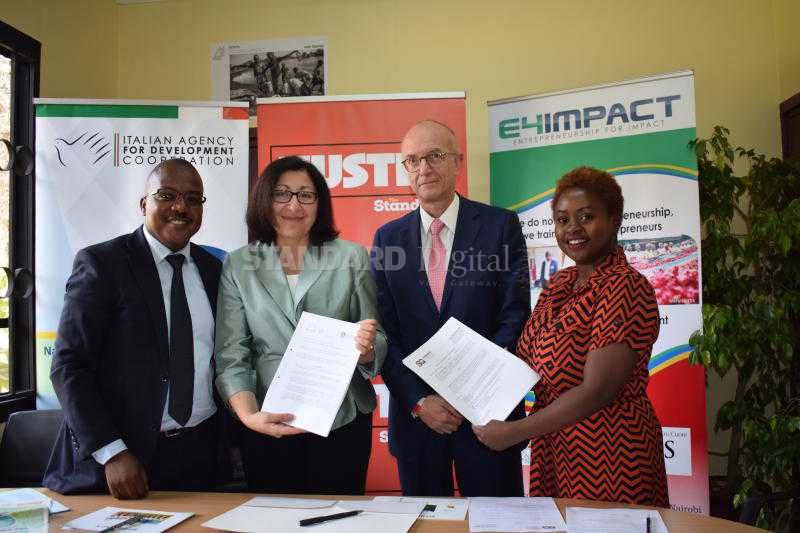 The Italian Government has committed €542,000 (Sh67.8 million) to support businesses in Kenya.
The funds will be disbursed under the E4Impact Accelerator Programme, which aims to boost entrepreneurship in the country.
The director of the Italian Agency for Development Cooperation, Teresa Savanella, said yesterday 20 local businesses would benefit from the funding over a period of one year.
"We want to bring in the private sector in Italy to top up our resources in support of young people who have already started small businesses," said Ms Savanella at the signing of a partnership between The Standard newspaper's Hustle magazine and the E4Impact Foundation in Nairobi yesterday.
She said the agency would bring on board the private sector to boost the kitty to reach the €800,000 (Sh99 million).
Selected businesses will be funded, incubated, and linked with international mentors in order to support their growth, increase their revenues, and guide them towards profitability and impact. Applications from interested companies opened yesterday. The process is scheduled to run until March 23. The second phase of the programme will begin next year.
Through the partnership with The Standard, the two partners will seek entrepreneurs from both the formal and informal sectors that are looking for incubation, funding, and mentorship. The programme will focus on agribusiness, leather, machinery, construction, healthcare, renewable energy, and innovative ICT services.
To fight drought, involve communities
According to the latest information from the Meteorological Department, rainfall will be poorly distributed in April, May and June, and this will have a serious impact on agriculture