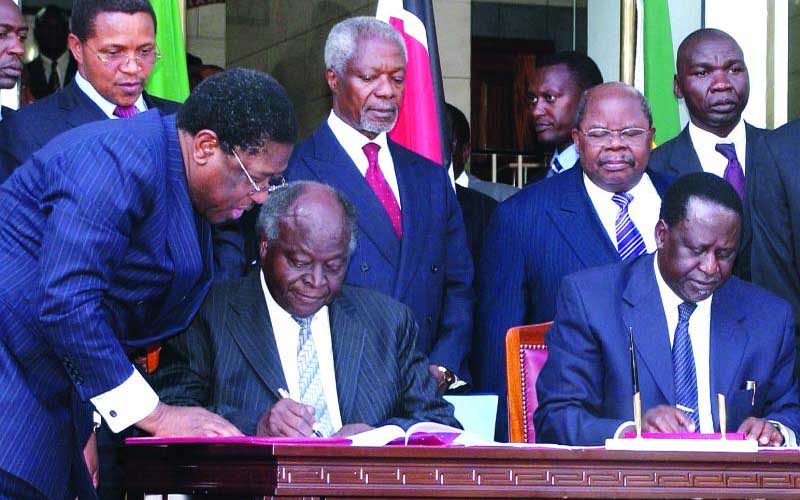 Fate brought fierce foes together. Competing political interests and quest of power tore them apart. Yet, President Mwai Kibaki and Prime Minister Raila Odinga were to hang together or separately.
As Mr Kibaki's term neared its end in 2013, allies of Raila pleaded with him to "rudisha mkono (return the favour)" and endorse the PM's presidential bid.
They urged the president to consider what Raila had done for him a decade earlier, when he shelved his ambitions and sidestepped allies, to endorse him to succeed the late President Daniel arap Moi.
What allies of the PM, who included Siaya Senator James Orengo, thought was that Mr Kibaki would declare "Raila tosha," just as he had declared "Kibaki tosha," ending a debate which had raged for days on who was best placed to carry the Opposition flag in the December 29 presidential elections.
Thousands had begun streaming into Uhuru Park on the morning of September 22, 2002, for an Opposition rally later that afternoon. Frustrated by the Government of the day, they yearned for a new dawn, as much as they hoped that the opposition had gotten it right.
Twice before, the Opposition had fallen into the clutch of division, and twice, President Moi would win the presidential election in the era of pluralism that was to turn a decade old in December 2002. President Moi's Kanu stood a chance of extending its reign in the forthcoming elections. Earlier in March, Raila had merged his National Development Party with Kanu, offering it renewed vigour while at the same time weakening an Opposition, led in the august House by Mr Kibaki's Democratic Party.
Raila had no plans of leaving Kanu, and neither did other politicians who believed they stood a chance of succeeding Mr Moi. Then the president picked Uhuru Kenyatta to succeed him. And Kanu imploded. A mass walk-out led by Raila would leave the independence party a shell of its former self.
As Kenyans swarmed into Uhuru Park that sunny morning, members of the Opposition met at the neighbouring Serena Hotel, racking their heads over who their joint presidential candidate would be. The General Election was three months away. So Raila, Kalonzo Musyoka, Moody Awori, Simeon Nyachae, George Saitoti and William ole Ntimama did not have time on their side.
Days earlier, the National Alliance Party of Kenya (NAK), an Opposition outfit that brought together Mr Kibaki, Charity Ngilu and Kijana Wamalwa, as its most notable heads, nominated Mr Kibaki as its flagbearer (Mr Wamalwa would be his running mate). Learning, ostensibly, from his 1992 and 1997 defeats to Mr Moi, Mr Kibaki reached out to the Opposition's newcomers and returnees. And NAK sent emissaries on the night of September 21 to announce their intention.
Mr Kibaki would not wait. As the Uhuru Park crowd charged up, the then-opposition leader gatecrashed the Serena meeting.
Suffered injuries
"Ironically, only an hour before our departure to Uhuru Park, Mr Kibaki arrived and requested to be invited to the talks," former Kitui Senator David Musila records in his book "Seasons of Hope".
Later that afternoon, Raila would respond to endless roars of "Toboa!" (Reveal the secret) to announce "Kibaki tosha!" The people wanted a name; Raila gave them one, much to the annoyance of the other presidential hopefuls who had attended the Serena meeting earlier that morning.
And to prove his commitment to the cause, Raila campaigned for Mr Kibaki when the latter was hospitalised, having suffered injuries in a road accident.
"Captain wetu amepata majeraha lakini mpira itaendelea (Our captain may be injured, but we will carry on with the football match)," Raila once recalled telling colleagues in the National Rainbow Coalition, with which Mr Kibaki would rise to power.
When they urged Mr Kibaki to endorse Raila as his successor, the PM's allies knew that such an endorsement would not come. It had a lot to do with the relationship they shared for a decade since 2002, forced, seemingly, by circumstances.​ The first circumstance was, perhaps, the threat that a divided opposition would once again fall to Kanu in the elections and that Mr Kenyatta, then a political novice, would trounce the more experienced politicians. Mr Kibaki and Raila did not need reminders, having experienced the result of a disjointed Opposition in the two preceding elections.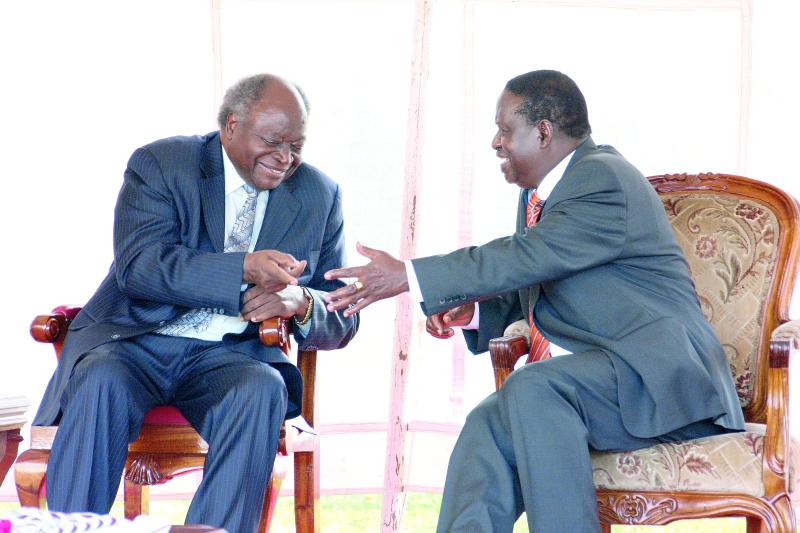 So it made sense to unite; it made equal sense to enter into a structured partnership. So Mr Kibaki's NAK and Raila's Liberal Democratic Party (LDP) would sign a Memorandum of Understanding that besides dictating an arrangement to share the Cabinet, would make Raila Chief Minister, among other agreements. The plan had been to change the Constitution within 100 days to accommodate a new structure. The cracks would appear when Mr Kibaki named his first Cabinet. The president, according to Mr Musila, "inserted" names of Cabinet nominees that were neither part nor parcel of LDP.
Their partnership would survive the initial turbulence. It would not survive a later one – the 2005 constitutional referendum. After years of trial and error, Mr Kibaki was convinced he would finally deliver a new Constitution, though three years late. But a draft he fronted, compiled by then Attorney-General Amos Wako, made Raila and the soon-to-be Opposition feel cheated. Raila preferred another draft (the Bomas draft). And he would lead a successful fight against Wako's draft within government, earning a dismissal from the Ministry of Roads, which he headed.
And that would set them up for a reunion. But they would have to face off in the bloody 2007 presidential race, marred with claims of rigging, which resulted in the deaths of more than 1,000 people and displacement of more than half a million and negotiate for peace, to see the zenith of their partnership.
"…the grand coalition government, which has been in charge Kenya since the post-election violence of 2008, is cast as lumbering and ineffective, and always at the mercy of the power struggle between Odinga and President Mwai Kibaki," Miguna Miguna described the grand-coalition government in his book Peeling Back the Mask: A Quest for Justice in Kenya.
From an insider's perspective, Mr Miguna wrote of the strained relationship between the President and his Prime Minister who had been forced to share the Government. In Cabinet meetings of the grand-coalition government that the late president chaired, Raila would sit at his right-hand side; he was never Mr Kibaki's right-hand man.
The National Accord that both signed to end the post-election violence dictated that the President and the Prime Minister would share power equally. It mandated them to consult on government decisions, which included appointments. According to Raila, however, the former president did not always honour the law.
"I was therefore deeply shocked and dismayed when I was informed that the president purportedly proceeded to appoint the Chief Justice and the Attorney General, the Director of Public Prosecutions and the Director of Budget without adherence to the provisions and principles of the Constitution," Raila once lamented, saying he had not been consulted when President Kibaki appointed the Chief Justice. The High Court would later quash the appointment as unconstitutional.
Raila would lament that the president was frustrating him, disrespecting him. The nusu-mkeka rant is a case in point.
"District inawekwa kila siku. Kila mahali district mpya. Na sheria inasema bunge ndio inweza kuleta district. Sisi tuko ndani ya serikali na waziri mkuu hana habari kuwa rais anaenda kupeana district. Anapeana tu peke yake. Hiyo ni haki? Hiyo ni heshima kweli?" He lamented in April 2009.