I had to fight not to be swallowed by seduction of power, privilege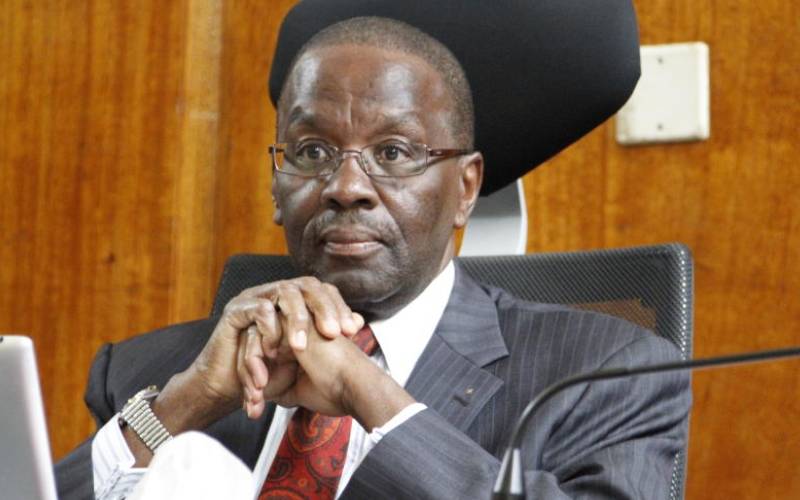 Dr Willy Mutunga had to wrestle with the overpowering seduction of power in high office, the status, the privilege and ceremony that accompanies it.
And it started on the morning of his swearing-in. Traffic had been stopped from the Supreme Court. City Hall Way and Uhuru Highway were all cleared for the procession to State House. Riding behind siren-blaring, lights-flashing outriders seated in a Mercedes Benz S Class 'with enough legroom', he asked himself whether it was all worth the show.
"I looked at both sides of the road and people were wondering whether I was a foreign dignitary being whisked to State House."
Arriving at State House, he found the who-is-who in Kenya; the president, vice-president, the speaker, the prime minister… "they were all there somewhat eager to initiate me into a Super Club."
Dr Mutunga talks in a slow and measured tone. That doesn't take away the fact that he is a great orator with a photographic memory.
"Everybody made you feel this is your day... my brother and my daughter weren't spared... photos with all those dignitaries and my sixth sense told me this is not real."
His independence was at risk "even without being asked by anyone to do anything for them." The week after, he travelled to New York.
"And lo and behold... in America, the president, the speakers and the chief justice are treated like gods."
He was picked from the plane and moved to the VIP lounge and then, thereafter, to the hotel where "he met with his bags."
"That is why I don't understand why anyone would go with their bodyguards."
"When I go to New York nowadays, I will be lying if I told you I remember anything from then."
Because of his office, he was spared the agony of having to remove "shoes, belt, laptop, phones, everything..."
Dr Mutunga says it is very easy to get lost in this: the allure of power and privilege and so he had to be scrupulously careful for any smell of conflict of interest.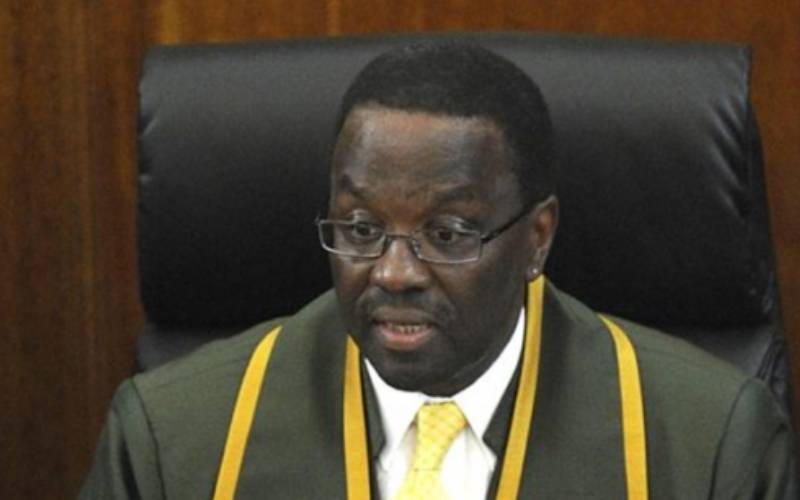 He pauses for a moment then scornfully bemoans a CS whom he says "has been conquered by the seduction of power."
He attributes his modesty to his socialisation and the culture at University of Dar es Salaam (former University of East Africa) where he went for his graduate studies in law.
He graduated from Dar (as it is popularly known among the prestigious university's alumni) in 1974.
He says the spirit of Dar connects him with his contemporaries, who include former AG Amos Wako, former Head of Public Service Sally Kosgei, former Makueni Senator Mutula Kilonzo (deceased), Nairobi lawyer Ambrose Rachier, and many others.
Most of them were at Dar during the years of the ideological wars between the East and the West.
Seeds of agitation
"The Dar School loyalty... even if you are on the other side of the divide, there is something about Dar that connects us whether in Uganda or Tanzania."
He says many people don't understand this 'thing'. The seeds of agitation and fighting for social justice started at Dar.
Those lecturers who slapped down students during classes or were mean or showy were nicknamed 'academic terrorists'.
Dar is another reason why he has chosen modesty and moderation in life.
"I knew that I would be out of office after five years... so why lose my head over power and all that?" he wonders.
Once, one of his children came to him and asked for a vehicle.
"Why would you want a government vehicle and you are not a CJ?" he asked her, perplexed.
"But children of ministers and top government officials hang out in their parents' official vehicles."
This made him realise how 'dangerous' family could be to his independence. He called all of his children to a meeting and told them to be watchful lest they embarrass him.
Having to look over his shoulders became the order of the day especially because as an 'outsider', he had been given a life expectancy at the Judiciary of only 90 days. He stayed for more than 1,800 days.
He warned his children that the NIS (the intelligence agency) would follow them around just to be sure because for him, like Caesar's wife, he 'and his court' had to be beyond reproach.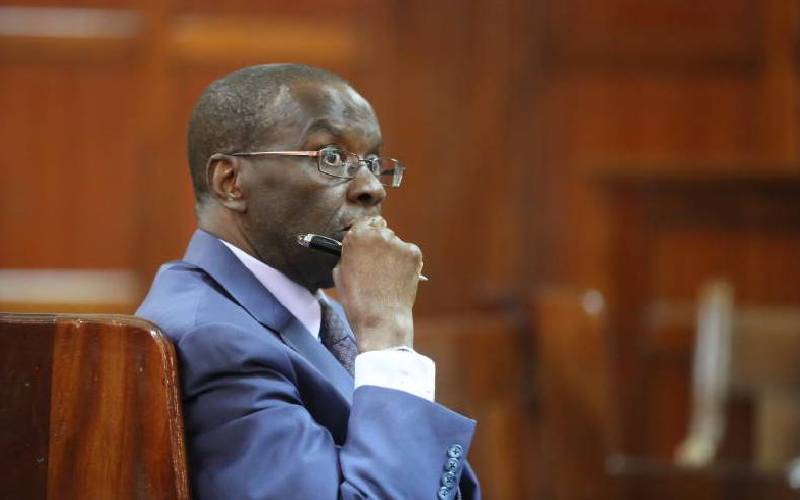 And when he left, he felt very free and admits that he had become paranoid. Fearing that something might happen that might embarrass him and lead to loss of reputation.
"In fact, I stopped building a house for my son in Kitui until the law courts were completed just to avoid anything that might be misconstrued as conflict of interest."
He had to be wary of the perception that "one brick went there and another here."
How did he pull through without a scratch?
"I was working with my students, Kariuki, Ang'awa, Bosire and many others... and so there was the thing about mwalimu (teacher)."
Besides that, he taught three of the recent speakers of Parliament–Francis Kaparo, Kenneth Marende and the present one, Justin Muturi–and so enjoyed much cordiality in these critical spaces and offices.
Add to that list former Vice President Kalonzo Musyoka and Bungoma Senator Moses Wetang'ula.
On a light note, he admits that he takes the trouble to remember all of his students so he can know whose degree he 'should withdraw'.
He is quick to deflect the successes in the Judiciary to his team. "All the 5,000 of us embraced the Judiciary Transformation Network."
Though he quickly adds that it helped that he had a position with his reformist credentials coming in handy to steer a much-discredited institution that needed a boost of confidence-building.
What about accusations of unfair treatment of women at the Judiciary. Did he throw some women under the bus?
From the sacking of former Deputy Chief Justice Nancy Barasa and former Chief Registrar of the Judiciary Gladys Boss-Shollei to the intrigues surrounding the retirement of Nancy Barasa's successor, Kalpana Rawal.
"If at all, by the time I left the Judiciary, we had attained the gender rule."
And adds that he was empathetic to Nancy "because of so much she was going through."
He admits that once the story of the incident became public, he called Nancy and asked her to apologise then they would handle the issue administratively, internally.
The DCJ refused and he washed her off his hands, warning that he would have no control of how things go from there.
"And Nancy was not removed because of pinching the nose of the security guard (Rebecca Kerubo). The reason is out there in the public domain," he insists.
"I have supported women rights, including gay rights, and that is why my interview revolved around women."
Outsider in Judiciary
And admits that he is the one who settled on Shollei because like him, "she was an outsider" in the Judiciary.
"Shollei is very clever. She has got a good brain. She is innovative and she created the structures in the Judiciary." And professes his admiration for Mrs Shollei's "zeal to get the job done". Like when they needed to get auditors from Treasury removed from the Judiciary premises because this was a new era with independence of institutions.
"Shollei got that done in a matter of short notice."
"On the day she was suspended, I was away… the JSC was meeting in Mombasa… I was even accused of protecting her."
"I was simply protecting the process… but in the end, the accusations were overwhelming and she had to leave."
How did he handle the really hot stuff in the Judiciary? Dr Mutunga says he has learnt that a good leader is one who when a grenade is passed over to them, passes it over to someone else.
"That is why you have all these people around you."
A libel case against our sister paper The Nairobian introduces his marital life. His ex-wife is an African American. We misreported that he had declined to obey court orders. That allegation proved costly for us.
Talking about this reveals his anguish and the frustration of never-ending matrimonial property proceedings.
Leadership purge
He recalls how a former minister (in President Mwai Kibaki's government) read about his story with his ex-wife and volunteered to help resolve the issue for him.
He had helped him enroll for college at Makerere University after they were expelled in the purge on student leadership at the university.
"Mwalimu, I will solve this issue," the former student wrote to him. The former student was in charge of immigration and was suggesting that he would, if he wished, declare his wife an illegal alien.
"I am Chief Justice and they will kill me… that I influenced cases in court… I told him."
His former student saw the sense and backed down.
"As a lawyer, he realised the danger of denying her justice." The matter was dropped altogether. The case is still ongoing.
It is while he was doing his Masters that he found the time to read and attend meetings and ideological classes organised by renowned Guyanese historian, political activist and academic Walter Rodney "and others." But it is Rodney's influence that has cast a long spell in him. He credits this period for the development of his ideological, intellectual and political positions.
In Dar, dogmatism was discouraged.
"People wanted to hear both sides even if the sponsor was conservative. In fact, the creative application of foreign narratives whether it was marxism, socialism or capitalism was encouraged."
"Rodney said these are European narratives… we have to Africanise them the way the Chinese have done."
Dr Mutunga has a doctorate degree in contracts from York University in Canada.
And discounts long-held claims that he had gone into exile there.
There is a picture of him in handcuffs being escorted into the court cells. It was Saturday, June 12, 1982. It was the era of seditious leaflets. Having one was criminal. He had been denied bail and was being led away to Industrial Area Remand Prison. After a month of back and forth in court, he was led away to detention at Kamiti Maximum Security Prison.
He defended himself because "I did not want lawyers who would cut corners… I wanted the trial to be political."
What about his family? Mutunga is twice married. He has four children. None from the second marriage.
His eldest, a son Athman is 47, a daughter Shamilla, 45, follows him then Alamin, 28, and the youngest Liam Ramogi is 22. Liam is studying abroad.
"Those are my kids and you won't hear of any other. If you do, they are not mine."
He has at least eight grandchildren. All of them spend time together often though the Covid-19 pandemic "has complicated things a little bit."
He comes from a polygamous family. His is one of the three sons of a family of seven. His last born sibling is deceased.
Community library
He engages in community work. He has a community library with 5,000 books in Kitui. The library stays open at night for students from poor backgrounds whose parents cannot afford to pay electricity.
Besides that, he has sunk water boreholes back in his village which since the change of county government have remained in disrepair. He regrets that the rural middle classes are very conservative "unwilling to share with others unlike the supportive community" he grew up in.
The library project gave him "so much trouble". When he asked retired teachers to help empower the old learn how to read and write, the demanded for payment. The rumour was that he had so much money from the Ford Foundation.
Is that true?
"No, there was no money."
Presently, Dr Mutunga is an Adjunct Professor of Law at Kabarak University.
"I am the one who has been recognised… I have written and have been Chief Justice." He explained when I asked him what the new title meant.
The Dean of Kabarak's Law School approached him and to him that was a great honour. The job is not full time and therefore there is minimal teaching. Among the things he is going to do is develop "graduate capacity" so the school can offer Masters and PhD degrees, and perhaps set up a centre for human rights and social studies.