Highlights of thrilling 4-day BBI showdown at Court of Appeal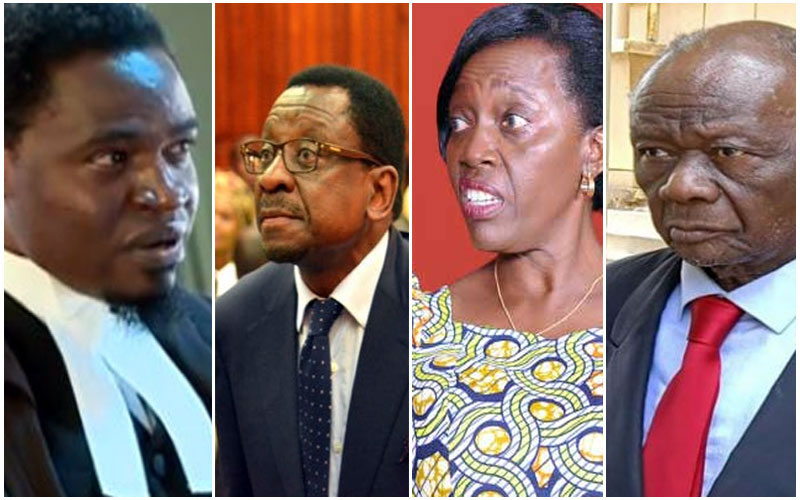 For four days, a constellation of legal stars – new and old – dazzled the makeshift courtroom outside the Supreme Court building, pitching for their clients, and shaping Kenya's history.
From the grayhead seniors like John Khaminwa, the jet black-haired James Orengo, the measured ones like Solicitor General Ken Ogeto, the legal newbies like Esther Ang'awa, the daring Nelson Havi, unyielding Martha Karua, it was a good mix of talent and experience.
When Ogeto took over the podium to introduce the outline of the appeal, he set the stage for the pounding of the High Court decision, describing how they relied on Wikipedia for evidence and references.
"They effectively amended the Constitution. They engaged in personalised attacks against the President that climaxed in factually and legally unfounded conclusions," he said.
Despite coming a long way, MP in the glorious 70s, and numerous high profile cases to boot, Orengo was not leaving anything to chance. He was captured gyrating, gesturing and staring and swinging his robes. His right hand laid the emphasis for weak points, his springy neck affirmed them.
Quoting Voltaire, he talked of the necessity of creating God, if he did not exist, claiming the High Court had been so anxious about applicability of basic structure doctrine that they invented it.
"They had to create it, they had to invent it, because it does not exist in our Constitution… and we can go to how they did it, and they had to go a wonderland," he claimed.
Orengo also had another jibe up his sleeve: "You sometimes see a movie or novel which is so compelling, but at the beginning you are warned the events you are going to see are not true or the characters referred to are not real."
He exited the stage with yet another one, this time from the Bible, the story of Jezebel.
"She was a vile, satanic woman but other accounts she had very good accounts as a strong lady. Maria Antoinette, her story is terrible but if you read more you get a complete different picture. If you believe one story, politicians are evil, but the records will bear otherwise."
Havi came prepared to demolish the appellants case. He claimed he listened to their arguments "with a lot of disappointment." He talked of realms of conjecture, invoked ex-abudant cautela and issues that were "germane". In the end, he unilaterally declared that President Kenyatta was not a person.
"The moment you become a President you cease being a person, you become a State officer."
Havi, even had the audacity to propose one more marriage for the son of the Burning Spear. Asked if the president can picket against parliament, he responded: "No, my Lord, he cannot. If the President is in such a predicament, he has to do what King George VIII did, he must abdicate and go marry the American divorcee… it's as simple as that!"
Prof. Kithure Kindiki decorated the High Court decision as "extensively reasoned and groundbreaking decision in in the entire history of our country's Constitutional jurisprudence."
According to him, the "fingerprints and footprints of the President are splattered all over this process".
Riding on yet another lawyer's submission, he reminded the court of Kenyatta's dramatic and stage-managed handover to his deputy at the height of ICC cases.
"Counties had 90 days, because of public participation. Signature verification had 14. But in 7 days, politicians marshalled and stampeded millions of signatures."
He described the process as botched attempt to overthrow the people and the Constitution at the same time. In summing his presentation, Kindiki claimed that above the Constitution, there is only God, and the blue sky, nothing else.
Justice Kiage, with a one eye seemingly dimmed for emphasis, was unrelenting, not suffering fools gladly: "Counsel, is it not true he that alleges must prove. In so far as your clients are alleging that there was no public participation, it falls on you to prove the same?"
Lawyer Muthomi Thiankolu lit up the courtroom, dropping down his academic titles, and displaying on the screen the horror of hydra of Lerna, the mythical snake which had about 10 heads which grew twofold each, whenever decapitated.
"Hydra of Lerna has been roaming our land since 1897… Some of our forbearers did not believe in this monster head, Mekatilili wa Menza, Koitalel arap Samoei, Dedan Kimathi attempted to cut it off."
He claimed down the Kenyan history, promoters of the hydra had always worked flat out to blunt any sword out to cut it off. He credited past judicial officers who attempted to cut off the hydra, even using blunt swords.
It was his submission that the Court of Appeal should slay the dragon once and for all, by denying BBI a chance.
When he took to the stand, lawyer Paul Mwangi complained of petitioners being quoted in judgement as authorities. He claimed 90 footnotes of the High Court judgement came from writings of Jill Cottrell and Yash Ghai.
"Foreign ideas are now being experimented on us. But why with the law? We get offended when vaccines are being experimented on us." He also talked of "legal aberrations that can only be described as idolatry."
When Khaminwa seized the moment, he recounted Kenya's rotten history, saying it is possible that "those of you who are young may not know that Kenya has a rotten history." He reminded all that former President Mwai Kibaki told the whole world in 2002 that he was inheriting a country badly ravaged by ineptitude and misrule.
As his seconds ebbed away, Khaminwa raised his voice, urging the judges to throw out the appeal, because their arguments presented to them had been pedestrian. He had no time to explain in details.
Karua claimed that dictators, "especially in Africa" had been using Constitutions as "special purpose vehicle" for clawing back on democratic gains. Professor Ben Sihanya got a dose of his own medicine when his former student, fighting BBI, reminded him of his blessings when he was leaving law school.
"He told us go ye, people of Jerusalem, and speak the Constitutional truth to power," lawyer Evans Ogada said of Sihanya who is defending BBI.
Download the BBI Judgement by all seven Judges - Civil Appeal No. E291 of 2021