Uhuru and Macron seek to speed up key projects in Kenya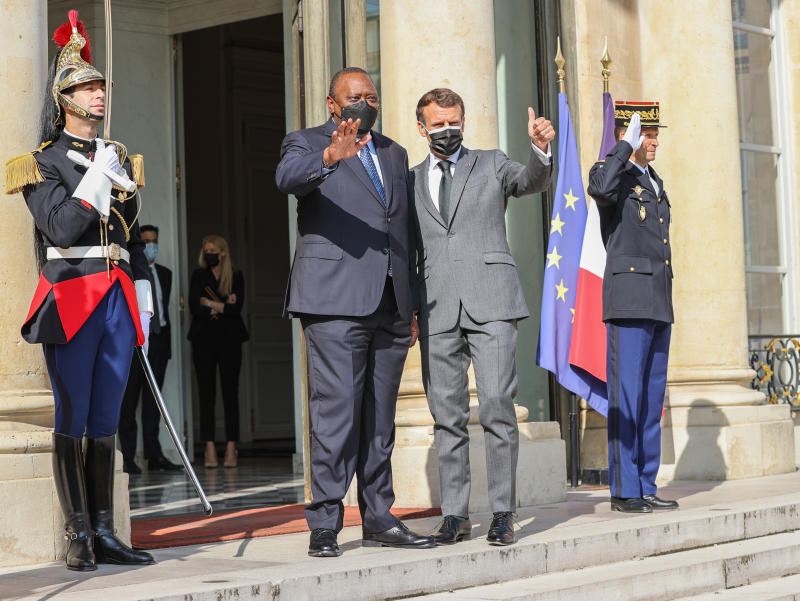 Presidents Uhuru Kenyatta and Emmanuel Macron of France yesterday discussed the progress of key infrastructure projects being undertaken in Kenya.
Uhuru was received by Macron at Elysee Palace where they also discussed several bilateral and multilateral issues.
The meeting centred around projects like the expansion of the 233km Rironi-Nakuru-Mau Summit Road expected to kick off in September following a deal struck by the two leaders in October last year.
The Sh160 billion project is one of the largest public-private partnership (PPP) programmes in Eastern Africa, and expected to expand the Northern Corridor road into a four-lane dual carriageway.
The contract awarded to a French consortium of Vinci Highways SAS, Meridian Infrastructure Africa Fund and Vinci Concessions SAS involves design, finance, construction, operation and maintenance of the road.
The firm will recoup its expenses through tolls for 30 years.
Other agreements made last year include development of the Nairobi Central Business District-Jomo Kenyatta International Airport (JKIA) commuter railway line and the 400KV Menengai-Rongai electricity transmission line.
Yesterday, the two presidents also discussed enhanced cooperation in health particularly in building Kenya's capacity to manufacture vaccines.
On the multilateral front, the leaders spoke about the forthcoming Global Partnership for Education Summit in London to be co-hosted by President Kenyatta and UK Prime Minister Boris Johnson.
The summit is set for July 28 to 29 and aims at raising Sh539.7 billion in five years for investment in the education of 175 million children in low-income countries across the world.
Uhuru was accompanied by Foreign Affairs Cabinet Secretary Raychelle Omamo, his Infrastructure counterpart James Macharia and Kenya's envoy to France Judy Wakhungu.