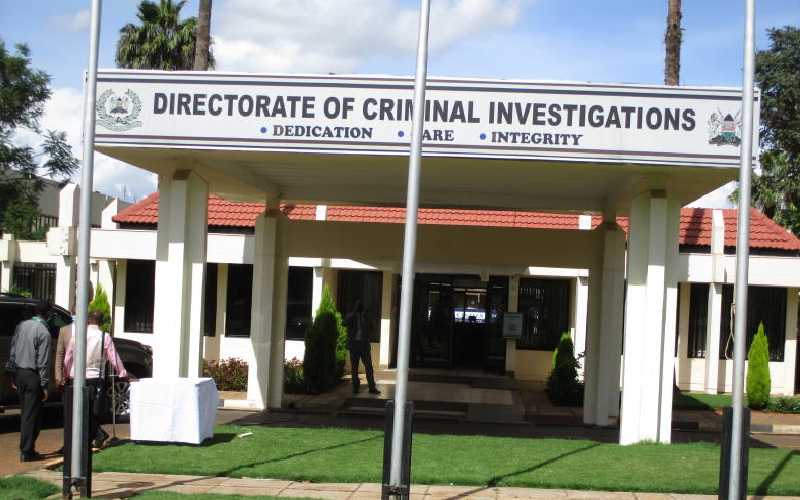 Do not take to social media with mugging experience, report it to the police, Kenyans have been told.
Kenyans who may have fallen victim to muggings in the Nairobi CBD have been asked to make formal reports to the Directorate of Criminal Investigations.
The DCI on Monday said while many victims take to social media to narrate their ordeals in the hands of gangs, they have to formalize the complaints.
"While it is good sensitisation, we further urge them to formalise those complaints as guided to facilitate the prosecution process once arrests are effected."
In many scenarios, suspected criminals go scot-free even after they have been arrested from the CBD streets as the few who report at the station fail to pursue their cases or even turn up for hearings.
FichuaKwaDCI called for sharing intelligence information anonymously through toll-free DCI hotline 0800 722 203.
This comes on the backdrop of two armed gangsters who were on Friday night shot dead by police after they attacked a woman and robbed her of a mobile phone and other valuables.
Police on patrol responded to the distress call from the woman who had just been dropped off by a taxi on Muhoho Road in Lang'ata.
Police recovered a loaded pistol and five bullets from the criminals.
Crime scene officers from DCI documented the scene and the two bodies moved to the City mortuary pending identification.
Meanwhile, mothers in Eastleigh are up in arms. They feel unsafe and so do their daughters.
On Friday, a group of women held a meeting in Nairobi's South C estate over the increasing cases of abduction and the apparent delay by security officers to follow up on the cases.
The women revealed that in the past one week, four of their daughters have gone missing.
"It is a tough time being a mother in Eastleigh. The last seven days have been terrible. We have lost two daughters. It has become routine for our young girls to mysteriously disappear," said Shidiye Shaknoor.
"I cannot sleep or eat. My daughter, Hasfa Abdi Ahmed, 21, called me last Saturday, informing me she was headed to my shop in Eastleigh to bring me some clothes, but she never returned. That was the last communication we had."
In support of the Eastleigh mothers, a group of Somali community leaders drawn from Mombasa yesterday held protests to condemn the kidnapping and killings of young girls.