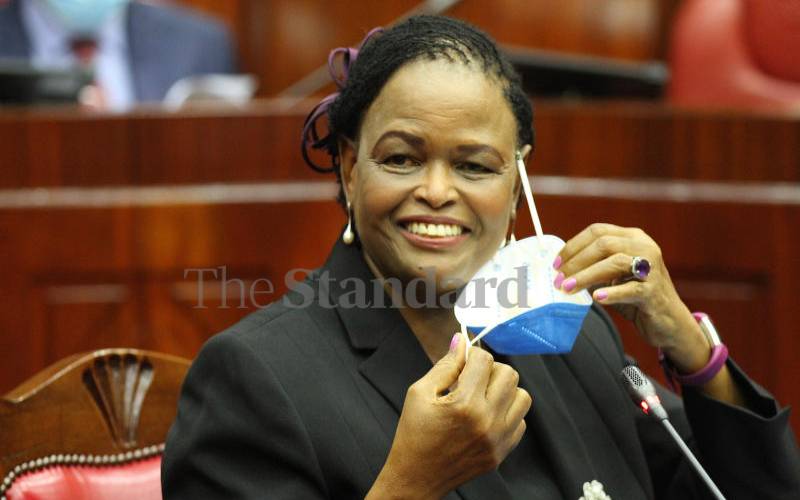 Chief Justice Martha Koome has urged the electoral agency to set up mechanisms that ensure transparent and accountable processes.
She said given the heated political climate Kenya finds itself in every five years, the Independent Electoral and Boundaries Commission (IEBC) should guard its role in administering elections and adjudicating poll disputes.
Her speech was read by Judiciary's chief registrar Anne Amadi at Bomas in Nairobi at the launch of the commission's 2020-24 Strategic Plan, Election Operation Plan, Boundaries Review Operation Plan, and Commission Policy Manuals.
According to CJ Koome, Kenya had undetermined 388 electoral dispute cases compared to 188 in 2013.
"That was an increase of 200 cases from the previous election."
She said there are stringent timelines that must be kept and cases of this nature must be completed within six months.
CJ Koome challenged the IEBC to minimize such cases heading into the 2022 General Election.
She cited Ghana, which she said only had seven electoral disputes in the last election.
"Is it that the people of Ghana trust the electoral commission more than we do, or is it that Kenyans are more litigious than our brothers out there?"
After the 2007/08 post-election violence, the judiciary set out to develop an effective electoral dispute solution process in the run-up to the 2013 general election.
The process was chaired by the Judiciary Working Committee on Election, which aimed to monitor and evaluate the management of election-related disputes in court.
The process entailed, among others, the design of a programme for judges, judicial officers and staff on electoral matters and a public outreach strategy to inform the public on election dispute resolution.
"The experience gained from the 2013 electoral dispute resolution informed the need to convert the then ad hoc Judiciary Working Committee on election preparation to a permanent committee in August 2015."
The Judiciary Committee on Election (JCE) was made a standing committee that provides a mechanism to assist the judiciary to prepare for the discharge of its mandate on electoral dispute resolution.