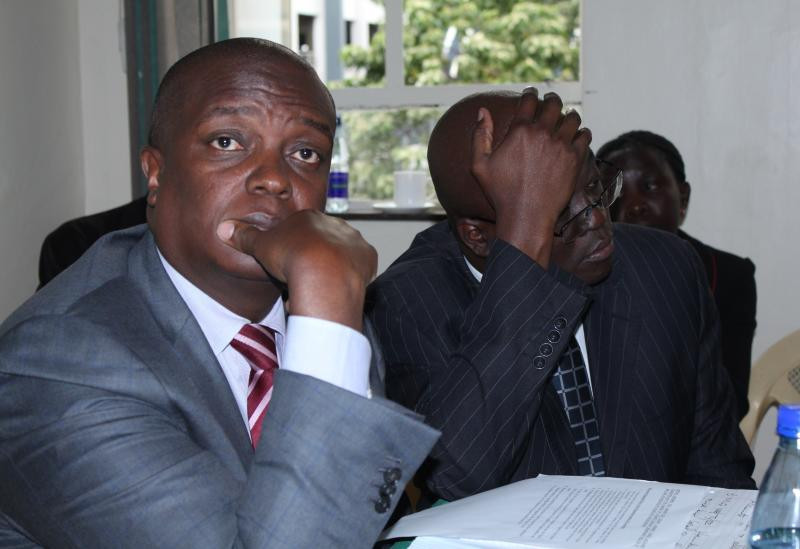 Former Nairobi Chief Finance Officer Jimmy Kiamba is staring at a jail sentence or a hefty fine after the High Court overturned a magistrate's decision to acquit him in a Sh18 million theft at City Hall.
Justice Esther Maina ruled that former Nairobi Chief Magistrate Kennedy Bidali made a mistake in acquitting Kiamba, a former head of accounting at City Hall Stephen Osiro, former county secretary Lilian Wanjiru Ndegwa and Regina Rotich when the evidence proved they committed the crime.
"I am satisfied that the magistrate made a mistake in acquitting the accused persons when there was sufficient evidence as submitted by the Director of Public Prosecutions to warrant their conviction," ruled Justice Maina.
The judge ordered Kiamba and his co-accused to appear before her on July 12 for mitigation before she passes the sentences.
Under the Anti-Corruption and Economic Crimes Act, a person guilty of defrauding public funds may be jailed for a minimum three years and fined up to three times the amount of money lost by the state entity.
The four were charged with several counts of conspiracy to commit an economic crime and fraudulent acquisition of public funds from the City County amounting to Sh17,902,728.
The Ethics and Anti-Corruption Commission, which investigated the theft presented to court evidence of collusion between the four former county officials to steal public funds and how the amounts were traced to their accounts.
The commission through the lead investigator Tabu Luanga testified in court how they uncovered the secret dealings in which the four former officials siphoned the money from the county accounts within 12 months.
EACC also produced in court some cheques and counterfeit cheques, payments vouchers and imprest forms allegedly used by the accused persons to withdraw funds and which were approved by Kiamba and Ndegwa in an irregular and fraudulent manner.
According to the commission, they had raided Kiamba's home and recovered several payment vouchers used to siphon public funds from City Hall.
Despite the evidence, the chief magistrate in January 2018 acquitted them while ruling that the prosecution had not tendered sufficient evidence to warrant finding them guilty.
Bidali had ruled that the prosecution did not show the four accused had a common mind to defraud Nairobi County Government and that there was nothing to link them to the alleged conspiracy to commit and economic crime.
But Justice Maina ruled that the magistrate failed to consider circumstances of the theft and clear evidence that showed they took part in an economic crime to defraud public funds.
The decision comes a few months after Kiamba suffered another blow when High Court Judge Hedwig Ong'udi ordered him to forfeit properties worth Sh318 million he acquired through corruption.
Justice Ong'udi ruled that EACC had proved beyond any doubt that the huge cash deposits in Kiamba's accounts were proceeds of economic crimes and constitutes unexplained assets which must be forfeited to the state.
She further allowed government to take over Kiamba's home in Runda Estate, Nairobi if he fails to pay Sh35 million he used to buy the land.
EACC sought to recover Sh872 million from the former county finance chief on grounds that his accumulated wealth within a period of three years did not tally with his known legitimate sources of income.
EACC argued that Kiamba's salary between 2009 and 2015 totalled Sh5.8 million and wondered how he ended up with over Sh1 billion worth of cash and assets from the time he was the finance chief between 2013 and 2015.
Among the properties EACC claimed Kiamba acquired through corruption were a two maisonettes in Nairobi's South C estate, several apartments spread across the city, a town house in Kileleshwa and several pieces of land spread in Nairobi, Kajiado and Machakos.