For Mombasa Road users, death is always lurking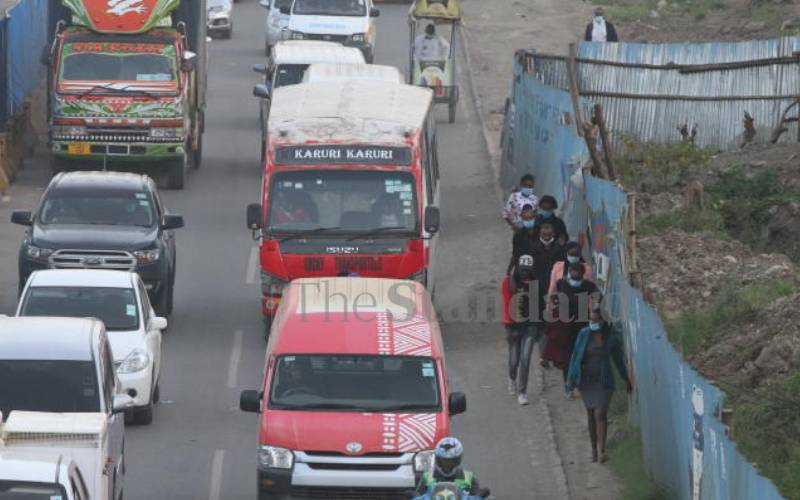 A middle-aged man was yesterday morning killed in a road accident near Panari Sky Centre Hotel on Mombasa Road.
Pedestrians, passengers and motorists passing near the body, which lay on the road, took photos and cursed Chinese contractor, China Road and Bridge Construction, for the nightmare and the deaths that have lately been occurring on the road as the construction of the Nairobi Expressway continues.
"For how long will people die on this road? Recently, I saw someone being knocked down near a U-turn. It seems by the time the construction ends, many Kenyans will have died or injured on this road," said a passenger, who was seated next to the writer in a city-bound bus.
Yesterday's death and those in the past have raised concerns on whether or not the contractor factored in safety of pedestrians during the construction of the expressway.
The 27-kilometre expressway will be a four-lane dual-carriage road from Mlolongo to Waiyaki Way, terminating at James Gichuru/Westlands Redhill road. The Sh62 billion road is being constructed in middle section of the existing Mombasa Road.
A spot check by this writer on the road near Nyayo Stadium roundabout shows that passengers are forced to alight and walk on a very narrow stretch sandwiched between vehicles and iron sheet barriers.
The narrow lanes have made things worse for pedestrians who have to risk being hit by vehicles coming from behind as they walk towards Langata Road for nearly one kilometre.
U-turns
Most pedestrians are now forced to cross to the other side of the road at U-turns that have been created at Sameer Business Park and near Lab And Allied company.
Those coming from places like Mlolongo and works on the opposite side of the road such as Standard Group headquarters have to alight either at Lab and Allied and cross to the other side and walk on the road to reach work.
Alternatively, they can alight at GM, use the footbridge to cross to the other side and walk for about two kilometres to reach Standard Group offices.
"The contractor does not create passes for pedestrians but only U-turns for vehicles, forcing us to struggle for space with vehicles and motorbikes to cross to the other side of the road. To access my workstation at a mattress factory on Mombasa Road, I have to either alight at Lab and Allied or at Airtel, then walk back to enter the company," said Titus Muli.
He says the contractor should make pedestrian crossings at intervals of less than a kilometre, being manned by traffic marshals to guide pedestrians crossing the road.
In some places, pedestrians have to jump over deep trenches, huge stones, open manholes, and loose telecommunication cables. Dust is also a problem for motorists and pedestrians using the road, which is expected to be ready by early next year.
Christopher Kost, Africa Programme Director at Institute for Transportation and Development Policy, says lack of measures to ensure the safety of pedestrians is a major undoing of the expressway.