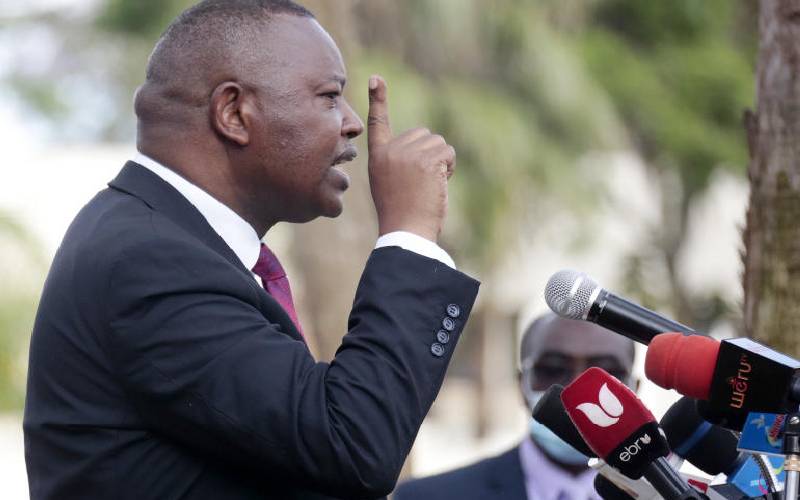 In his delivery, the country's top crime buster George Kinoti (pictured) menacingly wags his index finger and grimaces to add emphasis to how serious the matter at hand is.
Resolute, determined and daring, he cuts the figure of a bull ready to take down any man who blocks his way. When he sets himself onto a path, he closes his eyes, some say, his ears too.
Nobody can stop him.
To the tortured and tired Kenyans — used to selective application of the law and abuse of the criminal, justice, law and order sector — he's a knight in shining armour.
Read More
But the man who loves presenting his cases in the court of public opinion was served a dose of his own medicine yesterday when he was forced to back down on his word.
What was delivered as a firm promise to revisit the 2007 post-election violence criminal cases changed, in a matter of hours, into a word salad of "an acknowledgement of concerns" and "proactive crime management" strategy to "disrupt and deter crimes before they occur."
Before yesterday, Kinoti had previously dabbled in unmitigated showmanship, which has, over time isolated him from the initial collegial approach to prosecutions. He had started his tenure very well, working in consonance with Director of Public Prosecutions Noordin Haji.
Along the way, they fell out and each moved on with their respective mandates, occasionally resulting in embarrassing public clashes in the courtroom.
But there were always beaming indicators. In 2019, investigations conducted by his team on Sh300 million worth of fertiliser alleged to contain mercury led to 11 suspects being hauled to court. He was breathing fire.
Daring charge
Based on information from his team, the State went for the most daring charge of attempted murder, a first in the history of public service prosecutions.
But what followed was a cat and mouse drama, with the defence lawyers seeking to re-test the fertiliser.
First, the State challenged the order for re-test, then went after senior lawyer Paul Muite to withdraw from the trial.
When his efforts hit a dead end, a deal to drop the charges in exchange that the re-test would not be done was reached.
In the end, the charges were dropped as a compromise not to re-test the fertiliser.
Then came the mystery of the death of Sergent Kipyegon Kenei, Deputy President William Ruto's security guard.
Kinoti staged a public display of evidence suggesting a cold-blooded murder was committed to conceal a grand heist.
Leading by example, the top detective visited the scene of the crime and went further to demonstrate how Kenei was eliminated.
But as it appears, Kenei's death remained just that – a bullet and a mysterious killer.
Kinoti has triumphed in instilling confidence on anyone who listens to his promises that no stone will remain unturned, but leaves you crossing your fingers.
His investigations on the death of 71-year-old Dutch businessman Tob Cohen was another litmus test on his style of inquiry.
He briefed the media on anything and everything. Cohen's widow, Sarah Wairimu is the main suspect, according to the DCI.
While denying the allegations, Sarah has thrown the fire back to DCI claiming Kinoti staged a media offensive to incriminate her, get her out the inheritance puzzle so persons eyeing her matrimonial home can have their way.
The matter is still in court with opinion divided on the direction it is taking. [Standard Team]