I am on the road to recovery says KMPDU Secretary General Mwachonda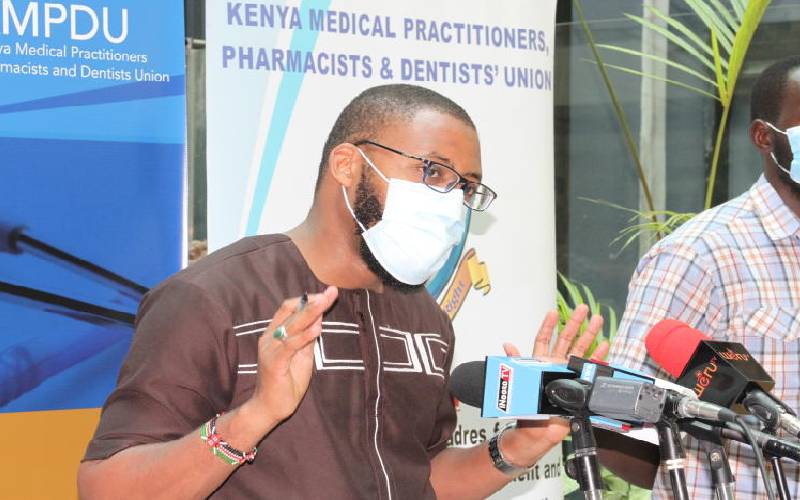 Coronavirus pandemic has affected the medical fraternity greatly with more than 500 medics testing positive for the virus.
Kenya Medical Practitioners and Dentists' Union acting Secretary-General Chibanzi Mwachonda (pictured above) being the latest medical practitioner to test positive for the virus.
Speaking to Spice FM on Monday about his recovery journey, Dr Mwachonda mentioned that he is in the mild stage and currently on home-based care.
"This was not the first test I had done others previously that were negative. The last one I had done was on July 17 this one I did on July 27, 10 days later because on Tuesday I woke up feeling a bit exhausted and I had some muscle ache. I had been working out over the weekend so I thought it was because of the workout but the pain was quite intense and I knew this was not a characteristic of a normal workout pain," said Mwachonda.
The virus has been recorded to show varying symptoms across different patients in the country the latest symptoms being the loss of taste and smell.
"On Wednesday I felt a bit stronger but I was beginning to develop a sore throat. I thought perhaps I should just get tested so I took the test and when the result came I was positive. I then informed my contacts so that they could take precautions," he said.
"I have received a lot of calls from colleague's even doctors who tested positive saying they did not think it was Covid-19 until they took the test. They were just experiencing symptoms and they were not sure what it was. Most of us are now accustomed to fever cough but it can start in a very funny way especially excessive fatigue, muscle ache and you wouldn't think its Covid-19."
"A colleague of mine went for three days in bed unable to move because of pain. He later decided to take the Covid test after testing for everything like malaria, chikungunya, dengue fever and everything coming out negative," he further explained.
Take a quick survey and help us improve our website!
Take a survey
The disease has brought about a lot of stigma in the country with a majority of those who test positive shying away from speaking publicly about it.
"For the close people I could not think twice it was about protecting them given the way the disease spreads. Also given that they have families it was just about informing them either they test now or after a few days," he added.
"I feel much better now compared to the time I was going public. It was not an easy decision to make either but being a doctor and knowing that there is a lot of stigma around this disease and you don't know what to expect I think it's good to explain to people on what they are experiencing."
According to the World Health Organization patients who present mild illness may not require hospitalisation because of the burden it presents to the health care system.
WHO however recommends that for home-based care can be feasible after a trained healthcare worker has conducted an assessment to verify that the residential setting is suitable for providing care and the patient and the family are capable of adhering to the precautions.
Home-based care
Some of the recommendations of home care isolation include hand hygiene, respiratory hygiene, environmental cleaning, and limitations on movement around or from the house.
"The symptoms come on and off. Earlier on I had a sore throat that was like a tight grip on my throat that has since now gone, now I have a cough. I am also asthmatic that was my biggest worry. It has been very well controlled over the years but I have had to go back to full asthma medication from the long term and short term controls because with the virus in the body it would have complicated issues," he said.
According to Mwachonda, one has to make a choice on whether to look at the grimmer side of the picture or focus on the positive and move forward with life.
"I made a decision that I will not sit and look at the negative side of it and I stopped reading about Covid-19. Reading was making me be excessively cautious of everything that I feel in my body and I started looking through at the diagnosis. I felt it was making me a bit anxious," he added.
WHO suggests that Covid-19 spreads between people through direct, indirect or close contact with infected people through mouth and nose secretions. These could be saliva, respiratory secretions or secretion droplets. It could be spread when one cough, sneezes, speaks or sings.
"My contacts in the last week was mainly with colleagues and patients so I cannot pinpoint where I got the disease from. Being in a high-risk group means that put me on a different level compared to the general public," said Dr Mwachonda.
On Sunday, Kenya recorded 690 new infections bringing to a total tally of Covid-18 cases at 22,053. According to Dr. Mwachonda, there is a lot of community transmission at this stage as the country is rising to its peak stage.
"At this time when we have community spread a lockdown won't help much because the disease is at community spread. What we need to do is to make sure our health system is well prepared to handle the patients," he said.
"If you look at our economy we need to have a balance between the health and the livelihood of the people. The government needs to set up a call centre that is dedicated to handling the symptoms, with that we will be having people are aware," he further added.
Yesterday, Marion Awuor, a 32-year-old Ranchuoyo Sub County Hospital nurse, who tested positive to Covid-19 passed on.
Marion was on her recovery path after she had tested negative to the disease four days ago.
A week ago, she had delivered her firstborn baby while still under ICU at the Kisii Teaching and Referral Hospital.