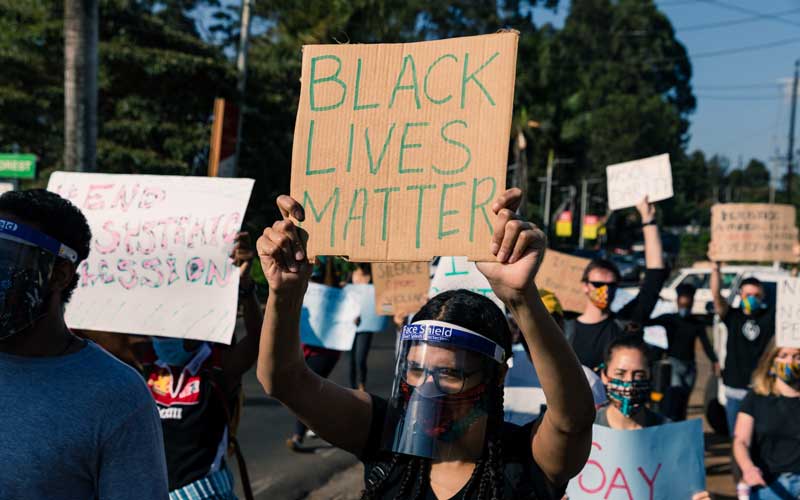 A group of activists, raging against police brutality and extrajudicial killings, on Tuesday staged a demonstration at the US embassy in Nairobi, Kenya.
Even before they made their way to the embassy offices in Gigiri, a suspected case of extrajudicial killing had claimed its latest victim in Nairobi.
A porter at the Marikiti market, popular known as Vaite, was allegedly shot dead last night by policemen enforcing a curfew in Bondeni, Mathare. Vaite was homeless.
"You are first a suspect before anything else and your life doesn't matter. We have had extrajudicial killings here in Kenya especially in the wake of Covid-19 where we have lost about 10 people including Vaite yesterday," Njeri Wa Migwi, one of the protestors and founder of empowerment outfit Usikimye, told Standard Digital.
Read More
Njeri was part of about 20 protestors of different races who set camp outside the US embassy gates, waving placards, to demand rights for the Black community in America and victims of police harassment in Kenya who have been tormented over curfew hours and face masks.
According to the protesters, the US needs to be held accountable for the brutality of the Kenyan police as "the US government provides Kenya with over US$8 million in anti-terrorism law enforcement support annually, along with hardware and training."
The protest was co-currently staged on a different battle ground – on social media – with users on Twitter, including provocateur Boniface Mwangi calling for justice under the hashtag #JusticeForVaite and #policebrutalityke.
The body of a homeless man Kenya police executed lies in alley in Mathare slums. President Uhuru Kenyatta gave police license to kill by saying it's illegal for anyone to be outside after 7pm.Police have used that directive to brutalize citizens. ???? @BrianInganga #JusticeForVaite pic.twitter.com/MKAez0GUuk — Boniface Mwangi (@bonifacemwangi) June 2, 2020
"Police shoot without explanation. That happened yesterday. Vaite was just a porter who works at Marikiti. Everyone knows Vaite and he sleeps on the streets but they shot him and said he was not adhering to curfew," an aggrieved Njeri said.
Even though every person has the right, peaceably and unarmed, to picket, and provide petitions to a public authority, Kenyan law enforcers often violently disperses peaceful protesters.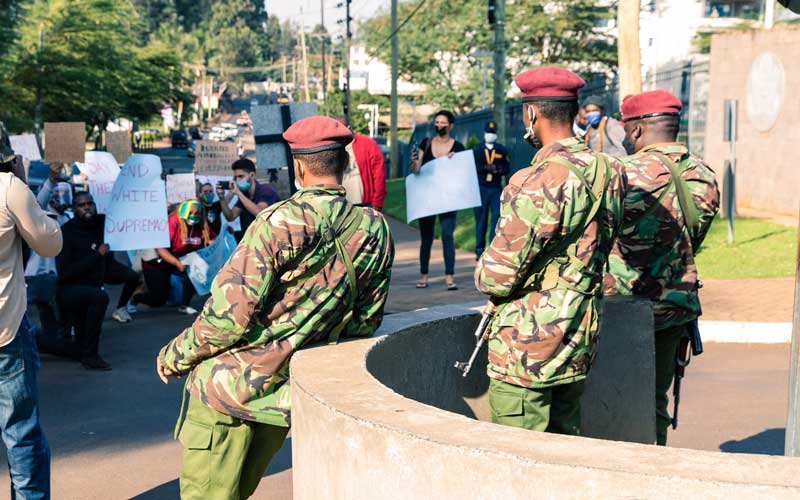 Njeri explains how about 50 police officers showed up under 20 minutes after they arrived at the UN offices and asked them to leave or they would have to use force.
"He (a police officer) told us we need to leave the US embassy and this is illegal even though we were observing social distance and everything."
The Nairobi protests is just one of the small sparks championing for an end to police brutalities in Africa following a raging wildfire of protests in the US over the death of George Floyd, a black man who died in the custody of law enforces.
"Police brutality doesn't listen to us when we are silent. We are going to protest again until we are heard," Njeri promised.