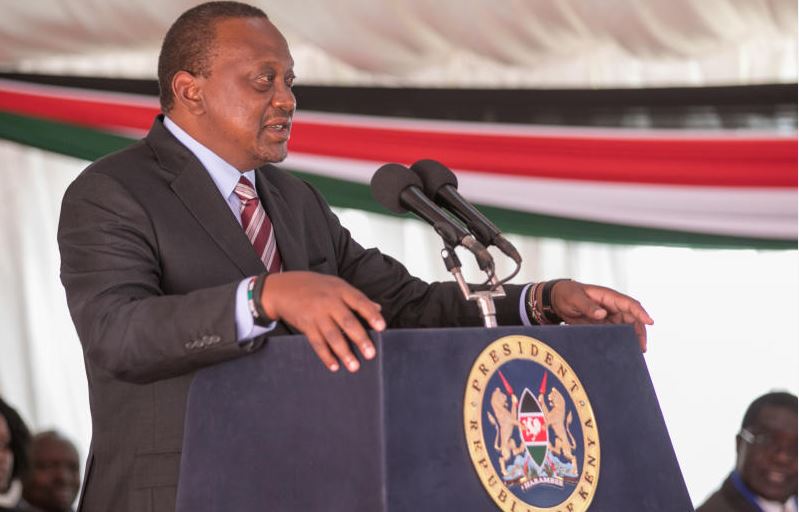 President Uhuru Kenyatta is by far the most admired personality in Kenya, a new survey shows.
Despite enduring a torrent of criticism from Kenyans on economic mismanagement and runaway corruption, the president still commands a lot of respect from his subjects.
Twenty per cent of Kenyans chose the president as the person they admired the most, twice as many as those who settled on Deputy President William Ruto and former Prime Minister Raila Odinga, according to a survey by Tifa, a market research company. Messrs Ruto and Odinga each had 10 per cent.?
While this is not necessarily an approval of the president's performance as head of state and government, it shows the extent to which he is likeable as a person.
The survey did not give reasons for the respondents' responses. It also suggests the country has a serious leadership deficit at all levels, with most Kenyans cautiously casting their lot with the most dominant political players.
In a rare thumbs up to parenthood – and perhaps a signal charity truly begins at home – father and mother were rated the fourth most admired/respected persons at 7 per cent.
Fifth is musician King Kaka, who recently caused a stir with his satirical song 'Wajinga Nyinyi' castigating Kenyans for hypocrisy at 4 per cent. Kaka was rated higher than ubiquitous Interior Cabinet Secretary Fred Matiang'i, the only minister to make the list (3 per cent).
Whether this is the Bobi Wine moment for King Kaka and his supporters remains to be seen, but it is instructive to note that the survey was conducted around the same time that his song was released. Bobi Wine has excited passions in Ugandan politics and beyond, stirred a revolution and endured physical and psychological pain for his values, a fete that will take a lot more than one song for King Kaka to achieve.
Other politicians, including retired President Mwai Kibaki, Kakamega Governor Wycliffe Oparanya, Ford Kenya leader Moses Wetang'ula, Machackos Governor Alfred Mutua and troubled Nairobi Governor Mike Sonko polled a marginal one per cent among the respondents.
But even more damning is the fact that only 1 per cent of Kenyans look up to their pastors, despite several studies showing that Kenyans are among the most religious people in the world.
A 2016 survey by an American think-tank Pew Research Centre showed that 86 per cent of Kenyans say "religion is very important in their lives". Could the clergy have lost the faith of their faithful due to the frequent scandals rocking the church and their ambiguous stand on national issues such as politics, corruption and ethnicity?
Since the early 2000s, there has not been a single dominant spiritual leader in Kenya unlike in the 1970s, 1980s and 1990s when Muslim and Christian leaders were beacons of probity, sobriety and accountability.
And whether it is a sign of the state of marriages or relationships in Kenya or a pointer to growing cynicism at home, only one per cent of the respondents admire their partners. On the contrary, twice as many respondents said they admire themselves more than their partners/spouses.
And just before you take out the handkerchief or cast a suspicious glance at your partner, spare a thought for the captains of industry. No single business leader made it to the list of most admired Kenyans. This may not be entirely surprising given the response to a separate question on the business leader most respected.
Six out of ten respondents that were asked to name a business leader they admire said they had none. While no explanation was immediately offered, it is possible that the incestuous relationship between big business and politics might have taken the shine out of entrepreneurship.
Chris Kirubi and Manu Chandaria topped the list of most admired business leaders at 5 and 4 per cent respectively. Equity Bank CEO James Mwangi scored two per cent, same as 'entrepreneur' Jimmi Wanjigi. Industrialist Tabitha Karanja of Keroche Industries is the only woman on the list, and polled 1 per cent.
Eliud Kipchoge is by far the most loved sportsman, commanding the most respect among Kenyans with four out of ten choosing him as their most respected sportsman. Some 22 per cent of Kenyans have no respect for local sportspeople, with football stars Michael Olunga and Victor Wanyama coming a distant fourth and fifth at 6 and 5 per cent respectively.