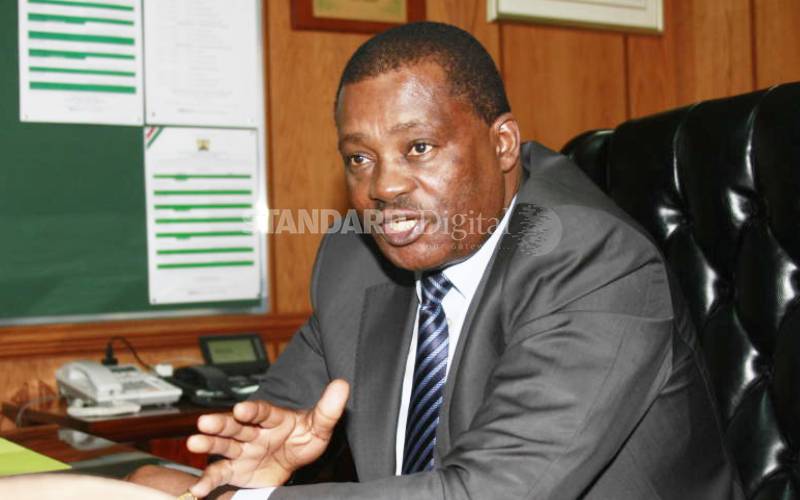 The National Assembly Speaker Justin Muturi has thwarted attempts by some MPs to open the lid on Kenya's public debt. The MPs led by Gatundu South's Moses Kuria had wanted the House to probe all the external and domestic debts incurred by the Government over the past 20 years and repayment plans. With the country reeling under heavy borrowing which has skyrocketed over the last seven years, some legislators led by Kuria had wanted the House to probe the extent of the country's borrowing and the effect of the growing public debt on the economy. Before the House proceeded on its long recess last week, Kuria had filed a Notice of Motion to the Speaker seeking the approval of the House to establish an
ad-hoc
committee, the Select Committee on Public Debt Situation in Kenya to conduct the probe.
SEE ALSO: State eyes Sh100b in pension savings
The proposed committee would have investigated, among other things, the processes, terms and status of both current and past domestic and external debts in the background of the current revenue collection, taxation measures and public expenditure. Kuria also wanted the team to look at the effects of the debt on the current and future generations and make recommendations on possible alternatives and mitigation measures before filing its report to the House in 90 days.
Proposal rejected
However, Muturi ruled that the proposed roles of the
ad-hoc
committee were within the mandate of the Departmental Committee on Finance and National Planning. "The subjects that are dealt with by the Departmental Committee on Finance and National Planning include public finance, monetary policy, public debt, financial institutions, revenue policies, including taxation, and national planning and development. In this regard, the House Business Committee is of the view that the matters listed in the proposed Notice of Motion fall squarely with that committee," ruled Muturi. Under the Standing Orders, a select committee can only be formed to look into matters that are not specifically allocated to any committee of the House or matters that that cut across many committees.
SEE ALSO: Let's overhaul budget to reflect Covid reality
Kuria had argued that the matters he was asking the House to form the committee to probe were not only cross-cutting but also of great concern to Kenyans. Recently, the House gave the nod to Government's request to enhance its debt ceiling to Sh9 trillion, from the current Sh6 trillion. President Uhuru Kenyatta has also signed a bill that allows the Government to borrow an extra Sh400 billion. It is this appetite for debt that Kuria wanted probed by a committee.
Duplication of roles
But the speaker ruled that the work of such a committee would be a duplication of roles since the National Treasury has always submitted to Parliament statutory reports and statistics on the status of loans contracted or guaranteed by the national government, the National Debt Management Strategies and related reports. "These matters are still pending before the Departmental Committee on Finance and National Planning and the Budget and Appropriations Committee," he ruled.
SEE ALSO: Treasury bonds draw billions as banks shun private sector
Muturi said the House had reports on all new loans contracted by the government from February 1, 2017 to August 31 2019, Auditor General's reports on outstanding loans, Medium Debt Management Strategy for 2019 and that there was no need to form a committee to probe these.