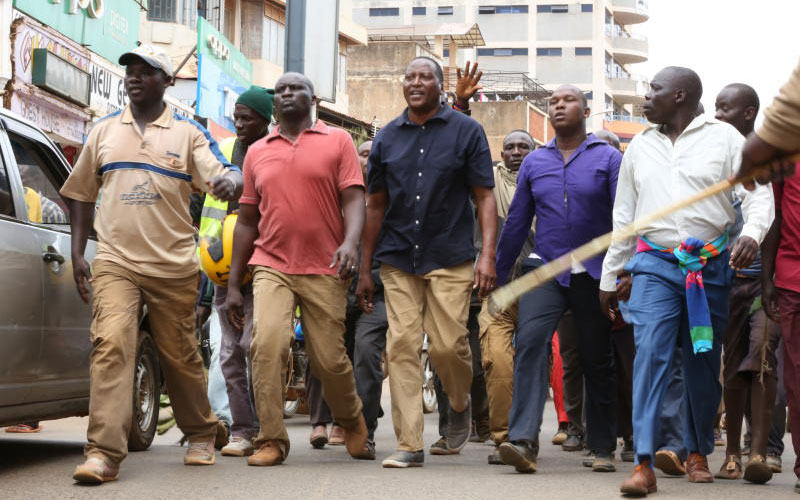 The Government has convened a high-powered meeting with major international institutions funding several ventures nationwide to explain the projects' status.
The meeting at Harambee House today comes at a time the Government owes more than Sh1.5 trillion international loans and has received donor funds in the last four years, all for purposes of implementing Jubilee flagship projects.
Representatives of World Bank, companies from China, Japan, Russia and other European Union countries are among those expected at the meeting.
Director of Public Prosecutions Noordin Haji, Director of Criminal Investigations George Kinoti, Ethics and Anti-Corruption Commission CEO Twalib Mbarak and Attorney General Kihara Kariuki as well as officials from the Office of the President are expected to attend. It was not, however, clear whether they would attend in person or send representatives.
Other sources indicated that Cabinet secretaries from various ministries under which the projects fell would also be in attendance.
"The meeting with donors will take stock of all loans and grants advanced in the last couple of years to determine their status in terms of implementation. It will seek to unlock the stalemate that has led to stalled projects," said a source privy to the planned meeting.
The presence of the officers from agencies tasked with investigating and prosecuting crimes, our source said, was because there had been reports that demand for bribes could be stalling some of the projects.
An official from one of the invited companies said they had been asked to be honest and candid in today's meeting, as it would determine their future engagements in the country. The Standard could not independently establish whether all CSs will be in attendance. A CS yesterday said he was not aware of the meeting.
Today's meeting comes two days after the first full meeting of the National Development Implementation and Communication Cabinet Committee since President Uhuru Kenyatta issued the Executive Order No 1 of 2019. Interior Cabinet Secretary Fred Matiang'i was tasked to chair the committee of all CSs to take stock of ongoing projects across the Government and report directly to the President.
Reports indicated that the meeting gave a 90-day ultimatum to contractors to complete stalled projects.
In today's meeting, the Government wants to understand what challenges financiers are facing in implementing projects. There is a feeling within Government that stalled projects will hurt Uhuru's legacy and there is need for tough action to get them underway for Kenyans to enjoy improved services.
For instance, a survey done on 24 dams that were commissioned round the country showed that only three were in progress.
Nothing happening
"There was heat over the multi-billion shilling dams that were launched almost three years ago, with nothing happening to date," disclosed a source in reference to Dr Matiangi's Tuesday meeting with the committee.
The Galana Kulalu Irrigation project is yet to achieve its full potential even after billions of shillings were sunk in it. The Jubilee administration had promised to put at least 1 million acres under irrigation at a cost of Sh400 billion.
The ministries of Water and Irrigation, Agriculture and Infrastructure are on the spot over incomplete mega projects under their dockets.
The Standard Gauge Railway, the pledge to construct 10,000km of roads and expansion of airports, including Jomo Kenyatta International Airport, are some of the ongoing big projects.
The Jubilee administration's other flagship ideas dubbed "Digital Literacy project" where all Class One kids were to be supplied with laptops appeared to have aborted in spite of billions of shillings allocated.
On Tuesday, after the meeting, Interior Principal Secretary Kibicho Karanja detailed the development of the first comprehensive meeting chaired by Matiang'i, saying the committee received and appraised implementation plans for the national government projects and progammes.