Waqo denies claim he took Sh360m bribe to end cases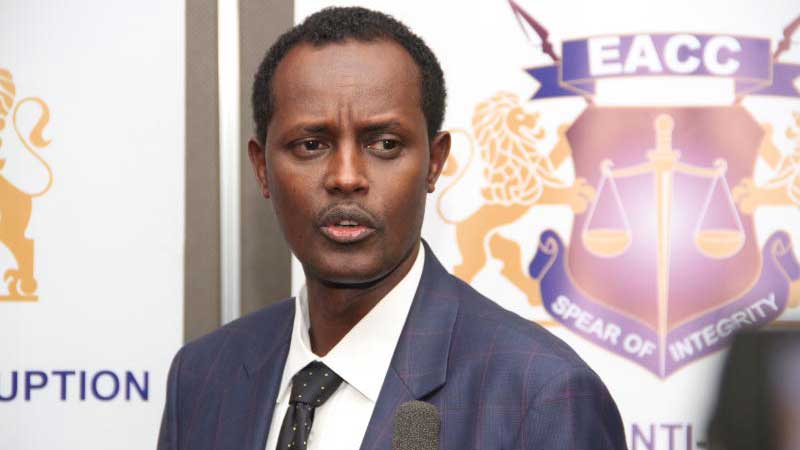 Ethics and Anti-Corruption Commission (EACC) boss Halakhe Waqo had denied receiving millions of shillings in bribes to terminate investigations into scandals.
Fired employee Adan Moro Guracha claims Mr Waqo ended or interfered with investigations into several corruption cases after receiving kickbacks.
According to Mr Guracha, these included the first National Youth Service scandal that led to the loss of Sh796 million. He claims Waqo was paid Sh300 million to end investigations.
Guracha also claimed the EACC boss was at the centre of last year's garbage collection tender scandal in Mombasa County and allegedly pocketed Sh60 million.
In a joint reply yesterday in a case where Guracha has sued for wrongful dismissal, Waqo and EACC denied the claims in court.
Waqo told the court the claims had no proof and were only meant to taint his name.
"The claims are not supported by evidence, are scandalous, vexatious and an attempt to malign the second respondent (Waqo). Further, at the earliest opportune time, we shall ask this court to strike out the paragraphs," read a statement by Waqo and the EACC dated August 7.
Waqo's lawyer, Jackie Kibogy, said Guracha was a desktop officer compiling intelligence and was never assigned to investigate cases he claims Waqo had a hand in.
Ms Kibogy said the decision to fire Guracha was based on his conduct and had nothing to do with the investigations the commission was carrying out as the former official has claimed.
She said investigations into the Mombasa garbage tender, Kenya Ports Authority employment scandal and the Lamu Coal Power plant construction saga were ongoing and had not been prematurely terminated as claimed by Guracha.
"It is established the aforesaid investigations are underway. Therefore, claims that the same were terminated prematurely are false," Kibogy said. "He was never assigned to carry out any investigations as he alleges."
The court papers also indicated that EACC was not investigating tax evasion on sugar imported by two container freight stations, Interpel and Focus. Guracha had linked Waqo to the company that owns the two freight stations.
Remove name
Waqo also wants the court to remove his name from the case, saying he has nothing to do with Guracha's sacking. He said the decision to sack him was EACC's, not his, and argued that the law protected him from being sued over decisions he made at EACC.
"The applicant was an employee of a corporate entity and was dismissed by the said corporate entity. Therefore, the second respondent has wrongly been enjoined in this case. At the opportune time, we shall seek to have this honourable court to strike his name from the proceedings," Kibogy said.
In a sworn affidavit, Guracha's former boss, Japheth Baithalu, said he absconded duty and failed to complete his assignments.