It's been a great journey, Tunoi says as he waits to face tribunal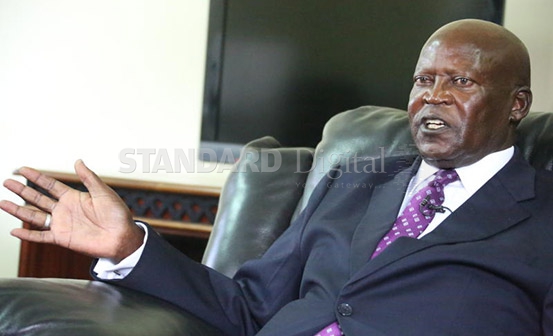 Justice Philip Kiptoo Tunoi is arguably one of Kenya's longest serving judges, rising from a junior judge to serving in the highest court in the land.
He is not only soft-spoken but also an experienced lawyer, who has mastered the art of command and repetitively stops during this interview, probably to rephrase his words before responding comprehensively. Justice Tunoi has been on the bench for over three decades, serving as a High Court judge in Nakuru and Nyeri in the late 1980s and early 1990s.
In an exclusive interview with The Standard on Saturday, Tunoi reveals that he has over the years handled many high profile and controversial cases spanning from land disputes to inheritance and defamation cases.
"I have served for 30 years now and under close to 10 Chief Justices. My career in the Judiciary began way back in 1987 when I was appointed a High Court Judge. I served in this position in Nyeri and Nakuru," Tunoi says.
In 1993 he rose up the judicial rank to a court of appeal judge, then the highest court.
He survived the judicial reform process dubbed 'the radical surgery' in 2004 and eight years later vetting by the Judicial Service Commission which vetted appellate judges on their suitability to continue sitting in line with the Constitution.
"Justice Aaron Ringera carried out the radical surgery as part of the reform process and I was found suitable to continue serving as a judge. I was also cleared during the JSC vetting in 2010," Tunoi explains.
In 2011, Tunoi was sworn in as one of the first ever Supreme Court judges in Kenya and it was at this time, he says, his career aspiration was fulfilled.
But it is the controversial and landmark cases he presided over, that he says, makes him feel the satisfaction of having served in the Judiciary for three decades.
In civil law for instance, Tunoi set the maximum damages which a court of law could award as compensation to an individual whose name is allegedly damaged by a newspaper, a book or any other form of print media.
"It has been a great journey for me. I have presided over several cases which have generated a lot of good jurisprudence. We settled the law on damages relating to defamation. We for example put the limit between Sh5 million and Sh6 million," he explains.
He goes on: "Before 2005, every person convicted with robbery was sentenced to death but in the case of Mutiso Vs Republic, the bench I was presiding, decided that a judge had an option to either award a death sentence or any other sentence permitted by law."
He was also part of landmark cases including the 2013 presidential petition, the digital migration case and the suit touching on the 2013 election date.
Private practice
Before joining the Judiciary in 1987, Tunoi served as a Provincial State counsel in Nyanza and Western Provinces from 1970 to 1973. He then ventured into private practice for close to 14 years.
The father of six and grandfather of seven started his early education at the Tambach Government School before joining St Patricks High School and later Strathmore College for his A-levels.
He holds a Bachelors degree in Law from University of Dar es Salaam, a Masters degree in Philosophy from University of Nairobi and a PHD in the Philosophy of Law from the same university. Interestingly, he says, Chief Justice Willy Mutunga was a year behind him at the University of Dar es Salaam where they both studied law.
"It is of interest that the CJ was a year behind me and all of us as students from Kenya were close friends and associates," he says.
And what does he love doing in his free time?
"I love reading books on philosophy and I am writing a book on the philosophical aspect of the Kalenjin community. I also take a lot of interest in farming. I have about 1,000 goats and over 200 dairy cattle."
Tunoi who has been accused of allegedly receiving Sh200 million from Nairobi Governor Evans Kidero continues to maintain his innocence saying he is ready to face a tribunal to clear his name if need be.
"I will be willing to appear before the tribunal to clear my name," Tunoi says.