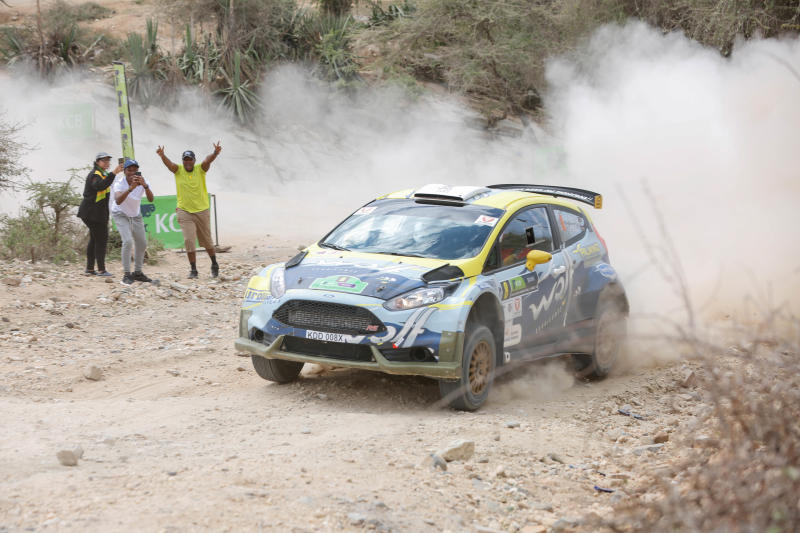 Kenya National Rally Championship leader Karan Patel clocked 1:46:55.7 to take lead on Saturday at the ongoing second leg of the African Rally Championships (ARC) series in Naivasha.
Patel dominated four of the six stages run in Soysambu, Elementeita and Sleeping Warrior as Zambian couple Leroy and Urshlla Gomes claimed the remaining two.
Patel wrapped up the day with a 37.3seconds advantage over FIA Young Star Program driver Jeremy Wahome who clocked 01:47:33.1 for second place.
"I'm happy with the lead, hopeful I win the rally on Sunday but I'm leaving nothing to chance," Patel told Standard Sports.
Gomes, who leads the continental series on 30 points following his victory in the Ivory Coast's Bandama Rally in February, admitted that Sleeping Warrior was a hard nut to crack.
"During recce, the stage had no mud but now the section has an almost knee-high soil which is difficult to manouver.
"We still have some 50km plus to go on Sunday so we are determined to get to the end and carry some ARC points with us back home," said Gomes.
"There's a lot of work for us to do because Karan is just too fast and is on another level," he added.
The first three rounds of the day in Soysambu, Elemeteita and Sleeping Warrior claimed a number of casualties among them McRae Kimathi, Hamza Anwar, Paras Pandya, Rio Smith and Patel's brother Kush.
Despite the draw back, the drivers will be allowed back to the competition on Sunday under the FIA Super Rally rule.
Kimathi damaged his sump-guard after he hit an object in Elementeita.
Anwar and navigator Adnan Din had their centre-diff gave up just 7kms into the race in Soysambu.
"We went through some rocks which were hidden in sand in Soysambu.
"So we spoilt the diff, broke the prop-shaft and the important bolts.
"We've gotten the spares and we are fixing them.
"Hopefully, we restart our journey tomorrow under penalty," Pandya said.
Kush, who retired after damaging his driveshaft, will not restart on Sunday.
Selected ARC Rally Saturday Results
1. Karan Patel Tauseef Khan (Ford Fiesta - Rally 2) 01:46:55.7
2 Jeremy Wahome/Victor Okundi (Ford Fiesta - Rally 3) 01:47:33.1
3 Jasmeet Chana/ Ravi Chana (Mitsubishi EvolutionX) 01:48:26.1
4 Leroy Gomes/ Urshlla Gomes (Ford Fiesta – Rally2) 01:50:29.3
5 Maxine Wahome/Murage Waigwa (Subaru Impreza) 02:05:32.7
Sunday program
Total distance: 138.27km
SS7 -Loldia 1 (19.17KM)
SS8-Kedong 1 (31.35KM)