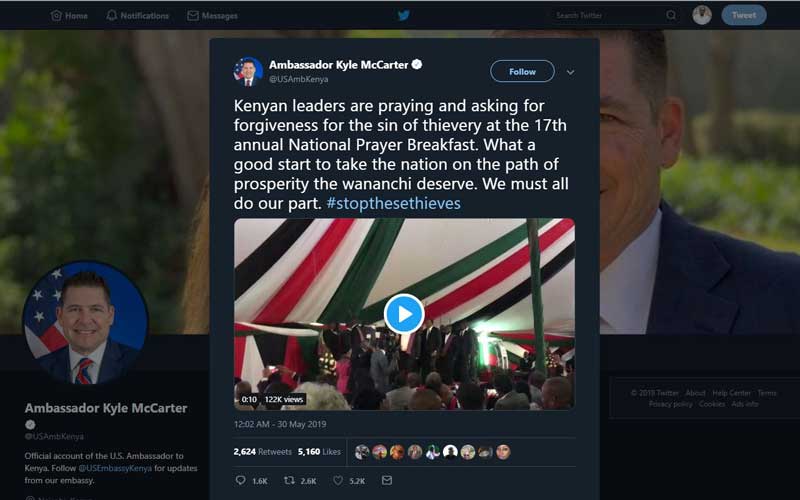 I wasn't a big fan of US ambassador Kyle McCarter when he was nominated to be Washington's man in Nairobi.
His career as a Senator in the state of Illinois – and his political views – were a great concern.
More on that later. But he impressed me with his energy, easy manner and anti-corruption stance. That was until the so-called National Prayer Breakfast ritual on May 30 at Safari Park Hotel. In a tweeted video that went wildly viral, Ambassador McCarter was so exuberant that he proved his naiveté in the face of Kenyan politicians.
He took the hollow self-serving speeches by the pigs at the trough to mean their seriousness in fighting the scourge of corruption.
Read More
I believe Jubilee's Uhuru Kenyatta is serious about slaying the dragon of corruption. But those under him – led by DP William Ruto – have thwarted him at every turn. Mr Kenyatta knows that his legacy will be for naught unless he can stamp out the vice.
Ambassador McCarter's video captured a caravan of senior leaders dancing in a demon-worshipping sacrificial circle on stage. That troupe was akin to a satanic cult of ghoulish characters yo-yoing in unison to a carcass at the centre. Only the carcass was Kenya, the victim that they've sucked and looted dry. The display of benighted occult was deeply hypocritical. It totally fooled Mr McCarter. Most of those in the dancing troupe should've been rotting in jail.
As a black African scholar well-schooled in America – where I've lived for over 30 years – I am wary of white men who speak African languages. It's reported that McCarter speaks good Kiswahili.
White men who speak African languages often presume to know better than the "natives." They will often purport to lecture Africans about their own countries. I have been a victim of this incredible white superiority complex more times without number. Unfortunately, the combination of whiteness and the missionary pedigree – which are Mr McCarter's heritage – is toxic.
This typology of a white man isn't self-aware, or self-interrogating. He assumes every black person is beneath him and owes him fealty. Unfortunately, too many blacks willingly oblige him.
I am not accusing Mr McCarter of all these sins. I don't know him to render judgement. But the man seems to have several troubling complexes. His political views and personal philosophy are problematic.
But let's understand him first as a politician who now purports to chasten others over what he calls "thieving." Don't get me wrong – I fully support him in this. It's about time a Western envoy showed real spine and fully backed – in deed and not just words – Kenya's war on corruption.
But the ambassador doesn't come to the table with clean hands. In his unsuccessful bid to transition from state Senator to US Congressman, he accepted funds – later returned – which violated campaign finance laws.
That's not all. McCarter showed a lack of compassion as a state Senator for addicts of dangerous drugs. He voted against a state Bill to fund treatment for addicts even though Amber, his own daughter, had died of an overdose of heroin and fentanyl.
In 2011, he authored a Bill to allow Catholic charities to discriminate against gays and unmarried couples in adoption and foster care placements. In 2012, he defeated an anti-bullying Bill on the absurd premise it would promote homosexuality. To cap it all, he opposed the introduction of medical marijuana.
I appreciate the ambassador's work with abandoned children and AIDS orphans, but these aren't empathetic and compassionate legislative positions. They reveal a meanness in him.
Perhaps what's most troubling was a tweet he sent out on November 8, 2016 when Donald Trump defeated Hilary Clinton for the White House. In it, he wrote "Hilary for Prison. No, really." At his Senate confirmation hearing, Mr McCarter was less than apologetic about the horrible tweet suggesting victors should jail their opponents.
Finally, the ambassador had expressed anti-immigrant and anti-refugee views during the Obama administration. Again, his responses to this question were less than satisfactory. His perspectives comported with a white racist nationalist Tea Party view of keeping non-white people out of America.
I don't write to condemn Ambassador McCarter. I write to shine a more searching light on who he is, and what makes him tick. The US ambassador to any country is always a powerful person, more so in economically dependent states like Kenya. That's why openly discussing their policy and political views is important. Most of the same Kenyan politicians who are "thieving" share Mr McCarter's hateful social conservatism. He must beware they don't use that common ground to buy his acquiescence and complicity to their looting spree.
The writer is SUNY Distinguished Professor at SUNY Buffalo Law School and Chair of KHRC. @makaumutua.