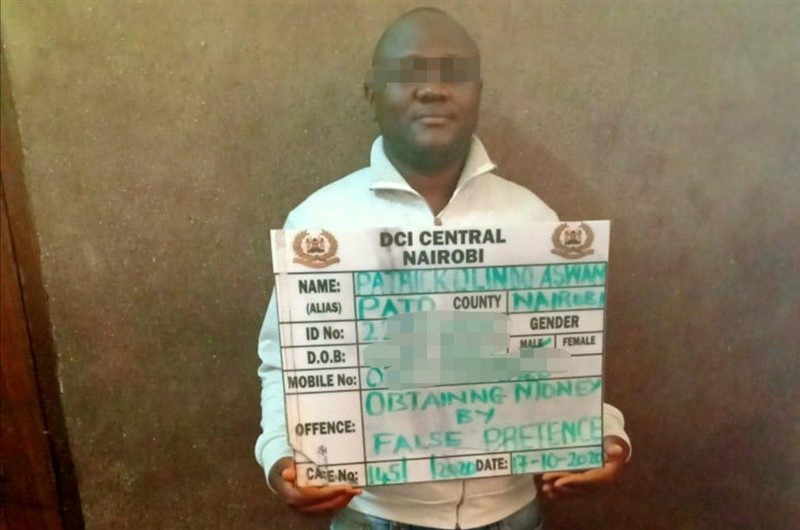 Police officers have arrested a 34-year-old man suspected to have killed his wife before fleeing from the authorities.

John Mwangi Githaiga, who has been on the run for four days has been accused of killing his wife, slitting her throat with a sharp object. The police said the suspect later burnt the deceased's head, hands and legs up to the knees.
According to the Directorate of Criminal Investigations, detectives based at Njoro sub-County arrested the man from his hideout.

The DCI has also nabbed man suspected of defrauding car buyers. According to the police statement, Patrick Olonda Aswani, has been swindling money from oblivious Kenyans under the pretext of importing cars for them. According to the DCI, Aswani was arrested earlier Sunday at Jomo Kenyatta International Airport and arraigned at Milimani Law Court.

The officers said the suspect has been conducting the dubious activity under his business Autobiz Solutions Ltd. He has been remanded awaiting progressive hearing.

"Aswani is accused of fraudulently obtaining money from several unsuspecting citizens in the pretext that he could import vehicles," read a tweet by the DCI.

DCI has also requested members of the public who have been scammed by Aswani to get in touch with the Regional Criminal Investigation Office, Nairobi.

The arrest of Aswani comes a few days after the arrest of members of a notorious syndicate which has been torturing and robbing people after luring them from dating sites.