Four suspects robbing victims through dating site arrested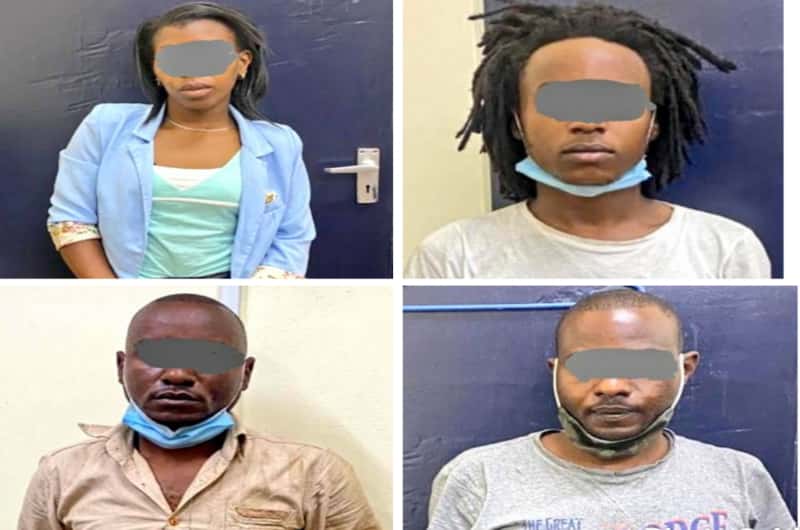 Four suspects linked to the violent syndicate torturing and robbing oblivious victims after luring them to their lairs from online dating sites have been arrested at Ruaka shopping centre.

Acting on intelligence, detectives from the Directorate of Criminal Investigations (DCI) raided a house in Ruaka, Nairobi, only to find a Turkish national being subjected to torture by two of the suspects identified as Bernard Mbugua and Fredrick Mutiso Mutua.

According to the DCI the syndicate's activities came to light a week ago when a victim met with one of the suspects, Mary Mukii Kioko, from a dating site. The victim met Mukii in Imara Daima estate, where on arrival, three men joined them in the room.

"Jointly, the gang tortured the victim forcing him to reveal his ATM and Mpesa pins after which they withdrew the said amount through various avenues and later dumped him along Mombasa Road near Sameer Business Park," read a tweet from DCI.

The four arrests followed two other arrests at Imara Daima last week after some of the suspects escaped through a perimeter wall.

The fourth suspect, Kelvin Nzioki was arrested at the Ruaka Cooperative Bank ATM booth, having the victim's ATM cards and pins ready for transactions, besides having obtained some cash through the victim's Mpesa.

In Meru County, two suspects linked to robbery with violence captured multiple times on CCTV footage in a violent robbery were gunned down after a shootout with the police. The police said the ex-Kamiti inmates were travelling on a motorbike with concealed registration numbers and mainly targeted Mpesa shops.

"Manhunt for the criminals was launched by a select team of DCI, SSU, CR&IB and Meru-based detectives following a public outcry mainly Mpesa operators, with the team maintaining a sharp lookout for the suspects who have been using motorbikes with concealed registration numbers," the detectives said.

The police said that the officers found the suspects while riding on a motorbike at Makutano, Meru. They alighted and opened fire on the officers, and the latter fired back injuring two of them.

"The detectives fired back in retaliation, where the two suspected ex-Kamiti Maximum Prison convicts were fatally injured with the rider escaping but is being pursued," detectives said.