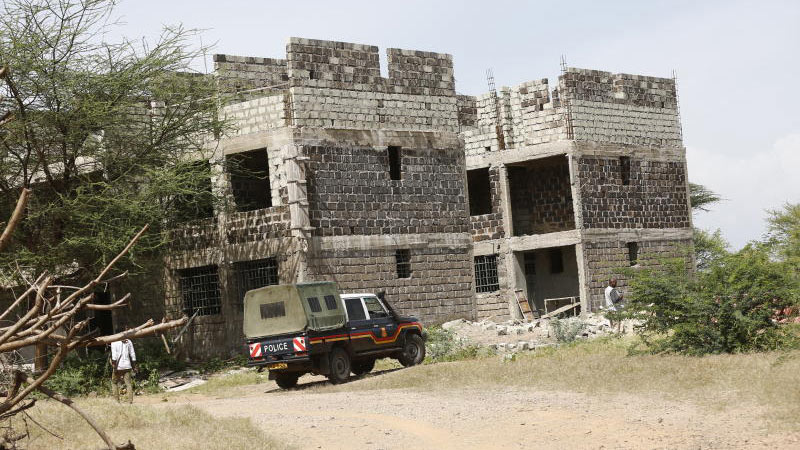 Construction of the Sh169 million Chemolingot Divisional Police headquarters in Tiaty sub-county has stalled due to insecurity and funds delay.
The project, in the heart of an area prone to insecurity, was initiated in February 2012 and was expected to be ready in two years.
The contractor was to build offices, cells and houses for police officers.
The residential section building, was to house 14 junior police officers and four senior officers.
Other than an incomplete structure, you are also greeted by an old lorry parked outside it and overgrown grass when you enter the premises.
Read More
While the police accuse the contractor of neglecting the project, the service provider blames the delay on insecurity and failure by the Government to release funds.
The police accused the contractor, Jackson Ndunda, of concentrating on other projects.
Contractor missing
County Commissioner Henry Wafula said he was unhappy that the project had taken too long.
"This is a security operation zone. Other than police officers, there are times the military is here to ensure security," said Wafula.
He added: "Although there were challenges in funding the project, money meant to complete the project was channelled to our accounts in March this year and is yet to be utilised because the contractor was missing."
County police boss Smollets Munyianzi said, due to the urgency of the project, they summoned the contractor to explain why he had not utilised the money meant for the project that was lying idle in their accounts.
"It is said that officers are working from tents because of the incomplete project. This should not be the case. We wanted the contractor to explain what is happening," said Munyianzi.
Some of the officers have rented houses at Chemolingot trading centre while are living at the National Cereals and Produce Board houses in Nginyany because of the delay.
Munyianzi expressed fear that the money in their accounts might be wired back to the National Treasury if it remains unutilised.
Ndunda said the projects stalled due to lack of funds. However, he added that he had since been informed that the funds were available and promised to complete the construction in six months.
Complete project
"We are looking forward to complete the project now that there is money. Insecurity and lack of funds slowed us down," said Ndunda.
He said out of the total value of the project, they were only paid Sh50 million.
Josiah Adote, who has been working at the site as a clerk and project architect, said that at some point, they did not receive any money for close to three years.
"That is when the project stalled," he said.
"Things were further compounded by rampant insecurity in the area. But this project is extremely important. We have faced many challenges since the project was initiated," he added.