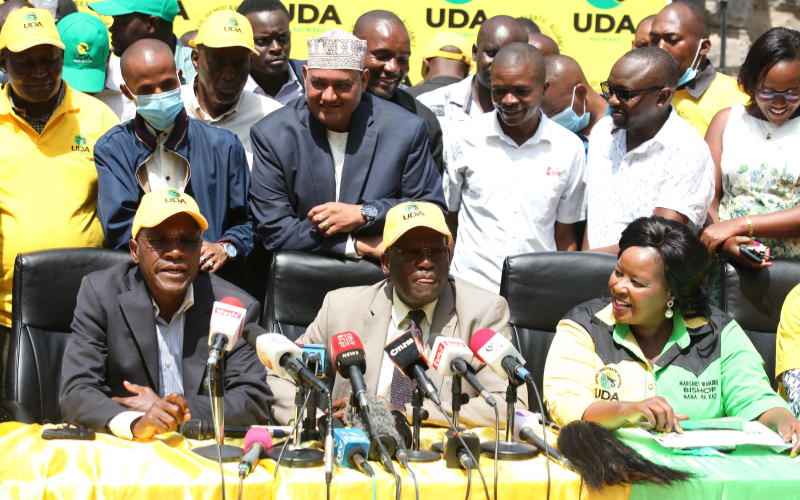 The upcoming electoral debut of the United Democratic Alliance (UDA) is the beginning of the end of Jubilee Party. Media reports suggest that UDA will be the preferred special purpose vehicle for Deputy President William Ruto's 2022 presidential run.
And just like that, we will witness the demise of yet another major national party. Remarkably, since 2002 no ruling party or coalition has remained intact for more than five years. President Mwai Kibaki's NARC fractured in his first term. The Party of National Unity (PNU) barely survived his second term.
President Kenyatta's The National Alliance (TNA) and Ruto's United Republican Party (URP) were folded into the Jubilee Party in their first term. Similar challenges face the opposition. It is rumoured that ODM is about to spawn a regional party in the Coast.
Our high levels of party system volatility come at a cost. Strong and enduring parties serve as vital linkages between the voters and politicians. They help formulate policy, are conduits for civic education, socialise party members into political leadership, and stabilise intra-elite political bargains. A volatile party system takes all that off the table. Mass party membership in Kenya is a mirage, since our parties are briefcase operations run by ethnic chiefs.
Instead of rising through the ranks and being socialised into party ideology and policy preferences, our politicians simply buy party nominations. Finally, the short lives of our parties disincentivise long-run elite pacts. It is not fanciful to believe that if Jubilee Party had stuck together and if Kenyatta had honoured his promise to back Ruto as his preferred successor, we most likely would not be debating constitutional amendments. The knowledge that either Kenyatta or Ruto could simply form a new political outfit ahead of 2022 reduced the credibility of their pact, and placed us on the path to constitutional instability.
Similarly, lack of institutionalised opposition parties has meant that personalities in the opposition vie for power as individuals, a fact that has reinforced the ongoing clamour for expansion of the executive branch to accommodate more ethnic chiefs.
Elite political instability is bad for our politics and the economy. The lack of organisation comes with a lot of what social scientists call "transaction costs" for everyone involved. If we had well-organised and institutionalised parties, there would be proper channels for policy debate, divvying up of economic rents among politicians, and incentives to make a difference in Kenyans' lives.
In short, parties would care about their brands. Instead, we live in a world where every major politician and allied interests fight their individual battles without a care for tomorrow or the generalised impacts of their actions. That is how we have managed to steal and misspend public resources and find ourselves in a deep debt hole. No one in the entire political class is incentivised to think about the big picture.
Ideally, one would have hoped that the Jubilee Party, with a Deputy President who hoped to run in 2022, would have prudently managed the economy with future elections in mind. The disarray in our party system is emblematic of a deeper malaise among our political and economic elites. They are complacent, disorganised, lack ambition, abhor doing honest work, and do not seem to understand their role in society. That is why the Treasury goes through the motions of writing a budget, only to "run out of money" a few months hence as government contractors and public service workers go unpaid. In short, the volatility of our parties denies us the organisational means of forcing our leaders to internalise the long-term costs of their actions.
-The writer is a professor at Georgetown University