Diplomacy dictates an attitude of give and take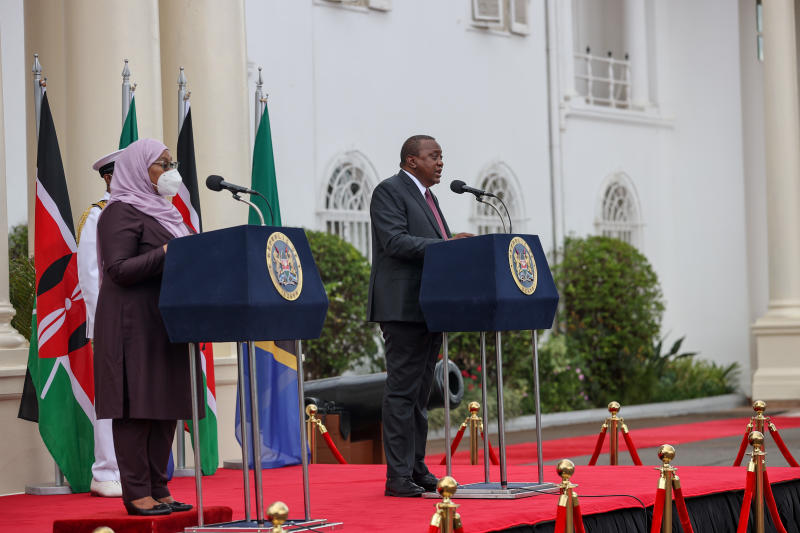 Kenya bagged two diplomatic triumphs this week, even as internally, Jubilee's implosion appeared irredeemable and surprising cracks appeared in its handshake partner ODM.
The diplomatic breakthroughs have tremendous implications on Kenya's economic and security welfare. The first occurred with the high-level visit of Tanzanian new supremo President Samia Suluhu.
In her continuing but genteel departure from her predecessor's path, President Suluhu left no doubt that the icy relations that had characterised the Magufuli tenure would be no more. Relationships between Kenya and Tanzania have never been the friendliest, but they went to their lowest with Magufuli. Kenyans working in Tanzania were routinely sent packing. Numerous non-tariff barriers threatened Kenya's exports with its second-largest export market.
Kenyan farmers faced harsh sanctions including the confiscation of their livestock. Kenyan investors found the going tough within Tanzania. The Joint Commission on Cooperation which was responsible for managing the numerous issues plaguing the relationship last sat in 2016! At some stage, President Kenyatta had to fly to Tanzania to cool temperatures.
While niceties were exchanged and beautiful peacocks gifted, nothing of substance was achieved. During the visit, the two presidents agreed on a relations reset. Several MoUs were signed including the one that revived the natural gas pipeline from Dar to Mombasa, a project that would be a major boost to Kenya's desire to shift to clean energy.
A day later, Kenya and Somalia resumed diplomatic relations which had broken off in December. The last six years have been characterised by intense tensions between these two neighbours pursuant to the maritime dispute that Somalia took to the International Court of Justice in 2014. The dispute stems from a disagreement over how the countries' maritime boundaries should be extended into the Indian ocean. Kenya argues should run latitudinally while Somalia argues that the same should run in a southern easterly manner continuing the path of its land border.
The difference in the two perspectives amounts to about 100,000 square kilometres of an area known to be rich in oil and gas, quite apart from it being fertile fishing grounds. The contestation has been so intense that Kenya refused to take part in the case citing ICJ's "perceived bias".
The diplomatic tiff had serious economic impact with Somalia inter alia refusing Kenya's khat imports that at their best season used to command up to 50 flights daily. The impasse also threatened security in the region with the two countries no longer in active cooperation in the fight against terrorism especially against Al Shabab.
One hopes that the Qatar sponsored rapprochement will lead to a negotiated settlement on the maritime border issue and eventually to greater economic and security cooperation.
Unlike our externals, on our domestic front, diplomacy had ebbed. In ODM there was surprising rebellion by some ranking party members including Rarienda's Otiende Amollo and Siaya's indefatigable James Orengo.
At Jubilee, the now public tension between the President and his Deputy was in full view. The DP was notably absent from the Suluhu state visit. In Parliament, his diehard troops openly defied the President's call to support the Bill in the House. A favourable ruling by the Political Parties Dispute Tribunal appeared to have put wind in their sails. Some believe this is evidence of vibrant party democracy.
Methinks the Jubilee schism and the level of party indiscipline and open defiance it has borne bodes ill for our democratic development. It however appears that our external diplomatic skills are incapable of healing these internal fissures.