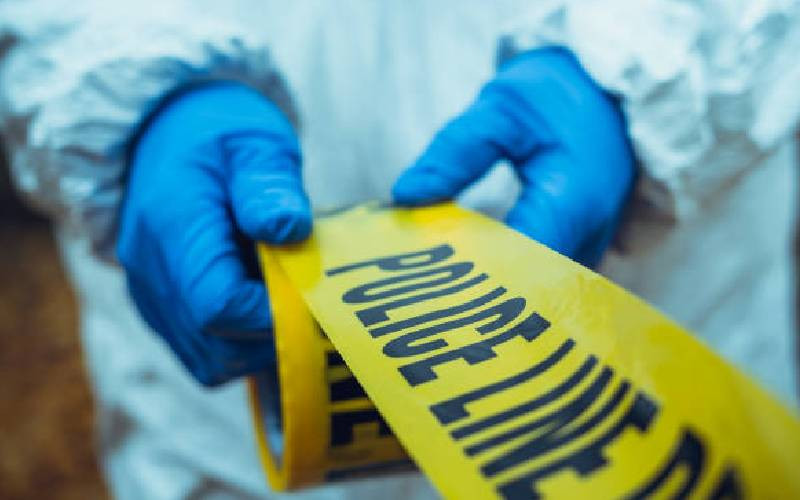 Police in Kakamega are investigating circumstances under which a woman's body was buried in a shallow grave in her neighbour's compound after she mysteriously vanished.
Rosebella Khamonya, 37, disappeared while in the company of her sisters about six months ago at Shibunane village in Ikolomani.
The family of Khamonya, a mother of four, is seeking justice after her body was found on Thursday last week.
Esther Khavugwi said they had gone to harvest vegetables in a farm about two kilometres away from home when it started raining on September 11.
"The owner of the house where we took shelter told us that our sister went to see a friend but she never came back. We looked for her everywhere and even visited morgues but she was nowhere. It hurts that she was killed and her body buried in a shallow grave in our neighbour's home," said Ms Khavugwi.
Police officers exhumed the body on March 9 and took the remains to Kakamega General Hospital Morgue awaiting postmortem.
Paul Shinyolwa, the dead woman's father, sat pensively on a wooden stool outside his house. He said he did not know why his daughter was killed and buried like a wild animal. He urged the police to conduct thorough investigations and bring the culprits to book.
"I watched as my three daughters excused themselves to go and harvest vegetables around 3pm. It never occurred to me that it would be the last time to see my last-born daughter."
"I sold a piece of my land to facilitate my movement while looking for my missing daughter but all in vain. I have been to various police stations, homes and mortuaries in Kakamega and Siaya counties," he said.
At one point, Shinyolwa paid divers in River Yala Sh180,000 to help him search for the body of his daughter. "I thought she might have been killed and her body dumped in the river, but I was wrong. Her body was just a few metres from my home," he said.
On Thursday, Shinyolwa received a call that a body had been found in the neighbourhood and that he was required to go and help identify it.
"People were already gathered at the scene when I arrived. The body was dismembered and I could recognize the head. It was my daughter. Whoever killed her must be evil because she was a harmless person."
Fabian Muteshi, who lives in Nairobi, said he was repairing his house when he stumbled on the body in a shallow grave.
"I was digging behind my house when I discovered the body wrapped in a sack. I raised the alarm and people came to witness and helped me open it. Police were called and they exhumed the body after obtaining orders," said Muteshi.
Related Topics