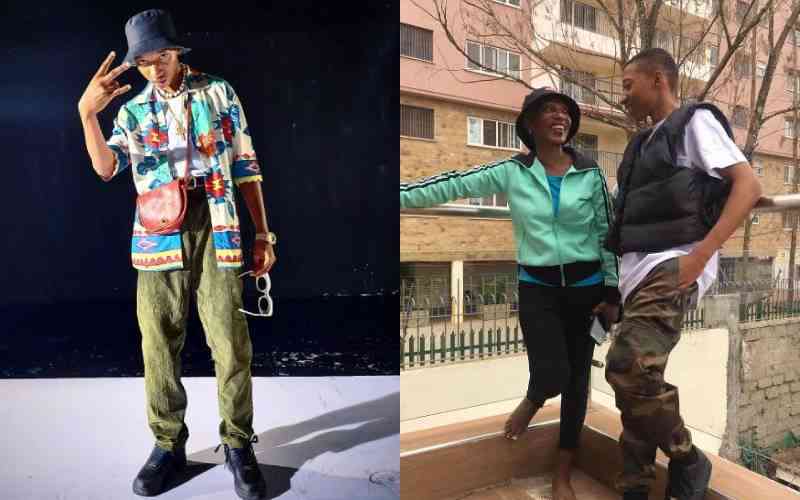 In a distressing turn of events, Irma Sakwa, the mother and manager of popular Kenyan musician Trio Mio, has come forward to voice her deep concerns about her son's safety.
This comes in the wake of alarming death threats directed at the young artist on social media platforms.
On Wednesday, June 7, Irma took to her own social media account to share a screenshot of a menacing tweet that had been sent out to Trio Mio.
The message, originally posted on Wednesday, May 31, displayed the disturbing content where two unidentified individuals brazenly issued threats against the talented Cheza Kama Wewe hitmaker.
"Trio Mio, why did you steal our money? We will finish you. We are fearless," the message read.
Expressing her outrage and concern, Irma Sakwa firmly condemned the actions of these individuals, deeming their behavior a joke that had crossed a dangerous line.
Recognizing the seriousness of the situation, she called upon the intervention of the Directorate of Criminal Investigation (DCI) to thoroughly investigate the matter and ensure her son's safety.
"This is not funny at all. Not long ago, my son got mugged at gunpoint; we have yet to get over the trauma. Then this? DCI, have you seen this? As a parent, I humbly request for action to be taken against these characters! My heart isn't at peace. May God protect my child," she wrote.
The escalating trend of online threats and harassment has raised serious alarm within the entertainment industry and among fans.
Many have expressed their support for Trio Mio and his family, urging authorities to swiftly address this matter and bring the culprits to justice.
As the investigation unfolds, fans and industry professionals alike eagerly await the DCI's response and hope that swift action will be taken to protect Trio Mio and deter such malicious activities in the future.
Related Topics