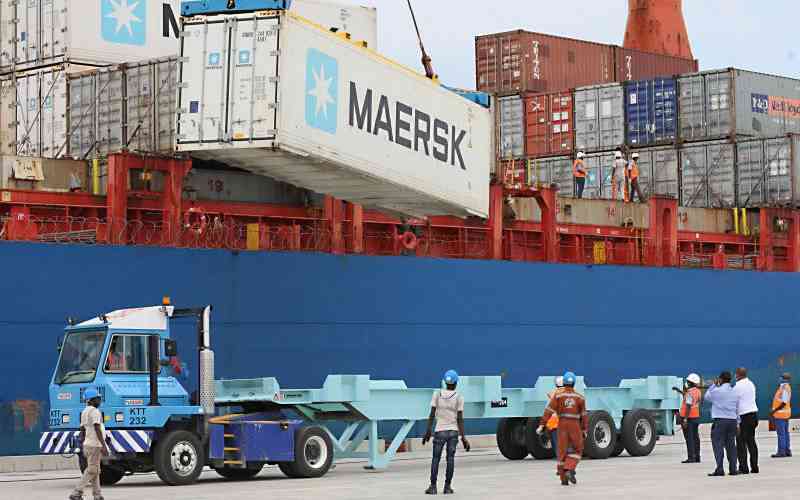 The government has crafted a new policy to protect the local shipping industry from competition from international firms.
The policy dubbed the National Maritime Transport Policy has been crafted around the cabotage laws, under the Merchant Shipping Act, to allow local transport companies to have a monopoly in handling cargo that gets shipped into the country.
Under the policy, Kenya plans to start chartering vessels to undertake local transshipments of cargo as it moves to lock out foreign vessels that have been denying the country more than Sh3 billion yearly.
Kenya does not have a national shipping carrier, which has seen it lose billions in freight charges paid to foreign shipping lines docking at the Mombasa port.
Transhipment involves the unloading of goods from one vessel and loading them into another to complete a journey to the final destination port.
Although Kenya has enacted several shipping laws over the last 15 years, cabotage law remains untouched despite its potential economic and security benefits.
Cabotage laws are used to restrict the operation of the sea, air, or other transport services within or into a particular country to that country's own transport services.
Salim Mvurya, the Mining, Blue Economy and Maritime Cabinet Secretary, said the policy will protect and nurture the local shipping industry.
Mr Mvurya said the policy will enable the chattered vessels to distribute cargo in regional ports such as Dar es Salaam in Tanzania and Durban in South Africa among other African countries.
"We are venturing in cabotage arrangement to enable chartered shipping lines to take cargo to ports such as Dar es Salaam and Durban," he said on Monday when he met Kenya Maritime Authority (KMA).
He was flanked by Shipping and Maritime Affairs Principal Secretary Shadrack Mwadime, KMA Chairman Hamisi Mwaguya and KMA acting Director General John Omingo.
The Inter-Governmental Standing Committee on Shipping (Iscos) that represents Kenya, Tanzania, Uganda, Zambia and Democratic Republic of Congo has crafted a regional Maritime Transport Policy to provide a coordinated approach for member states and the larger Eastern Africa.
Last week, Mr Mvurya said in November, Kenya will hold a conference on cabotage for African maritime states to promote local shipping lines, and align the continent in one direction to inspire local shipping lines to ply their businesses and grow.
"There has been low participation of local shipping lines in the shipping business. Already we have come up with the maritime transport operators' regulations to open up business for the local shipping lines," Mvurya said.
Mvurya said the government has come up with the maritime transport operators' regulations to encourage local shipping lines to participate in trade.
Mvurya said although 90 per cent of international trade was being moved by sea, there is little local participation.
He said many local shipping lines have no ships to ply trade in the Indian Ocean and that is why African maritime countries need to agree on how they would promote their shipping lines' participation in international trade.
At the same time, Mvurya said the government will establish a regional search and rescue centre on Lake Victoria at a cost of Sh1.2 billion to address safety challenges.
Consequently, the CS said already Sh400 million has been allocated this financial year for the construction of the regional search and rescue centre on Lake Victoria.
"Already this financial year we have approved Sh400 million to start the construction of the search and rescue centre on Lake Victoria. Progressively we will continue to appropriate funds so that we have a search and rescue centre," he said.
Mvurya said other small search and rescue centres will be constructed in Busia, Kisumu, Siaya, Homa Bay, and Migori counties to boost safety on Lake Victoria which has boats serving routes such as Mwanza and Bukoba in Tanzania.
Mvurya said the government will recruit 3,000 seafarers by the end of this financial year and fix them into jobs on different international shipping lines.
He revealed that the ministry has started training 2,000 coxswains as directed by President William Ruto recently. "The training of 2,000 coxswains is on course and KMA already has 200 certificates that it will issue soon," he said.
Related Topics