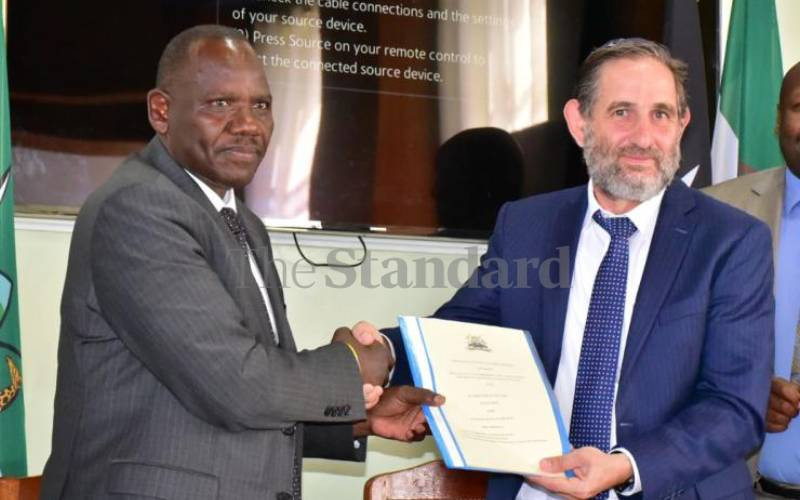 An Israeli company is injecting Sh427 million to set up a modern diagnostic technology that involves using drones to collect samples of patients in remote areas and delivering them to laboratories.
ELSMED Healthcare Solutions will roll out a turnkey diagnostic solution to detect disease-causing organisms at the point of care as well as a diabetes and hypertension treatment centre.
The drone system will involve picking labelled samples from a local dispensary or health centre, and transporting them to laboratories.
After lab analysis, the results are transmitted to the patients through emails and text messaging.
The health technology system will be rolled out in Uasin Gishu County in April after the Israeli medical company signed a deal with the county on January 11.
The medical services project was initiated by Israeli ambassador to Kenya Michael Lotem during his tour of the county last November.
In the deal, ELSMED would provide reagents and consumables required in a fast and effective diagnostics.
Uasin Gishu county and ELSMED will partner in the medical services' delivery project for 10 years from January 2023.
The Israeli medical company will provide modern laboratory diagnostic machines and equipment while ensuring the Health Care Turnkey Solutions project works seamlessly.
"The Uasin Gishu county government will ensure there are regular reports on the progress of the programmes of the Medical Diagnostic Services and train Uasin Gishu health staff to deliver services in the programme," the deal says.
Uasin Gishu Governor Jonathan Bii said: "The services that the project will target in Uasin Gishu's department of health will initially be in 23 refurbished health facilities and will eventually cover all the 138 facilities in the county."
Technology giant Siemens International will supply equipment and machinery on placement contract basis.
ELSMED Kenya Chief Executive Officer Yaron Farachi said the drones will give the turnkey diagnostic solutions laboratories support in collection and delivery of samples.
Farachi said the county is committed to adopting the new technology in its bid to promote proper care for diabetes, hypertension patients and other non-communicable illnesses.
"The initiative is under one project. The diagnostics and drone services will be merged into one activity. This will make services affordable. We are looking to use the diagnostic systems to improve the lives of diabetes and hypertension patients by preventing the non-communicable diseases from getting to complicated stages.
"The technology we are investing in will be made available across the county regardless of the location," said Farachi.
Related Topics