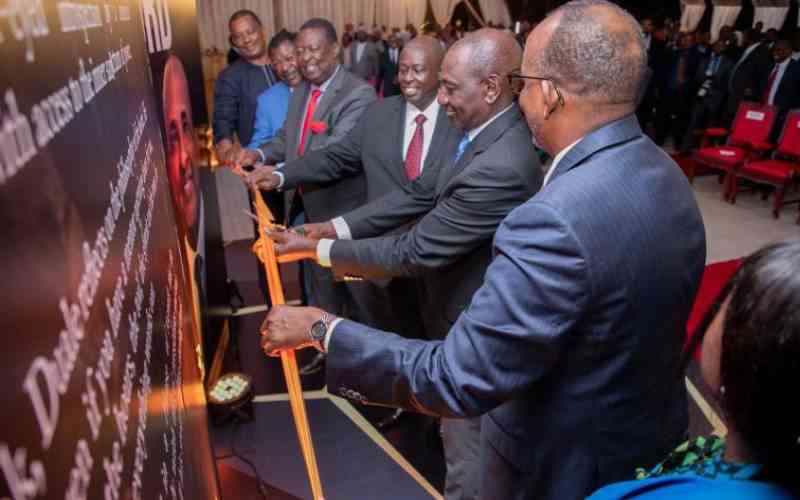 Before the entry of Deputy President Rigathi Gachagua into the national political scene, Aden Duale held the undisputed title of the country's foremost "truthful men".
No one held a candle to this inimitable and voluble son of Garissa who first lay on a bed at Garissa High School. Before that, he had been sleeping on cow-hides on the floor next to the fireplace in a tiny hut.
As the Leader of Majority in the most consequential of the two chambers, Duale got the omelette done without breaking the whole tray of eggs. He cajoled, threatened, dismissed and courted when there was need.
Hii pesa sio ya mama yako bwana, he told former Bomet Governor Isaac Ruto on his demands for increased devolution funds.
In his book- For the Record - Duale who rose to wield power alongside princes and princesses, dishes it freely. He does not hold back on anything for friend and foe. Everybody is put in their place, or where Duale thought they belonged:
Ethuro's fools paradise
When Jubilee won the second term in 2017, Senate Speaker Ekwe Ethuro hoped he would be re-elected. Unknown to him, he had fallen out of favour with the powers that be in the party.
Unlike his National Assembly counterpart Justin Muturi who had done the party's bidding at all cost- including braving cold water spray while forcing through security laws- Ethuro had been sitting pretty at the Senate's hallowed seat.
"He was in his own world, repackaging himself as being above the political fray. The president wanted him out," Duale reveals.
Ethuro was still campaigning among the new senators when Duale reached out to him to stop. He did not take Duale's message seriously and continued campaigning, thinking that is how things worked in Jubilee.
Obviously he had no idea and they let him be. When the vote was called, Ethuro managed just two votes. That was the end for him.
Raiding Ngilu's handbag
In the run-up to the 2013 General Election, Charity Ngilu was desperate to join the winning team. She kept Uhuru/Ruto's side waiting at Norfolk hotel as she tried to cut a deal with Raila's side. When she was elbowed out of CORD by Kalonzo, she returned to Jubilee the following day.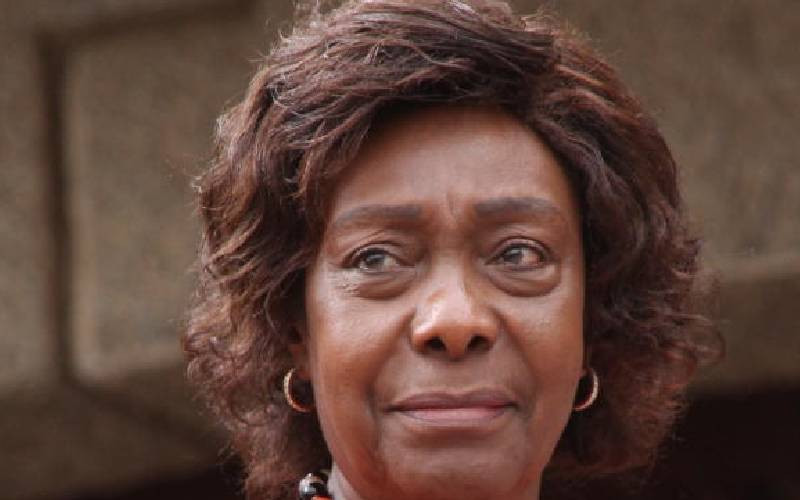 Uhuru and Ruto agreed to a single ministerial post and a handful of diplomatic postings for her, but Ngilu insisted on it being put down in writing. In the process, she incited Republican Party's Najib Balala into the same mode.
On the day they were launching their manifesto at Kasarani, agreements were hastily crafted and signed at Safari Park Hotel for Ngilu and Balala. Again, Ngilu insisted on taking her copy and put it in her handbag.
Later at Kasarani, a vocal politician from Kiambu stole the document from Ngilu's handbag:
"He told me he saw the document jutting out of Ngilu's handbag, and just took it. She was not going to blackmail us into working with her. We knew we would honour the deal but we did not want her to carry the document to Raila's camp and negotiate a better deal."
Describing her as a smart politician, Duale reflects on Ngilu and Balala's politics thus:
"I worry about their brand of politics. I wonder if in their political scheming they have a larger vision. They work well whenever they are given ministries to run, plus they are well-spoken, but I often wonder: When they go to sleep at night, what story do they tell themselves? How do they want to be remembered?
Raila's double face
The cunning side of Azimio leader Raila Odinga is brought out in the book. Duale says at the height of their camaraderie, Raila secretly met his main rival for Dujis, his brother-in-law Ali Korane with a view of giving him ODM ticket.
When Duale confronted him, Raila admitted agree to the deal but told him to ignore it. Later when Raila came campaigning in Garissa, Duale made sure to book him in his family hotel, and to keep a close watch until he went to bed.
"I sat with Raila until 10pm when I saw him fighting off sleep as we chatted. I let him go to his room and we agreed to meet the following day. I hang around a bit, and I was told that as soon as I left, Raila left his room and was driven to Korane's home. All along, there was someone who was monitoring my movements, and briefing Raila to make sure he kept his word to Korane."
Kibaki's long con in Sagana which fooled Raila
Former President Mwai Kibaki went into the negotiations for the grand coalition government with 17 ministers in office. When Raila's ODM proposed a Cabinet of 24, Kibaki shifted position to say PNU now wanted 24 slots so that the Cabinet would be 48. Further negotiations between the two sides reduced the size to 36- 18 from each side.
ODM demanded finance, internal security, energy, roads, agriculture and foreign affairs on the strength of its numbers and also due to the fact that they had let go the presidency.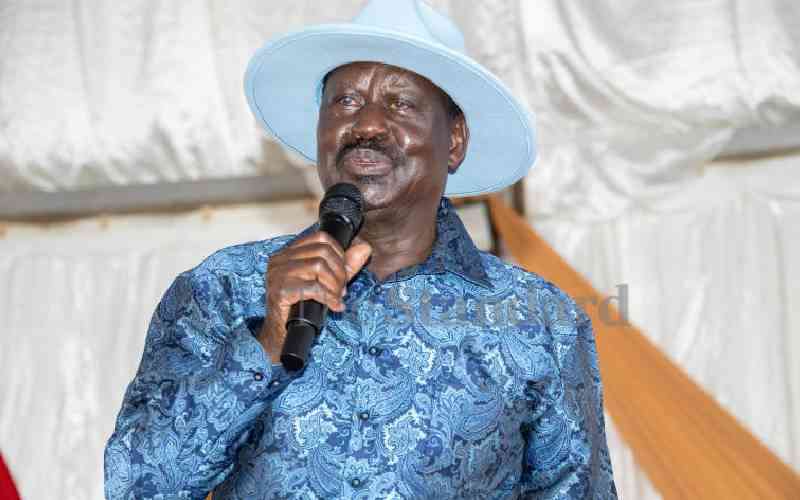 "He was a tough negotiator," Duale says of Kibaki.
Kibaki invited Raila to Sagana so they could settle the matter between themselves. Sequestered there, Kibaki demanded finance, citing his personal attachment to that docket with Raila only too glad to offer it as a personal favour.
Kibaki was given an inch, and he took a mile. By the time he was leaving Sagana, Kibaki had defence, internal security and foreign affairs and Raila planning, local government, roads, immigration, tourism, medical services, water, agriculture and a few others.
"The heart of the government went to the Kibaki side. Kibaki had just split some departments, elevated them to ministry status, and handed these shells to a grateful but clueless Raila. Ruto was not happy."
Ruto, Duale's Ugali moments at State House revealed
In the book, Duale reveals that William Ruto, was still a Deputy Party Leader of ODM when they secretly met Kibaki to strike a working arrangement.
"Ruto, as he promised in our candid chat, got an appointment with Harambee House, and we met President Kibaki, together with then head of civil service Francis Muthaura and Internal Security PS Francis Kimemia."
He says their assignment was simple: Help defend the government agenda in Parliament, keep ODM side accountable and in return get development support for their regions.
They proceeded to organise themselves into a group that gave Raila a hard time in Parliament as he handled the PM's Question time.
Duale says they severally nailed him on matters such as misappropriation of World Bank funds for Kazi kwa Vijana.
When Duale defended Kibaki's family honour on the floor of the House, he was immediately summoned to State House and asked by First Lady Lucy Kibaki to state his wish. Duale said tarmacking of Garissa-Modika road:
"Consider it done," she said, as she got on phone with the PS, Roads Engineer Michael Kamau. Within a month there was a contractor on site.
Balala's awkward horse ride
An ex-member of ODM's top decision-making organ, the Pentagon, Najib Balala thought a lot about himself. As 2013 advanced, Balala formed his own party- the Republican party whose symbol was a horse.
Duale says that Balala believed that since he was now a party leader, he deserved a seat at the high table. He also came with a claim to the Muslim constituency from the whole of Coast region.
"We doubted his political utility. We also doubted his ability to add significant votes in the coalition's basket but as a former member of Pentagon and a Cabinet minister, he had built an oversized political profile in the public consciousness. Having him in our corner helped give the Jubilee coalition a national outlook, to show that the Coast region was also with us," Duale reveals.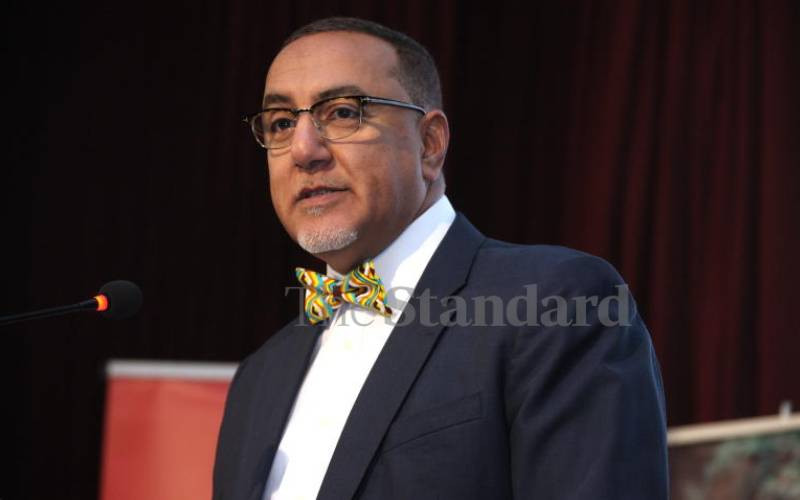 When they went to Mombasa, Balala brought three horses for himself, Ruto and Uhuru to ride in the streets. While Uhuru rode on his to an extent he almost missed his flight back to Nairobi, Ruto declined the invitation.
Kalonzo's horrible political instincts
In the book, Duale has little good to say about Wiper leader Kalonzo Musyoka. He describes Kalonzo as thin-skinned, insensitive and "hopelessly equipped with horrible political instincts."
He says Kalonzo talked himself out of a presidential ticket that would have seen him become the fourth president of Kenya.
"You guys, leave the presidency to me. I have looked at the charges you are facing and as a senior lawyer, my advice to you is, just go to the ICC. You will be jailed for a maximum of ten years. When you come back, I will leave the seat to you. I will hand it over to you."
The legal advice was too heavy to bear. Uhuru went out to smoke as Ruto was left to confront the VP: "Is that so?" The pair changed their minds instantly, and left without looking back.
The horn Kiunjuri rejected became the cornerstone
When Ruto and his allies settled on URP as their political vehicle for 2013 elections, they chose a horn for party symbol. They wanted to appeal to the farmers and pastoralists -- a constituency that had long been ignored.
However, when they took the symbol for registration, the Registrar of Political Parties dashed their hopes. The first governor of Nyeri, the late Nderitu Gachagua's party- the Grand National Union Party had long taken it.
As they debated on the next options, Mwangi Kiunjuri, a GNU top official walked in, found them discussing a milk gourd.
"I don't want this horn. I want to return it and pick a jembe, a hoe. I want to appeal to farmers," Kiunjuri said when they asked about his mission. The horn had proven disastrous for GNU in central where Mungiki was wreaking havoc.
The horn was now free to be taken, and they blew it all the way to State House.
Kaparo's 'legendary entitlement'
Duale does not appear to fancy former Speaker of the National Assembly Francis ole Kaparo. Kaparo was not his first choice for URP chairman post. Duale's first choice had been Hussein Maalim, the man he dethroned in Dujis, but he declined.
"He turned out to be a complicated man to deal with despite our full support," Duale writes of Kaparo.
Later, Kaparo pitched for the position of Senate speaker which they had earmarked for Ekwe Ethuro.
"We gave you a slot to be a nominated MP. Instead, you gave it to Sarah Korere. Now you want to complicate matters for us," Duale recalls telling Kaparo who insisted he had the experience of running parliamentary business.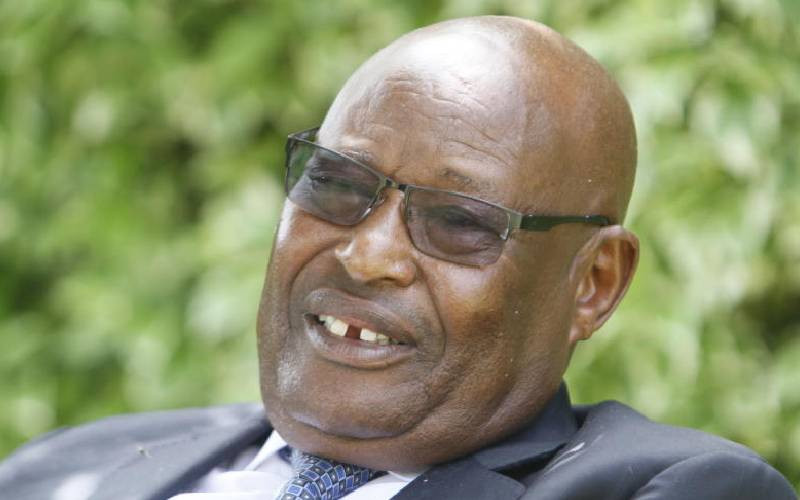 It took Ruto and Uhuru to convince Kaparo to drop from the race. He was very bitter, and did not have kind words for Duale.
Sky team and their funerals platform
"There is a funeral in Kieni. I want you to go there and say that Keter is being urged on by a businessman based in Westlands. Don't mention him by name but threaten to expose him and his dealings," Duale writes.
He had been summoned to State House by Uhuru who under pressure about the Railways deal, from MP Alfred Keter.
When Duale asked about whose funeral it was, he was shrugged off:
"The chopper is ready. Get on it, hiyo ingine utajulia mbele," one of the presidential aides told him.
Duale reveals they chose funerals because "it was the only function where we could get a platform" and because "a press conference would lead into an ambush of sorts".
That evening after the Kieni assignment, businessman Jimi Wanjigi called him and asked him why he was being used to fight him. Duale told him to go make peace with the president instead.
When they later met at the British High Commissioners' residence, and Jimi brought the matter back, Duale repulsed him:
"I will push you into the pool. I don't joke around," he writes.
Duale's 22-minute Waterloo
For all the work he had done for the Uhuru administration in close to eight years, it would take just about 22 minutes to bring him down. In his foreword, President Ruto paints the picture of the day:
"The day he was politically hanged, drawn and quartered, I had no words," Ruto writes.
From Duale's explanation, Uhuru broke out of a tough Covid situation at State House to witness the historic hanging:
"I had wanted to join online because of the Covid-19 situation at State House. I did not want to come here and, infect all of you. I got my test results this morning. I am negative now, my team too. So we can proceed," he quotes the president as saying, almost confirming that Kenyatta had been down with Covid.
The meeting had only an agenda and things moved fast. The president put the matter of his removal to an acclamation vote and declared the motion passed. He named Kimunya as the new Leader of Majority.
He invited Ruto to speak but he declined: "He just clasped his palms together, a sign of gratitude, and made a slight bow to show that he had nothing to say."
Tuju then got a seconder. "The whole episode took 22 minutes," he writes.
Related Topics