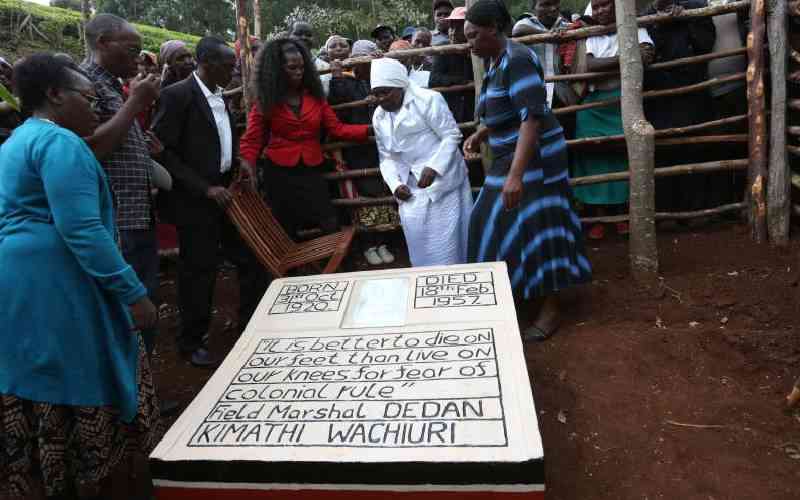 Even after sacrificing her youth to free her motherland in a cause that ultimately cost her a husband, Mukami Kimathi almost lost her four children to some schemers from India 57 years ago.
Mukami, the widow of freedom icon Dedan Kimathi, had to mount a spirited campaign to save her children before they were flown to India, where some conspirators planned to keep them forever.
Ironically, the schemers posed as Good Samaritans affiliated to Jawaharlal Nehru, an Indian anti-colonial nationalist. They claimed they wanted to repay Kimathi's sacrifice by assisting his family.
At the time, Mukami who had just been axed as a nominated councillor and was going through financial stress and depression, naively agreed to release her children, Waciuri, Maina, Wangeci and Nyakinyua to Dayanand Home.
She explains in her memoirs, Mukami Kimathi: Mau Mau Freedom Fighter that she thought that Dayanand was a boarding school but was later horrified to learn that it was an orphanage.
"At the orphanage, we were not allowed to go home for holidays for years on end but my mother would visit as often as she could. We were not allowed to speak our mother tongue. Over time it became more and more difficult to communicate with our mother. We had forgotten to speak in Gikuyu," Rahab Wangeci narrates in the memoirs.
She recalled that they were taught Hindu and during weekends they would be taken for picnics and Indian films and were forbidden from practising Christianity at the centre.
During one visit, Mukami learnt that her children had been given passports and the boys were to be taken to America while the girls were being flown to India.
Mukami used all the contacts at her disposal and went to court to prevent her children from being taken to India and America.
Even after the children were released from the orphanage with the assistance of Mbiyu Koinange, they could not fit at their home in Kinangop and ultimately dropped out of school and college.
Wangeci explains that at the orphanage they had been denied a chance to learn how to fend for themselves and when they went home they could not cope with domestic chores and perceived cooking and washing their clothes as punishment.
They could also not fit in local schools and neither could they communicate with their peers as they had been taught to communicate in English, Kiswahili and Hindu.
Wangeci says she dropped out of an accountancy course at Dedan Kimathi college in Nyeri and switched to secretarial courses but ultimately dropped out after she got married.
Her brother, Waciuri too did not proceed to university after sitting his Advanced level examination. He opted to look for a job so that he could help his mother fend for the family.
Meeting Mandela
All this while, Mukami was struggling at her farm in Kinangop to pay the government loan and had been driven to obscurity.
Mukami was however thrust back into the national limelight on July 14, 1990 when Nelson Mandela, who had just been freed from prison after 27 years, visited Kenya and expressed his desire to meet Kimathi's widow.
Mandela must have made the government uncomfortable because Mau Mau, the movement associated with Dedan Kimathi and the freedom struggle, was still a proscribed association.
Mandela left Kenya without meeting Mukami and it would take 15 years for his dream to come true. By that time, he had retired as South African president and had won a Nobel Prize for Peace.
On this occasion, Kangethe Mungai, a human rights activist plotted to take Mukami to the airport, tricked the security agents that she had an appointment with Mandela, wary of some crafty government officials who had told Mandela that the widow was far away.
"Nelson Mandela hugged me squeezing my hands into his, his lips pursed in an effort to hold back tears. Graca joined him and they embraced me in a hug. I hugged them right back, forgetting that I smelt of smoke.
During their meeting, all Mukami could hear was the name Kimathi because of Mandela's accent, and she made Anyang' Nyong'o aware.
"The English is too much. I cannot follow what he is saying."
Nyong'o assured her.. that the former president was thanking her for the contribution she had made as a freedom fighter to liberate Kenya.
On that day, Nyong'o, then minister for National Planning, was the translator, a role he would later describe as one of the most important things he had done in his entire life.
Related Topics