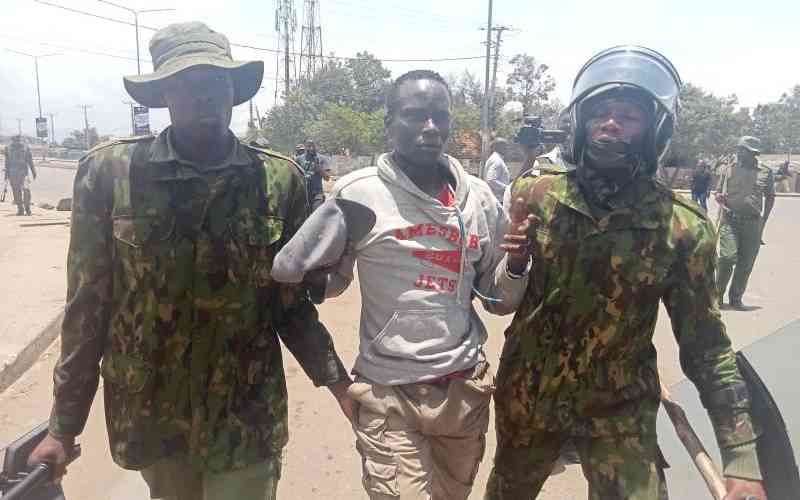 Senate Deputy Speaker Kathuri Murungi has called on the Inspector General of Police Japhet Koome to award by promotion officers who professionally managed the Azimio protests.
Mr Murungi argued that officers who helped Kenyans, protected businesses and prevented loss of lives during last week's anti-government protests were worthy of a promotion for their service to the public.
This came, after police -among them Administration Police officer Bramwel Wesonga- were applauded by the citizenry for their service shortly after pictures of their acts of kindness went viral.
Wesonga on Monday came to the rescue of a student who found herself stranded amid the protests along Luthuli avenue; he led her away when police lobbed teargas canisters to disperse protestors.
"I was patrolling around the area. I am normally stationed around Luthuli Avenue. I saw the girl stranded in the middle of the road and I decided to help her. I took her to the stage to go back to her parents," he said.
Speaking during a media briefing yesterday, the Deputy Speaker emphasized the need to have good deeds appreciated and rewarded. He opined that the recognition of such acts would motivate the police to continue with kind deeds and service to Kenyans.
"I want to ask the Inspector General of Police to consider promoting this gentleman to motivate him to continue doing good. His act of courage and kindness has shown that we have very good police officers," he said.
At the same time, Murungi called on the former Chief Justice David Maraga-led taskforce on police welfare and prison officers to ensure that they embark on a fact finding mission of the living conditions of the officers and make necessary recommendations to change their reality.
And while lauding President William Ruto for giving autonomy to the Kenya Police Service, the Deputy Speaker said this will ensure that the police manage their budget without interference from the Executive.
Previously, the Interior Ministry managed the budget of the Kenya Police Service.
Shortly after being sworn in as the fifth president of the republic, Ruto observed that the financial independence of the police would be a major boost in the fight against graft and end the weaponisation of the criminal justice system.
"For a long time, the Inspector General of Police used to go to Harambee House to line up and ask for funds. Giving the Police autonomy will make them more professional. They are no longer beggars at the Office of the President," said the Deputy Speaker.
Related Topics