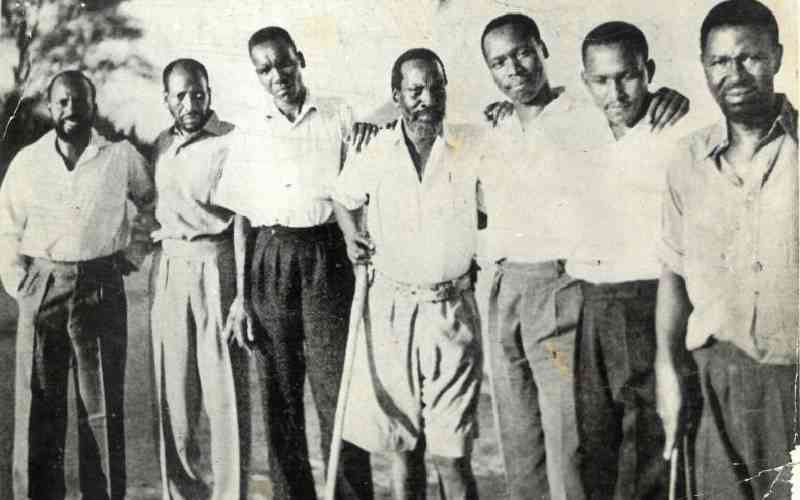 For nine years, Paul Ngei toiled alongside Mzee Jomo Kenyatta in Kenya's forlorn prisons, accruing the prestige of being one of the Kapenguria Six.
Upon their release in 1961 and re-admission into politics, Ngei hang on Kenyatta's coattails only as it was enough to get his grounding. In the run up to the independence General Election of 1963, Ngei dumped Kanu and founded African Peoples Party (APP).
Ngei's leaving was of special concern to Kanu which had been battling Kadu's exuberance acclaim to small communities and their dominance of the security sector. It did not help that many Kamba politicians followed him into his new outfit.
"He had the charisma but little else to commend him," Kyth Kyle writes in The Politics of The Independence of Kenya, drawing on his particular dislike for whites.
"At one press conference, after descanting on how Africans blew their noses more hygienically than Europeans, he visualised a world in which white men had eliminated each other in a nuclear war, leaving supremacy to the blacks," he adds. Ngei's APP benefited from defections of those who were reeling under either the dictatorship of Kanu or particular dislike for the hotheads in both Kanu and Kadu.
Despite Ngei's clear lack of leadership in the party, exhibited by his random listing of party candidates, he retained considerable backing in the whole of Ukambani.
Blunders by Kanu figureheads added to the flame APP lit among Kambas. Kanu's Minister for Works Mwinga Chokwe threatened to drown into the sea Kamba's living in Coast who did not support Kanu.
This, together with rising consciousness among Kamba elites that their neighboring Kikuyu, Kenyatta's tribe, sneered on them privately, strengthened their resolve to back Ngei's rudderless party.
Finally, Kanu's determination to teach Ngei a lesson complicated matters even more. In Ngei's Kangundo backyard, Kanu dispatched a fleet of vehicles to campaign against his party, a week to the election.
When the election was eventually held, Ngei's APP swept all house of representative seats in the region, winning all eight seats, and two Senate seats. The Kambas in Coast sank Chokwe, the only Kanu minister who lost the independence vote.
Related Topics