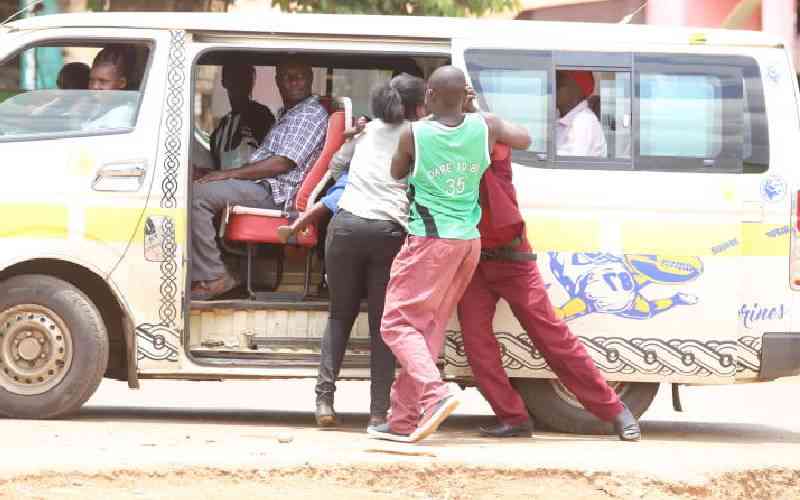 The government, through its various agencies should address the madness on Kenyan roads, particularly in the matatu sector.
In less than two weeks, two incidences have exposed the indiscipline in public transport sector and resultant pain those families are forced to endure. On March 3rd two children, a brother and a sister woke up to their usual rigour of school in the outskirts of Thika town. They never made it back.
That evening, a driver in a hurry to get to the stage ahead of his competitors veered off the road and knocked down six children on their way home. Two died as the rest suffered injuries.
The driver was trying to avoid slowing down at a bump and thus went off his trajectory to the side that children usually felt safer when walking back home.
Then there is Nahashon Nganga. His life was cut short after he was allegedly pushed out of a moving vehicle along Thika Road. He succumbed to injuries at KU Referral Hospital. His mother is distraught. Though the details are still scanty, it is believed that he had an altercation over the amount of fare.
In 2021, daughter to Deputy Inspector General of Police Edward Mbugua, Nellie Waithera died after being squeezed between two buses in the CBD. I still remember how a friend lost his mother not many years ago. The lady was alighting when the vehicle suddenly picked up speed causing her to slip and fall. A vehicle coming from behind ran over her.
Now, accidents do happen but in Kenya most are caused to happen. The level of indiscipline in the public transport sector is unfathomable. Vehicles stop anywhere including in the middle of the road without any form of signaling. Overlapping is the order of the day.
Private cars and pedestrians have endured the most of these high levels of carelessness. Cars have been badly scratched or hit badly. Pedestrians have been knocked down. It does not stop there; incidences of sexual harassment and emotional abuse have been reported.
I can't fathom what goes through the mind of the miscreant drivers when they engage in their careless maneuvers. I can bet they have children and families who cross roads on a daily basis. Do they ever think that the pain they cause others can always come home?
If the traffic police and the NTSA officers tasked with safety on the roads took their roles seriously, we could save ourselves from the pain of unnecessary road accidents and incidents.
In National Transport and Safety Authority's latest statistics, 4,432 Kenyans died through accidents between January and December last year. Most of them were attributed to indiscipline exemplified by speeding, dangerous overtaking, ignoring traffic lights and drunk driving.
The writer is anchor Radio Maisha
Related Topics