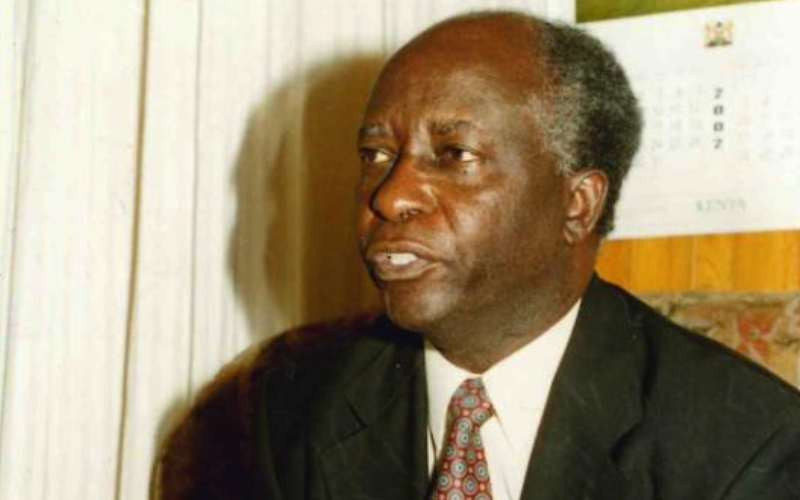 A court in Nairobi has ordered the family of former Cabinet Minister Joseph Kamotho to file proposals on how his Sh250 million property should be shared.
Family Court judge ordered his widow and children to tell the court about their preferred mode of distribution and sign an affidavit to support it.
According to the court, the only remaining row between the Kamothos is who should get what from the multi-million estate.
It emerged that his widow Eunice Wambui and son Charles Gathii are the administrators and are on one side while the former minister's two children, Marianne Nyokabi and David Waweru are objectors.
The judge directed that Wambui, Gathii and any other person who will support her mode of distribution should file their set of affidavits while on the other hand, Nyokabi, Waweru and anyone else who support them should equally file theirs.
"I will give you seven days to file your mode of distribution and serve. By November 17, Keli will serve his mode of distribution together with a signed list of beneficiaries who agree with that mode of distribution by close of November 30, 2022," directed Justice Riechi.
Kamotho died on December 6, 2014, and is survived by Wambui and their four children - Gathii, James Mwai, Nyokabi and Waweru.
Kamotho had a Will detailing how his estate was to be shared. However, he died without signing it.
Immediately, differences ensued whether the family would use the Will or file a succession case without it. It took three years before the family took the first step of filing a succession case without a Will. At the time of his death, Kamotho had five parcels of land at Gacharage, another one at Kakuzi, a house at Jadenville Country Homes, and his matrimonial house at Kitisuru.
He had also bought shares in Safaricom, KenGen, Britam Limited, Absa's predecessor Barclays, Sameer Africa, and had a bank account at Standard Bank. Court records show properties are estimated to be worth Sh250 million.
Initially, the battle between Kamotho's widow and her children was about who would administer the estate.
Wambui accused Nyokabi and Waweru of hatching a plot to deny her a chance to administer the estate.
The two children, however, urged the court to order that independent administrators manage their father's wealth.
"There are sufficient funds in the estate to take care of the widow. The children have opposed her being an administrator," they argued in their reply to her application.
The battle then shifted to the sale of a house that Wambui and Kamotho jointly owned. She told the court that she needed money to take care of her medical bills and her expenses.
Nyokabi and Waweru however opposed the application. They argued that although their mother had been sick and on a wheelchair, she had an insurance cover to cater for her medical bill.
The two said she receives substantial rent and is on pension from the government.
Justice Aggrey Muchelule (now a Court of Appeal judge) on July 18 allowed the widow's application. He noted that it is unfortunate her children were opposed to her prayers even in sickness.
Related Topics